As an outdoorsy woman, there are lots of gift ideas I'd love to get or have already received and loved. I've come up with a list of great products that I know will make any outdoors enthusiast continue loving her time outdoors.
From camping, hiking, hunting or doing ranch work, these products make great gifts for any outdoorswoman.
I am a participant in the Amazon Associates Program. I may earn a small commission for my endorsement, recommendation, testimonial and/or link to any products or services from this website. Your purchase helps support my work in bringing you real information about hunting and the outdoors.
These are the 20 best gifts for women who love the outdoors.
#1: How to Hunt Like a Girl E-Book
Is your outdoorsy woman new to hunting or always interested in learning more about the sport? Then why not help her learn from the top female hunters by gifting her this easy to read e-book. There is no better way to grow and develop a passion for the outdoors than learning from women who have conquered the outdoors industry. The book contains basic knowledge about how, why, where and when of hunting and the outdoors.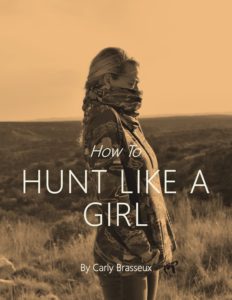 #2: Pop Charger Pre-Charged Disposable Emergency Charger
We LOVE these. This is another gift that will come in handy when your woman is outdoors. Anything can happen when she's on an adventure, right?
This disposable emergency charger is a savior if her phone has a low battery and she's stuck with nowhere to charge it. Pop in the charger and you're good to go for five hours. It's compatible with all iOS devices.
#3: Pepper Spray
I still always want to "watch my back" while I'm out in mother nature, whether walking my dog or hiking at a local nature preserve. When sprayed on face or skin, it causes instant defenselessness, and it doesn't require her to be good with accuracy before she can get herself to safety. But, let's be honest though, she's probably already a great shot.
It's very affordable and comes with UV dye that shows up for easy assailant identification.
#4: Phone Pockets
She doesn't have to leave her essentials behind at home anymore or add them to her bulky backpack. This phone pocket will allow any outdoorswoman to keep her cash and cards safe and easily accessible. Just peel and stick, and you'll have everything you need for your outdoor journey.
#5: Glamour Wash Laundry Detergent
Yes, we may not care about dirt, mud or sweat, but even the most bada&& nature lover still wants to feel a bit sexy and girly.
Glamour Wash laundry detergent is formulated to clean fabrics of all types, including your linen, lingerie, and fine fabrics. I wash sheets and bras in it.
Amazon has great basics! These are soft and casual, but look nicer than your typical tee. Every time I wear one of these basics, people always comment on how nice I look (really?!). You can never have too many tees and throwing a few in a gift box will get you some credit.
#7: Minnetonka Women's Classic Fringe Boot
Considering the competitive price and quality of these fringe boots, they're a great addition to the list. Help your woman enjoy comfort and style in this handmade classic boot while enjoying the ultimate wonders of nature. Whether walking the dogs, grabbing a coffee or a trip in the Hill Country, this Minnetonka boot is perfect.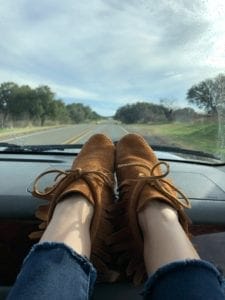 #8: Columbia Long Sleeve Shirt
From short strolls to demanding hikes, every outside-loving woman wants to stay comfortable. Whenever I fish, any Columbia shirt works! It can be rolled up during extra hot days and offers protection against the sun while also keeping you cool and dry. This long sleeve shirt provides everything you'll ever need for your next outdoor experience.
#9: WineOvation Electric Gun Wine Opener
Your girl will not only like the look of this look-alike gun electric wine opener but also the ease and fun it brings.  People love it when you bring out this wine opener! She only needs to put the gun opener on top of the wine bottle and pull the trigger, and the wine will be ready to complement her evening as she rests back and enjoys nature.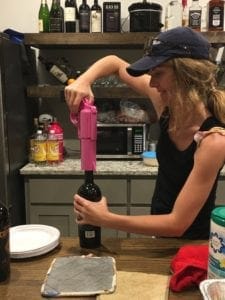 #10: Goodr Sunglasses
Either running or walking, these sunglasses will make a perfect gift for any outdoorsy woman. They don't slip or bounce and help protect your eyes from harmful ultra-violet rays – thanks to their polarized lenses. They're stylish and come in different colors to make it easier to pick one that perfectly matches your girl.
#11: Under Armour Camo
I have over to all Under Armour camo. It looks and fits the best. A quick neck gaiter wrapped-up will make her heart happy and warm!
#12: YETI Rambler Tumbler
Trust me, a woman can never enough tumblers. It's perfect for both cold and hot beverages. Yeti is the most well-known brand when it comes to keeping beverage ice cold or piping hot. Virtually every outdoorsman knows their products to be great for retaining temperature all day long. If the lid is kept tight, this tumbler is able to keep beverages scalding hot or ice-cold for several hours.
I've given this to myself (yes – I love giving myself gifts!), mother-in-law, mom, friends, and co-workers. You'll find strategies and methods for clearing up clutter and living intentionally for your home, finances, meal planning and more!
#14: Self-defense class
#15: Massage or spa gift card
#16: Stationary
#17: O Ring
#18: Chiminea
#19: Return address stamp
#20: iPad/ iPhone accessories
It doesn't matter what activity she does outside, these are the 20 best gifts for women who love the outdoors.