What are the best freshwater trout flies you should always have on hand? Freshwater fly fishing is possibly one of the most rewarding and complex activities a lady can do in the outdoors. I've read and listened to experts talk and one of the things that are repeated is "know your waters."
If the fish aren't eating move to another spot.
Trout see extremely well so your presence above the water and your fly presentation is everything. There's no way for you to know exactly how that fly looks underwater.
I have netted more trout with the following 5 flies than anything else.
I am not an expert angler; I am a fly-fishing hobbyist. I love the places it takes me. I can bass fish, panfish and crappie fish, but I can trout fish almost anywhere. 
One can't just fly fish anywhere and expect to be successful right off the bat. There's a learning curve, much like anything else. My education in fly fishing was one day of guided fishing and one day with a friend who guides in Penn's Creek, PA. 
I have better luck when it's warm, but I've also netted trout in the cold of winter. Of course, every time I cast a fly, I'm hoping for tight lines but that doesn't always happen.
Freshwater Trout Flies
I'm a creature of habit and I always have these freshwater trout flies on hand:
Midge (primarily a black Zebra midge, but you can have red and yellow; I have netted fish in South Dakota, Wyoming, North Carolina, and Pennsylvania on a Zebra midge)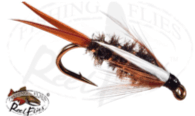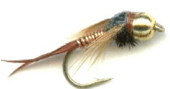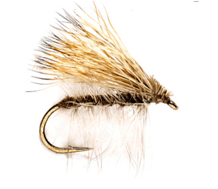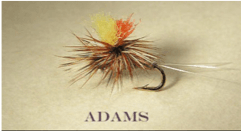 The sizes and colors of these are my personal preferences. Some days, I have better luck with brightly colored flies and other days they seem to like the traditional colors of what that bug looks like in their environment. 
It is strongly encouraged that anglers dig into entomology, the study of insects, to better understand how trout feed. Trout eat 90% of bugs under the surface of the water and as a rule, these bugs are small. 
I find it tough to tie the line onto some of the smaller sizes recommended, so I tend to buy slightly larger. In addition, a larger nymph will be a little heavier, which helps "get your fly down" into the water. Remember, presentation is everything. The dry flies tend to be slightly larger and have "indicator" colors tied in so I can see them as they drift down. These can also help an angler recognize if their fly is moving through the water too fast.
What's worked for me is that I've kept it simple. Anytime I fish a new area, I stop at a local fly shop and ask what the trout are eating and where to fish. If you can afford it, hire a guide.
Sometimes I get skunked and sometimes it's a tight line day. For me, just being outdoors and challenging myself is what it's all about.
What are the freshwater trout flies you always have on-hand?
Miss Pursuit is a participant in the Amazon Associates Program. Miss Pursuit may earn a small commission for our endorsement, recommendation, testimonial and/or link to any products or services from this website. Your purchase helps support our work in bringing you real information about hunting and the outdoors.