Where you decide to hunt your intended game can get a bit overwhelming when you are just starting. From still hunting and sitting in natural cover to tree stands and climbers to ground blinds. Each option holds pros and cons. When I first started hunting I spent more time scouting and just learning how to find good signs of deer, how they moved, where they were bedding, and did my rendition of "still" hunting. To say the least, I did not harvest while still hunting whitetail but I did come super close while out my first spring turkey season.
Hunting from a Ground Blind
The first time I sat in a blind was on a mentored hunt with the Women of the Outdoors New Jersey chapter for archery whitetail. Sitting in a blind and drawing your bow with another person next to you is challenging at best, so while it is an excellent option, you must practice your hunting approach from inside the blind. Keep in mind you also lose shooting advantages as you are limited to your blind windows, compared to a tree stand where you can optimize often up to 360 degrees of target radius.
This year I was so excited to take my 12-year-old granddaughter on her first-ever hunt for archery whitetail in Pennsylvania and introduce her to the most amazing organization of United Bowhunters of Pennsylvania. I knew I didn't want the responsibility of teaching her how to use a tree climber just yet and time constraints weren't in our favor; instead, I opted for a blind which would minimize some noise and scent control, as well as shield her from elements that might arise and make her first sits unbearable.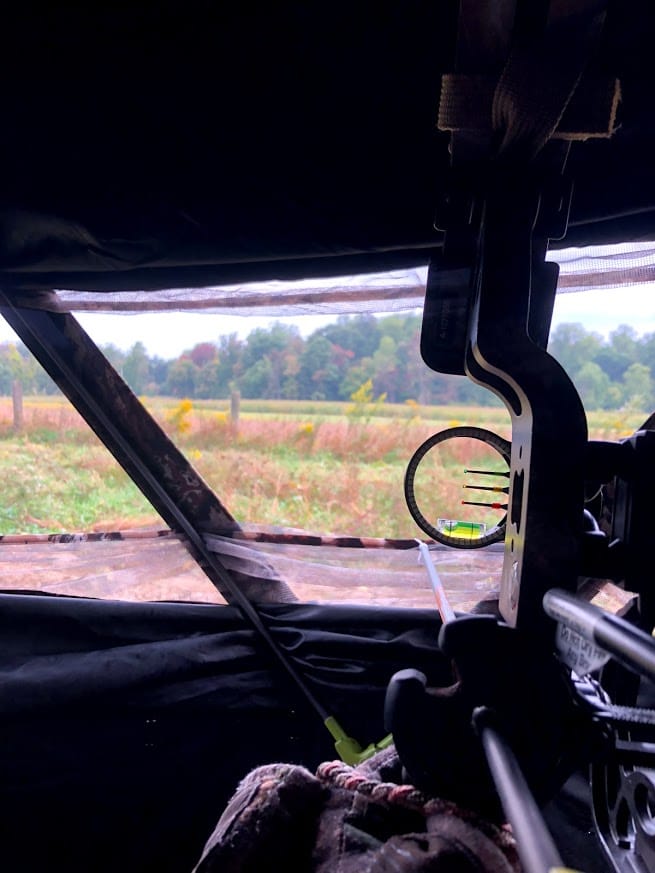 The Summit COBRA 3P Veil
We sat in luxury in the Summit Cobra 3P Veil ground blind, which is advertised for three hunters (but I promise you that it isn't for three archers drawing at the same time). You could rifle or shotgun hunt easily with multiple people; however, three people in the blind that day would have been super cramped.
Inside we had two chairs, a small bifold chair and a regular camp chair. I would recommend bringing appropriate chairs for your blind and sit in them. You want to try them out for noise too. We made more noise just trying to be comfortable while sitting and shifting. We both had our compound bows and two backpacks. I wouldn't suggest much more unless you tuck a space heater in the corner.
One of the best parts of this blind is the ability to brush it in. Here it is pictured on the side of the soybean field. It would have been easily passed in the dark.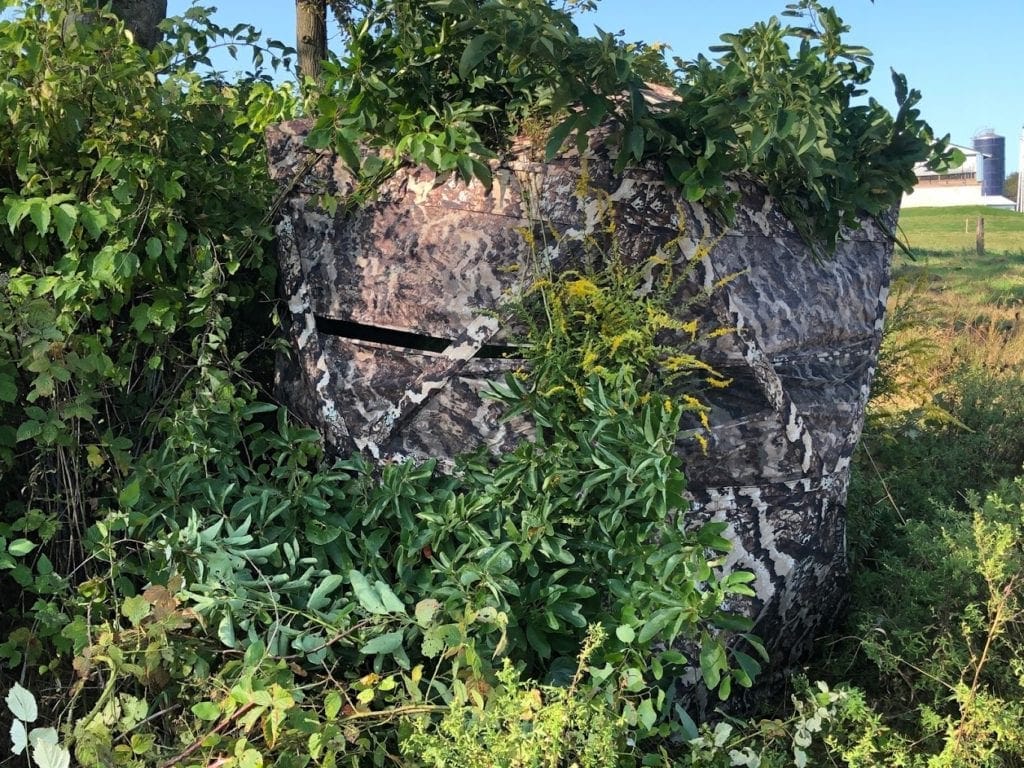 Probably the best selling point for this blind is how easily it is taken down and carried out of the hunting area. I broke it down in the dark without any problem and I had no prior practice with it. I didn't have the carrying bag with me at the time but with my granddaughter carrying the second chair, we made it out without any issues.
The price point seemed appropriate, though I didn't have anything to compare it to.
It rained while we were there and, for the most part, we stayed dry. It is black inside so you would want to use appropriate clothing to minimize animals seeing your movement. Another awesome feature is the windows! They are on a sliding bead system which minimizes the noise setting up and making last-minute changes to your concealment or target area.
If you are in the market for another hunting option I would definitely include the Summit Blinds in your research with a key focus on size and upgraded options.
What features do you look for in a ground blind? Have you tried the Summit COBRA 3P Veil?
This post may contain affiliate links. Miss Pursuit may earn a small commission for our endorsement, recommendation, testimonial, and/or link to any products or services from this website. Your purchase helps support our work in bringing you real information about hunting and the outdoors.