As an Army Medic, emergency room technician, and nursing student, I like to think I am always over-prepared for when a medical emergency may arise. I keep various medical supplies in both my vehicle and my home. Some may call it paranoid, I call it prepared.
There is also one other time I always have first aid supplies by my side…on hunting trips.
I never walk into the woods without a basic set of life-saving equipment. Now more than ever, I am sure to be on high alert for medical emergencies as I found myself in the emergency room in a rural Northwoods hospital after reacting to multiple stings from a swarm of bees that were hiding in our dog's bedding. Even though I have never had a reaction to a sting before, I am now even more cautious for others, because you never know when someone might need immediate medical intervention.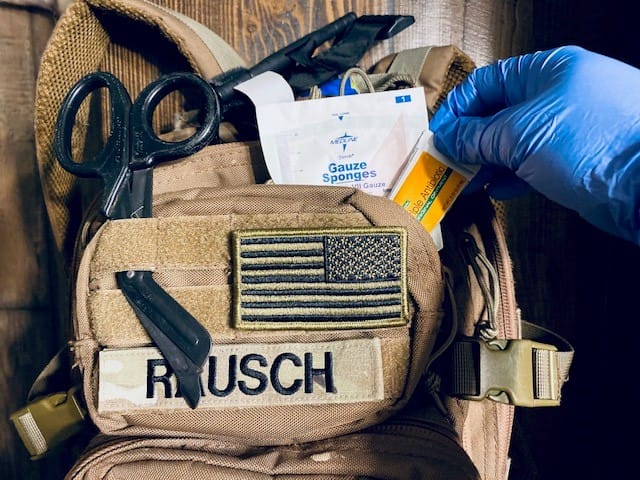 If you plan to make your own first aid kit to keep ready for your outdoor excursions, I suggest the following 10 items as possible life-saving necessities!
First Aid for the Outdoorsman
Tourniquet-This can be bought online. I suggest the CAT or SOFTT-W tourniquet. You can also keep a ratchet strap in your kit (a tourniquet should be at least 1in in width) and use a piece of wood or metal to cinch it tight. It would be a good idea to watch a YouTube video online or do some light reading to familiarize yourself with the proper use of a tourniquet.
Gauze-A combination of small and large gauze pads, or "kerlix" gauze that can be used to wrap around a larger wound.
Benadryl-As mentioned in the beginning, you never know when an allergic reaction may occur, or when a reaction to a previously encountered allergen may strike.
Tylenol/Ibuprofen- To be used for relief of pain and swelling.
A bottle of water-This can stay in the kit and can be used to quickly rinse a wound of bugs or dirt until better sanitation can be achieved.
Medical wrap-Such as "coban." This can be used to help hold gauze to wounds.
Neosporin or Antibacterial Ointment-Always good to have on hand to help prevent infection for small wounds.
Bandana-Bandanas are a very versatile piece of cloth! Not only can it be used to apply pressure to bleeding wounds, but it can also be used as a makeshift arm sling (may need 2), or even a tourniquet!
Splint-SAM splints are lightweight, compact and malleable splinting boards that can help stabilize an army, wrist, ankle, or leg if a sprain or fracture is suspected. A small board and something to wrap around it (bandana or medical wrap) can go a long way in a pinch.
Tools-This could be scissors, tweezers, or forceps…maybe even needle-nose pliers.
I keep all my first aid items in a backpack that I can grab quickly and jump out of the truck at a moment's notice. Of course, these items can be adjusted to your personal needs or the activity you may be partaking in. The items listed above are meant to help guide you in the right direction and think about how you might react to a medical emergency. For example, I would add my Epi-Pens to the list as well! I also pack extra supplies because not only do I have to think about myself, but also the several other people I often hunt with, and of course our hound dogs!
Pack light but always be prepared… stay safe out there!
This website is for information purposes only. The information contained in this post is not meant to diagnose, treat, cure, mitigate, prevent, or provide medical advice. Consult with a health care provider if you are experiencing any symptoms.
Miss Pursuit is a participant in the Amazon Associates Program. Miss Pursuit may earn a small commission for our endorsement, recommendation, testimonial and/or link to any products or services from this website. Your purchase helps support our work in bringing you real information about hunting and the outdoors.