Hello! My name is Alyson (Aly) Rausch, I am 23 years old and I am from Central Wisconsin! Since I can remember, I have been involved in the outdoors. Even before I had my hunter's safety license, my Dad would take my sister and I out duck and pheasant hunting. I didn't have a gun, of course, but would happily follow Dad around and carry his birds for him. Once I was old enough to actually hunt, I was on every hunt I could get. I even started to go along on my Dad's week long duck hunting trip to North Dakota every October along with his friends who are still like second fathers to me. Up until about 7 or 8 years ago, waterfowl and bird hunting were my passion. Then I decided to test out deer hunting which was a big change for me. At first I wasn't really into it, until I picked up an old Browning compound bow my Dad had sitting in our basement. I was so excited to learn about bow hunting! I got the old bow fixed up and tested for strength, and soon I was bagging my first buck, EVER. From that moment on, I have not only fallen in love with archery hunting, but the practice and art of archery. Another main game I pursue are black bear. About 6 years ago I asked a friend (now boyfriend) who hunts with hounds if I could tag along on a bear hunting weekend. Again…I was hooked instantly, and now I have even added my very own hound to our pack. Besides hunting, I love to fish both open and hard water. Ice fishing definitely takes the cake though, because there is nothing like the excitement of watching your tip-up pop up and pulling a nice Walleye or Northern Pike though the ice.
In short, if it involves hunting, fishing, or the outdoors…I'm in!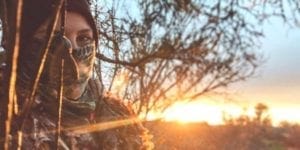 There is hardly a moment I am not secured to the tree my stand is in. Hunt more confidently with a tree stand safety system!
Read More »