It goes without saying that most people associate summer with water activities and of those activities fishing is one. Prior to a few years ago, I had never fished freshwater species, let alone bass. In actuality, I had never targeted bass and still don't unless I'm in Florida. Isn't that funny? Most people associate Florida with saltwater fish. Don't get me wrong, that's still my favorite state for fishing. It's actually extremely difficult, though not impossible, to shore fish for bass. There are additional challenges which include that most lakes have limited shore cleared for fly fishing; and if it is, the fish have smartened up and wait for live bait.
So why bass fish in Florida? You can find smaller ponds or lake fingers with cleared foliage to fish from the bank and some of these areas are loaded with fish and are rarely fished. Those who know Florida fishing are no strangers to the bass beasts that live in the marshes and Everglades. Targeting these big boys requires a water vessel and this article is for those outcasts that have nothing but their fly rod and a few flies that might work on picky bass.
Flies for Bass Fishing
Clouser Minnow (Chartreuse/white is my personal go-to)
Created by Bob Clouser, an anchor in the fly fishing industry. This fly out of water doesn't look all that fishy, but add water and line motion and bingo! There really is more to getting the Clouser to look like a fish moving through water but essentially the purpose of the movement is to attract bass and bass are predators. It isn't always the continuous retrieving of the fly line that will work, sometimes you have to get the minnow to look like its dying or having difficulty swimming. All you need to do is vary your retrieval. Without knowing what the bottom of the water looks like, you run the risk of snagging or losing your Clouser so bring several in a variety of colors.
Wooley Bugger (Black is my personal go-to)
Created by Russell Blessing, the Wooley comes in all colors as well but keep in mind, fish see well and there's a theory that darker colored flies appear more realistic in the browns/greens of lakes and ponds. The Wooley is unique as it looks like nothing at all outside the water. It's a feathery soft fly and with water and line movement, you have something that resembles a leech, worm, fish, or better yet, something a bass hasn't seen and is very interested in attacking.
Topwater (anything that looks like a bug or frog or mouse)
Sometimes you can get to the water and toss topwater. The fish, bass included, will just not want to hit them, no matter what you do. But if they are hitting on top, hold on, you are going to have a blast!
There are many flies that have weed guards built into the fly. If you aren't sure where you'll be fishing, grab a couple so you are prepared.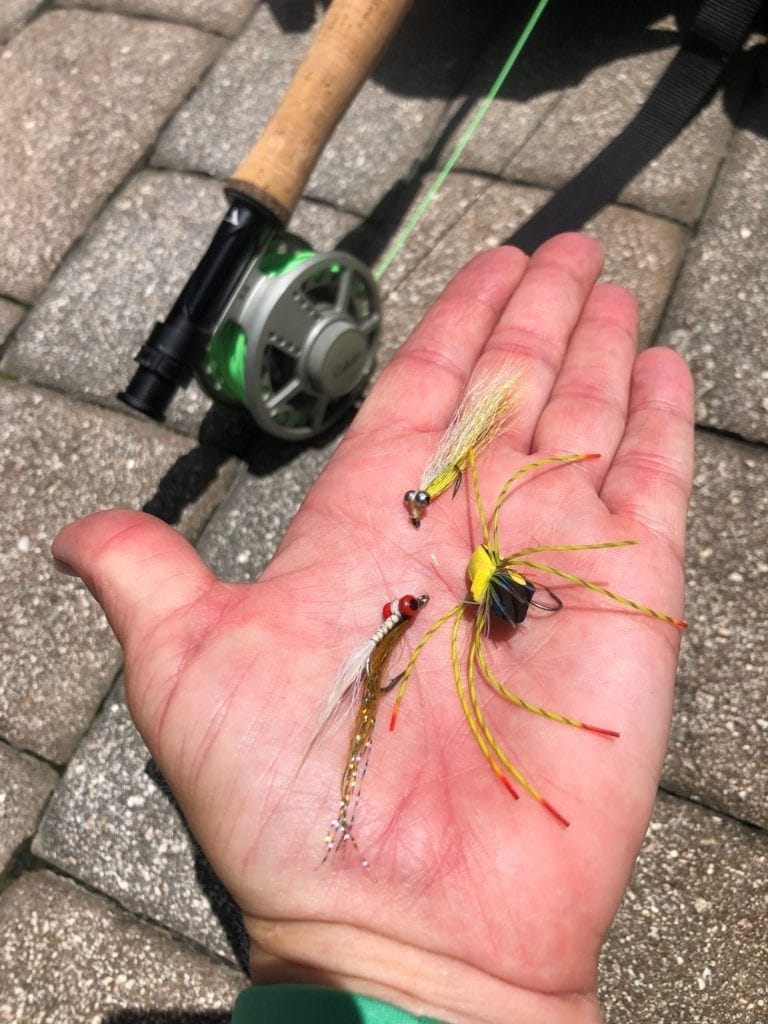 Hooking a Bass
You may see big chunkers that people hook but just like with any other fish, there is an element of skill to netting personal bests. Unlike trout that have very soft mouths, bass have hard and large mouths. Two things are important, sharp hooks. They don't have to be huge (#6-8 are a good place to start), and a good hook-set is required.
When you fish with a fishing pole, the pole is usually kept mid-air out in front and you watch the bobber/line. In fly fishing, you will continually retrieve the fly line with pauses but your rod tip will be almost resting on the water as you draw the line in. Once you feel the presence of a bass you will hook set, drawing your rod tip up firmly with your fly line hand drawing the fly line tight. These actions will hopefully imbed the hook deep enough into the bass's mouth tissue to retrieve it and net it. Bass aren't dummies so do not feel like you are doing anything wrong if you are fly fishing and someone nearby is using a fishing pole and reeling them in. Remember, you are trying to do it the hard way and they are going the easy route.
What are your best tips for bass fishing?
Miss Pursuit is a participant in the Amazon Associates Program. Miss Pursuit may earn a small commission for our endorsement, recommendation, testimonial and/or link to any products or services from this website. Your purchase helps support our work in bringing you real information about hunting and the outdoors.