Hey there, nature enthusiasts! Buckle up for a ride through the wild side with this list of famous nature quotes We're about to dive into some Insta-worthy nuggets of wisdom from the greats – all in the name of that #FamousNatureQuotes vibe!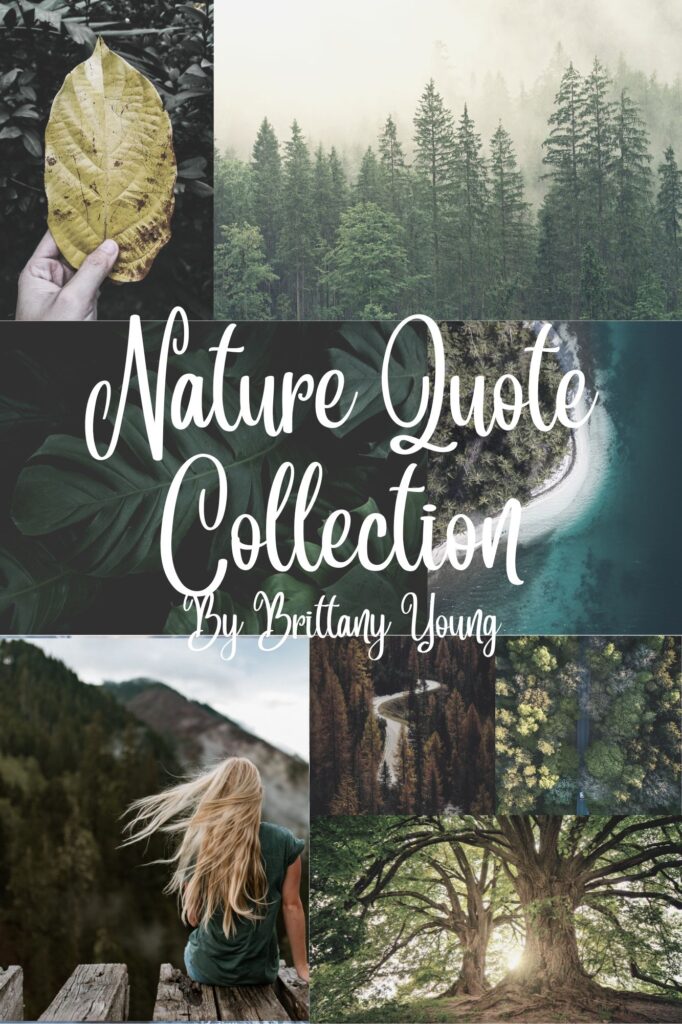 Famous Nature Quotes:
Everyone needs a place to retreat: a spot where the world grows quiet enough for the soul to speak. – Angie Weiland-Crosby
Nature is my soothing spot, a faithful friend with an evergreen heart. – Angie Weiland-Crosby
The forest spoke to my soul in a language I already knew; a distant lullaby from the womb of peace and solitude. – Angie Weiland-Crosby
There are times when solitude is better than society, and silence is wiser than speech. – Charles Spurgeon
There is a way that nature speaks, that land speaks. Most of the time we are simply not patient enough, or quiet enough, to pay attention to the story. – Linda Hogan
Beautiful things don't ask for attention. – James Thurber
In all things of nature, there is something of the marvelous. – Aristotle
Real freedom lies in wildness, not in civilization." – Charles Lindbergh
The human spirit needs places where nature has not been rearranged by the hand of man. – Unknown
And into the forest I go, to lose my mind and find my soul." – John Muir
The greatest adventure is what lies ahead." – JRR Tolkien
Keep your face always toward sunshine and shadows will fall behind you. – Walt Whitman
The wilderness holds answers to questions man has not yet learned to ask." – Nancy Newhall
I like this place and could willingly waste my time in it. – William Shakespeare
The world reveals itself to those who travel on foot. – Werner Herzog
The climb speaks to our character, but the view, I think, to our souls. – Lori Lansens
Of all the paths you take in life, make sure a few of them are dirt. – John Muir
I was no longer following a trail. I was learning to follow myself. – Aspen Matis
I found far more answers in the woods than I ever did in the city. – Mary Davis
The hardest mountain to climb is the one within. – J. Lynn
Fall rouses the spirit of change to color your soul brave again. – Angie Weiland-Crosby
Leave me in the heart of nature beneath the sunlight's glow. – Angie Weiland- Crosby
I feel most at peace when it's raining for it reminds me that the sky is alive. – Taylor Ashley
We lose ourselves in the things we love. We find ourselves there too. – Kristin Martz
The day I changed was the day I quit trying to fit into a world that never really fit me. – Jm. Storm 
Find me where the wild things are. – Unknown
If you wish to be a warrior prepare to get broken, if you wish to be an explorer prepare to get lost and if you wish to be a lover prepare to be both. – Daniel Saint
Love her but leave her wild. – Atticus 
Travel far enough, you meet yourself. – David Mitchell 
The world is big and I want to get a good look at it before it gets dark. – John Muir
You can't do anything about the length of your life but you can do something about its width and depth. – Evan Esar
Be fearless in the pursuit of what sets your soul on fire. – Unknown 
And, if that wasn't enough, here are 10 fresh and captivating nature quotes for your Instagram:
"Nature is the ultimate therapist; step outside, and let the healing begin." 🌿💆‍♂️
"Mother Nature: where every sunset is a masterpiece and every sunrise a new adventure." 🌅🌎
"Embrace the wild within, for in the heart of nature, we find our true selves." 🍃💫
"Lost in the woods, I found myself. Sometimes, getting lost is the way forward." 🌲🚶‍♀️
"The Earth laughs in flowers. 🌸🌿 Embrace her joy and find your own."
"Nature doesn't rush, yet everything is achieved. Let's take a page from its book." ⏳🌿
"In the dance of the trees and the song of the birds, I find my happy place." 🌳🎶
"Don't just exist; live. Life's a grand adventure waiting to be explored." 🌍🏞️
"Adventure is calling, and I must go. Nature beckons, and I answer." 🏔️✨
"The greatest love story? Ours with Earth. Let's protect our epic romance." ❤️🌎
Commonly Asked Questions About Famous Nature Quotes:
What are the best quotes for nature?
The "best" nature quote is subjective, but some timeless classics include John Muir's "The Mountains Are Calling, and I Must Go," and Ralph Waldo Emerson's "Adopt the Pace of Nature: Her Secret is Patience."
What is a small quote for nature?
For a concise nature quote, consider Albert Einstein's "Look deep into nature, and then you will understand everything better." It encapsulates the essence of nature's wisdom in a few words.
What is a famous quote about saving nature?
Rachel Carson's quote, "In nature, nothing exists alone," from her book "Silent Spring," is a renowned call to action for conserving the environment and recognizing our interconnectedness with all living things.
What is a mystical quote about nature?
Lao Tzu's words, "Nature does not hurry, yet everything is accomplished," hold a mystical quality, inspiring us to embrace nature's profound rhythms and mysteries with patience and reverence.
As we wrap up our journey through these famous nature quotes, one thing becomes abundantly clear: nature's allure is timeless, and the words of those who cherished it continue to resonate with our souls.
So, next time you're wandering through the great outdoors, remember these nuggets of wisdom and let nature's beauty speak to your heart.
This post may contain affiliate links. Miss Pursuit may earn a small commission for our endorsement, recommendation, testimonial, and/or link to any products or services from this website. Your purchase helps support our work in bringing you real information about hunting and the outdoors.