Looking for the perfect gifts for outdoorsy kids? This list has the best options for both boys and girls who love to have a blast outdoors or are exceptionally active and love some indoor play as well!
I love to stock up on gifts to always have on hand when a birthday party pops up or I need a last-minute kid's gift. Between the holidays and birthdays, you can never have too many ideas stored away for when you need a quick gift.
This is my top list of gifts that will get outdoorsy kids off the couch, off the screen, and entertained!
I am a participant in the Amazon Associates Program. I may earn a small commission for my endorsement, recommendation, testimonial and/or link to any products or services from this website. Your purchase helps support my work in bringing you real information about hunting and the outdoors.
Little Experimenter Night Vision Binoculars: My kids are obsessed with these night vision binoculars! These toy binoculars feature clear focus-free vision, 2x magnification, a built-in flashlight, and a neck strap. They are easy for kids to hold, and the large, comfortable eyecups mold snugly on little faces. Kids love taking 'em along on outdoor adventures and fun nighttime explorations.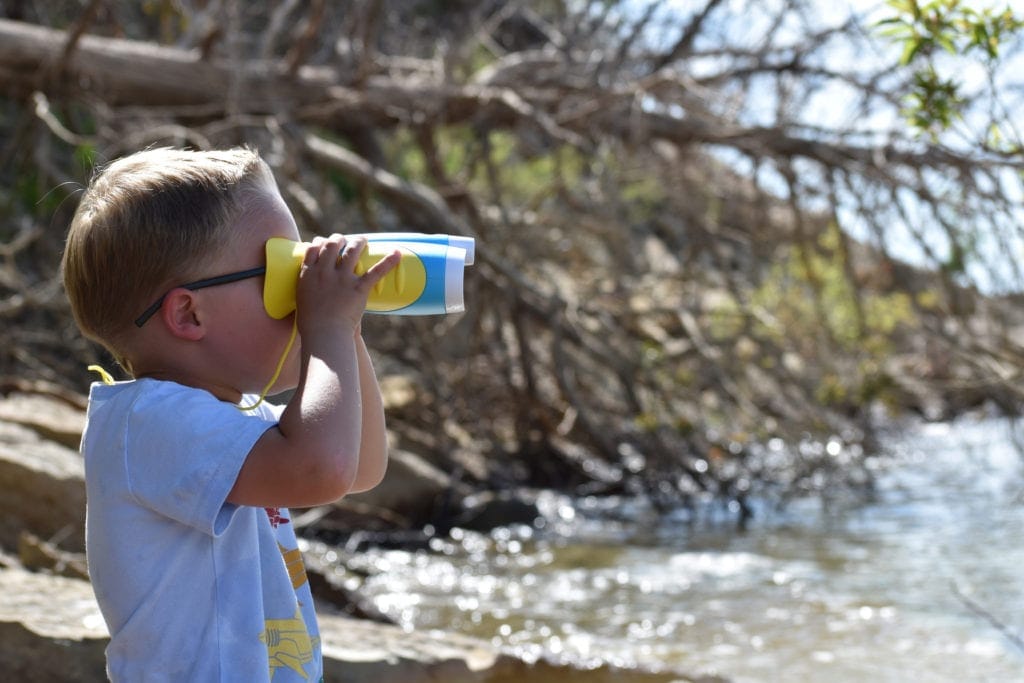 Little Gardener Tool Set: This kit Includes a watering can, gardening gloves, shovel, rake, fork, and garden tote bag. Super fun to get the kids out gardening!
Kids Crafts: This is a line of craft kits that empowers our daughters to know their voice matters. It's so important that our young girls know about trailblazing females. I also love that Kids Crafts is a woman-owned small business!
Sunnies: These are super affordable (starting at just $25!) polarized sunglasses for kids and adults. I have the matching mom and daughter Cat-titude style. They are a must-have at the beach, lake, winter activities, and even just on walks outdoors!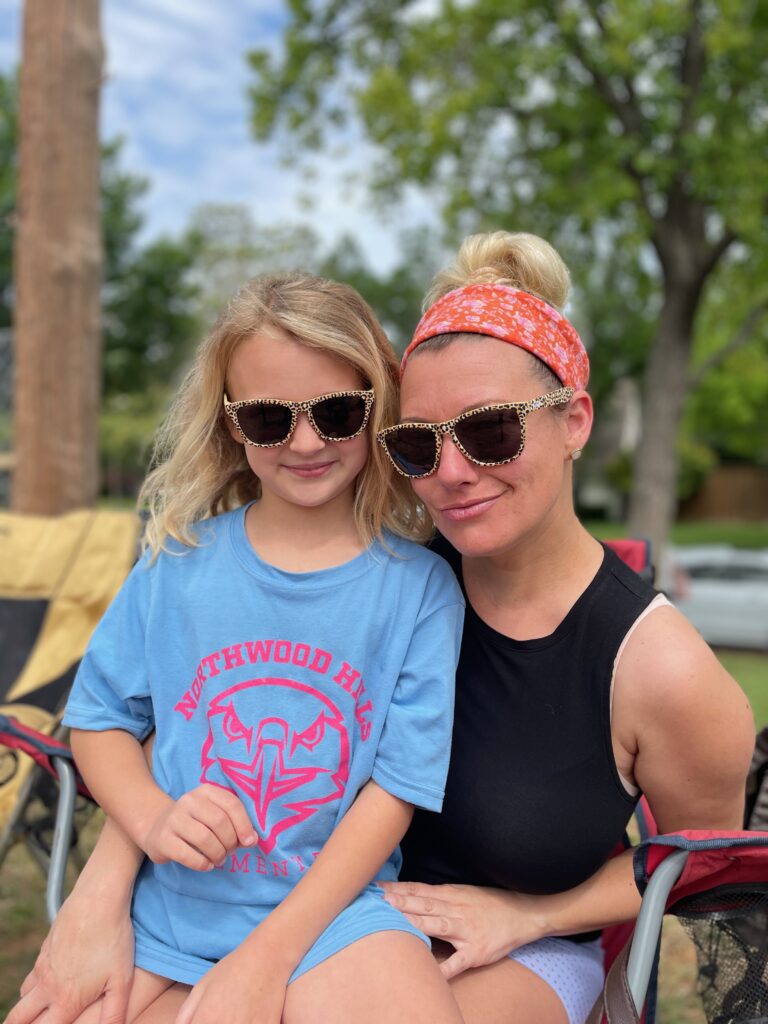 Bullseye Bow Kids Bow and Arrow Set: This is the BEST kid's bow and arrow on the market. It has a center guide hole for easy and consistent shooting and helps to improve accuracy. Available in different colors.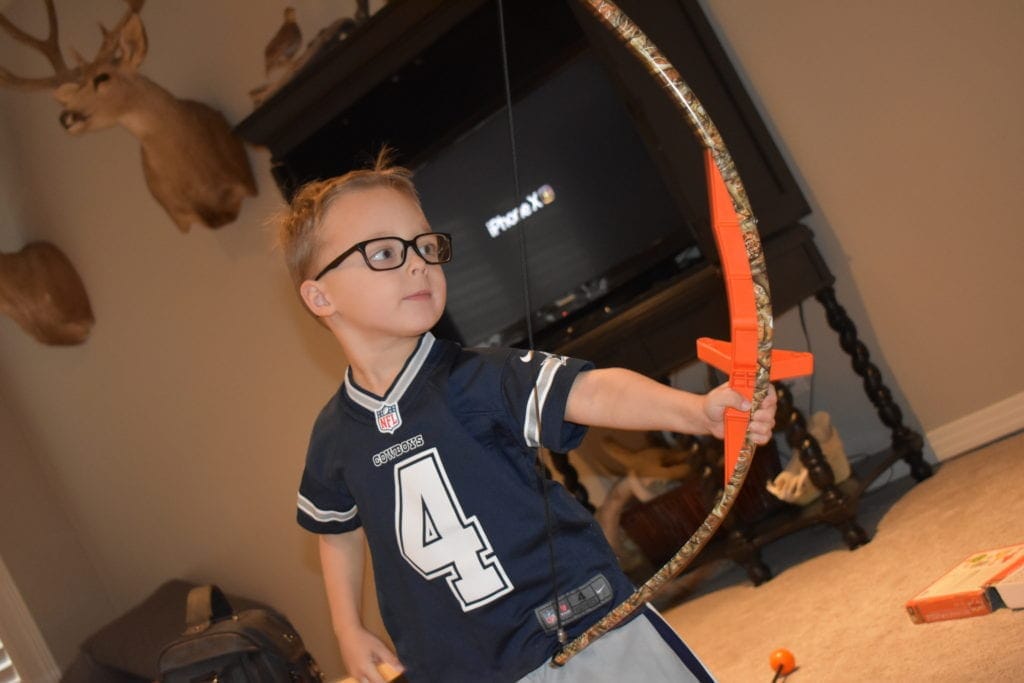 Hummingbird Feeder: How fun to watch hummingbirds fly around your house? Not only do adults love the beautiful birds, but kids love to mix the sugar water and watch the hummingbirds fly.
Walkie-Talkies: 2-way radio with flashlight and LCD screen. These have a 3-mile radius. Perfect for all kids' outdoor adventures!
Instant Snow: Snow in Dallas – doesn't happen often for us. Snow in the summer – yup! Just add water and watch snow erupt instantly. It is a little messy and very slippery, but hey – let 'em enjoy.

Minelab makes metal detectors for beginners and kids. Your kids will LOVE this gift to get (and keep) them outside! Minelab is perfect for summer fun, vacations, hikes, diving, and beach hunting. Oh, and mom and dad get to play with it, too!
Big Dipper Sleeping Bag: Love these for the kiddos! Throw up a tent in the backyard with a couple of sleeping bags and enjoy a night of quet (well, at least for 2-3 minutes until they need something!).
Coleman Sundome Camping Tent: Speaking of tents, here's one to use with that sleeping bag!
Fishing Pole: Buy for your boy or girl, but every kid needs their own fishing pole. If you don't have a fishing pole handy, you'll never find time to use it. Available in colors for boys and girls.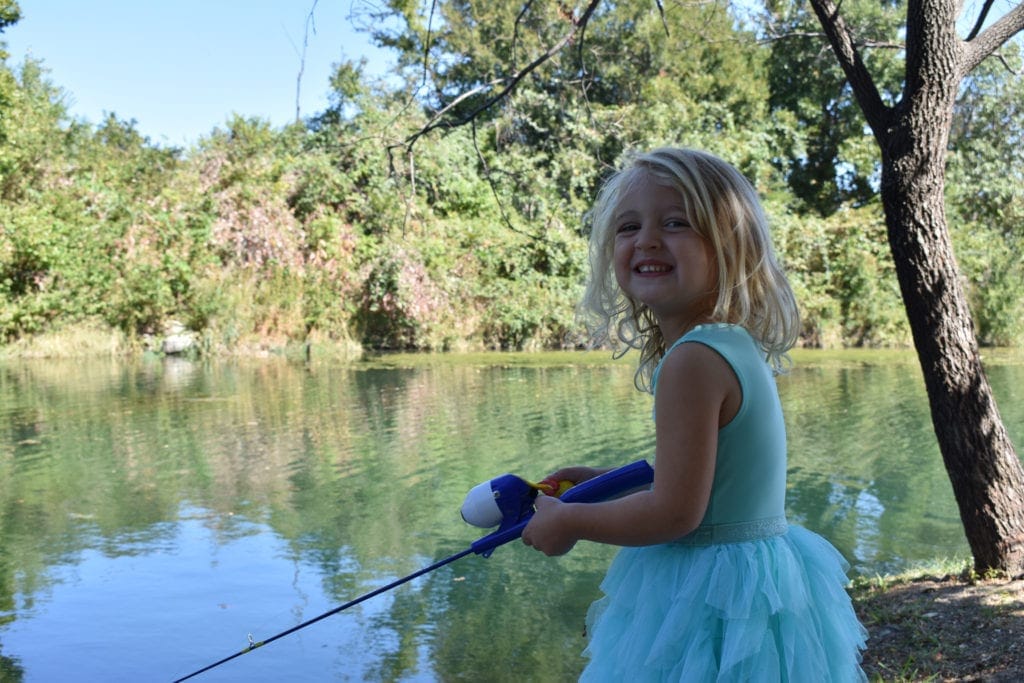 Boys' Life Magazine Subscription: This is the Boy Scots of America's official magazine and it's packed full of tips, tricks, comics, and hilarious jokes.
The Coloring Table: We give these as gifts for birthdays all the time and they're always a big hit. Markers don't bleed through, so they can color on it in the driveway, on a sidewalk, or inside. It's machine washable so you can reuse it over and over. Tip – use Ultra Washable Crayola markers, but for a permanent keepsake, use fabric markers.
Camping Hammock: This is a great portable hammock! Kids play, swing, and act like little monkeys on to (no, they don't use it to relax as we would!).

Rain Boots: I get my kids new rain boots once a year! Of course, perfect for the rain, but these are what we wear to the ranch to get sloppy, muddy, and dirty in!
Balloon Animal Kit: Pump up your own balloon animals and get creative. This isn't an outdoor activity, but it'll keep the kids busy. The kit includes an 80-page instruction book, a balloon pump, and 44 balloons.
Yeti in My Spaghetti: This silly game is perfect to play as a family. We also love to give this as a birthday gift and stock up on these a few at a time.
Strider Balance Bike For Young Children: This beginner bike is perfect for kids who love to play outside. My son learned to ride this when he was 18 months old. He transitioned to a big kid bike this summer with no training wheels.
Magic Stix Washable Markers: These markers don't dry out when the cap is left off, so when my easily-distracted kids go for another activity, they will stand the test of time! Also, they are washable, so it's a win-win for parents.
Princess Stamp Craft Set: Our crafty little girl loves this set of Melissa & Doug princess stamps. It Includes 9 stamps, a 2-color washable inkpad and 5 colored pencils. Perfect for indoor days and limits screen time.
Mermaid Swimsuit/Costume: This swimsuit is perfect for pool time, but my daughter uses it for 'dress up' time.
National Geographic Kids' Books: We personally love the Predators Collection and Ocean Animals Collection. Great for bedtime reading, these books keep the kiddos asking numerous questions about wildlife.
Being A Girl: I frequently give this as a gift, but it's also a great book to read with your daughter for extra special quality time. It includes perfect lessons about doing the right thing, telling mom you love her, self-confidence, and more.

Being a Boy: Again, this is published by the same company as Being A Girl. It helps teach your growing boy valuable and important life lessons in helping others, taking care of your body, and being a leader.
Vivitar HD Action Camera for Kids: My kids are starting to get interested in taking photos (maybe because they see their mama and daddy taking so many photos!), but a camera is a great option for any active and outdoorsy kid to get outdoors and take photos of the beauty around them.
Bunch O Balloons: These are rapid-filling and self-sealing balloons. Soooooo easy! You can't ever go wrong with water balloons if you're looking for a gift for an outdoorsy kiddo!
Smile Outside Children's Books: These are great books to educate and engage children in wildlife and conservation. With every book sold, they also donate $.50 to conservation organizations.
The Hunt Club Kids Book Series: "Hide and Seek" is the story of a boy named Wyatt, his dog, and their hunt to prove the existence of a giant whitetail buck. Getting his father to believe may be Wyatt's only chance to rekindle his dad's lost love for hunting. This book offers the thrill of adventure while teaching kids some valuable life lessons. "Hide and Seek" is a wholesome, family-friendly, yet thrilling adventure with several unexpected twists and turns. It will keep kids excitedly turning the pages, eager to discover what's going to happen next, while also teaching timeless lessons about life, family, and friendship.
Would love to know what gifts YOU think are great for outdoorsy kids!
And, if you're looking for more information on getting and keeping kids outdoors, check out my e-book!
This post may contain affiliate links. Miss Pursuit may earn a small commission for our endorsement, recommendation, testimonial, and/or link to any products or services from this website. Your purchase helps support our work in bringing you real information about hunting and the outdoors.