My whole life I have grown up around dogs and spent time helping my Dad train our family Labradors. We never sent one to a professional trainer, as my dad always told me he finds it just as effective to use the dog's natural instincts. Labrador retrievers are known for their long history of bird hunting and obviously, retrieving. With all of our family hunting dogs, I have witnessed and experienced how truly simple it can be to train a bird dog once YOU, the handler, learn how to work with that instinctual drive. In August of 2019, I adopted my very own black lab puppy named Goose. It has been a while since I trained up a bird dog, but Goose made me realize just how rewarding the process can be.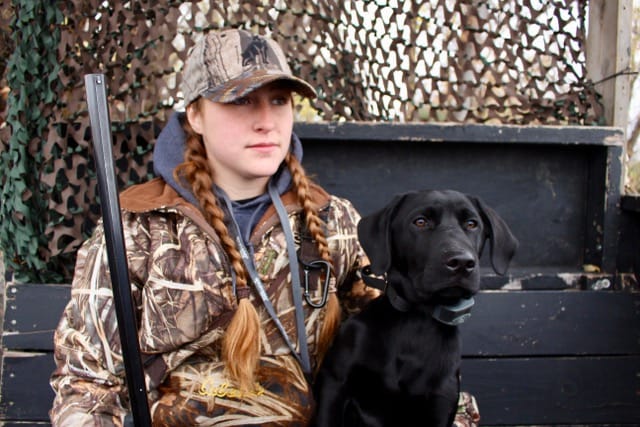 Tips and tricks to help train up your first (or second, or third…) bird dog
Obedience: Dogs in general, especially labs, are born to please! Use that mindset when training your pup. Make lots of eye contact, use lots of small treats, and use as much praise as possible when they do the right thing. Focusing on basic obedience such as house training and "sit, lay down, stay, and come/here" commands are keys to building up a hunting dog. Goose was able to follow these commands and fetch a ball by the time he was 12 weeks old because his training was CONSISTENT, daily, and often. Use every interaction as an opportunity to train!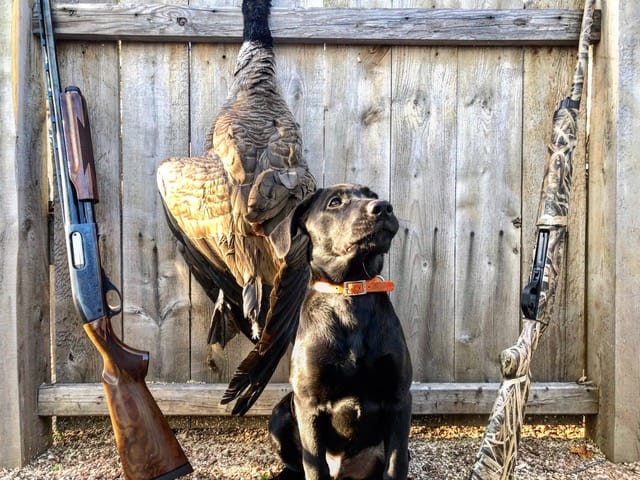 Practical exercises: Take your pup out! Whether it's for a swim or a long walk in the woods, not only are you bonding with your puppy, but you are also exposing them to the types of terrain and scents they will encounter while hunting. Buying bird scent of your choice (duck, goose, pheasant, grouse, etc…) and spreading it on a dummy or ball to throw or drag for your puppy to chase and retrieve is a great way to build their drive for birds. Another important subject to touch on is shooting…gun shy dogs can present a real problem in a hunting situation. To avoid this, try occasional target shooting with your dog present, but at a distance, and start with a low gauge/caliber gun. If possible, bring your pup to the local gun club on shooting nights to expose them to gunshots.
Training aids: It doesn't cost much to get the things you need to effectively train your puppy. Here is a quick list of a few things I use for Goose: Training treats, throwing dummy, tennis balls, assorted bird scent or wings saved from hunting season to wrap around throwing dummy, Sportdog Brand training collar (we started using this when he was about 5 months old), live birds (you may be able to find a dove or quail farm near you to purchase training birds).
Patience: I know this is something you read in nearly every dog training article/book/website, but it is also the most important! Puppies have short attention spans, so you may need to cut training short if attention is lost, or be able to push through several failed attempts without expressing your frustrations onto the pup. Keep in mind that some things will be harder for your pup to learn than others, but keep training fun and interesting, and always keep a positive attitude. Expressing anger with the puppy can only make things worse.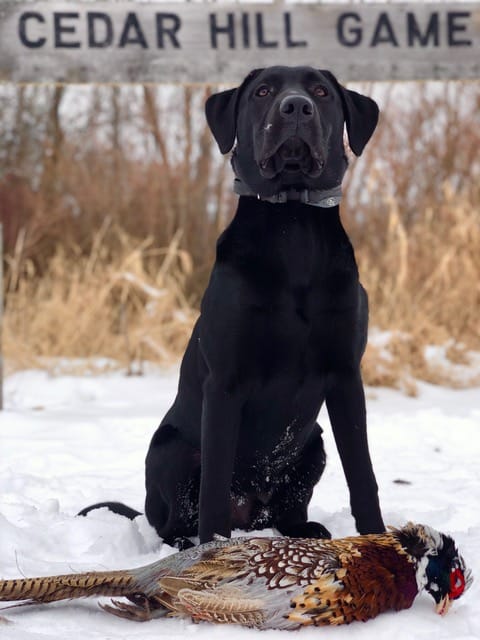 Today, Goose is a year and 2 months old, and he is already a beast of a bird hunter. The following few weeks after getting him, I spent at least 1 cumulative hour a day on obedience training such as following commands, waiting for his food, and house breaking. By 3 months old, he came to North Dakota with my Dad and I on a duck hunting trip and was eager to follow around our older, more seasoned labs, and had his first water retrieve. At 5 months old we took him to game farms to pheasant hunt, and he found 100% of our paid for birds. Why am I telling you this? Because it's all about exposure. Your puppy will only be as good as you want if you give him/her the opportunity to learn, make mistakes, and most importantly, have fun doing what their breed was born to do.
Bottom Line? Instinct is what makes your puppy the bird dog that it will grow up to be. Your puppy wants to make you happy…let it. Your puppy wants to be praised…reward it. Your puppy wants to explore…take it out. Your puppy wants to smell things…give it a scent to follow.
And always remember, your dog doesn't just work for you, you work for your dog as well.
Miss Pursuit is a participant in the Amazon Associates Program. Miss Pursuit may earn a small commission for our endorsement, recommendation, testimonial and/or link to any products or services from this website. Your purchase helps support our work in bringing you real information about hunting and the outdoors.