When it comes to ice season, safety is always first. My goal is always to go back home to my loved ones, and you may be surprised to know that your ice fishing apparel can play a large part in that outcome.
Float suits are not new to the ice fishing industry, but they have come a long way since their first release years ago. While float suits of previous years were bulky and hard to move around in, those released in current years are lightweight and easy to get around in.
So, what is a float suit? Maybe we should start with what it is not. It is not a personal floating device. Do not purchase one thinking that it will be like one. A float suit is designed to give the user buoyancy if the user is breaks through into open water. This can in turn make it easier for the user to get out of the water. I also strongly recommend carrying ice picks, while the ice suit can give you buoyancy, the ice picks can assist with the task of getting out of open water back onto solid ice.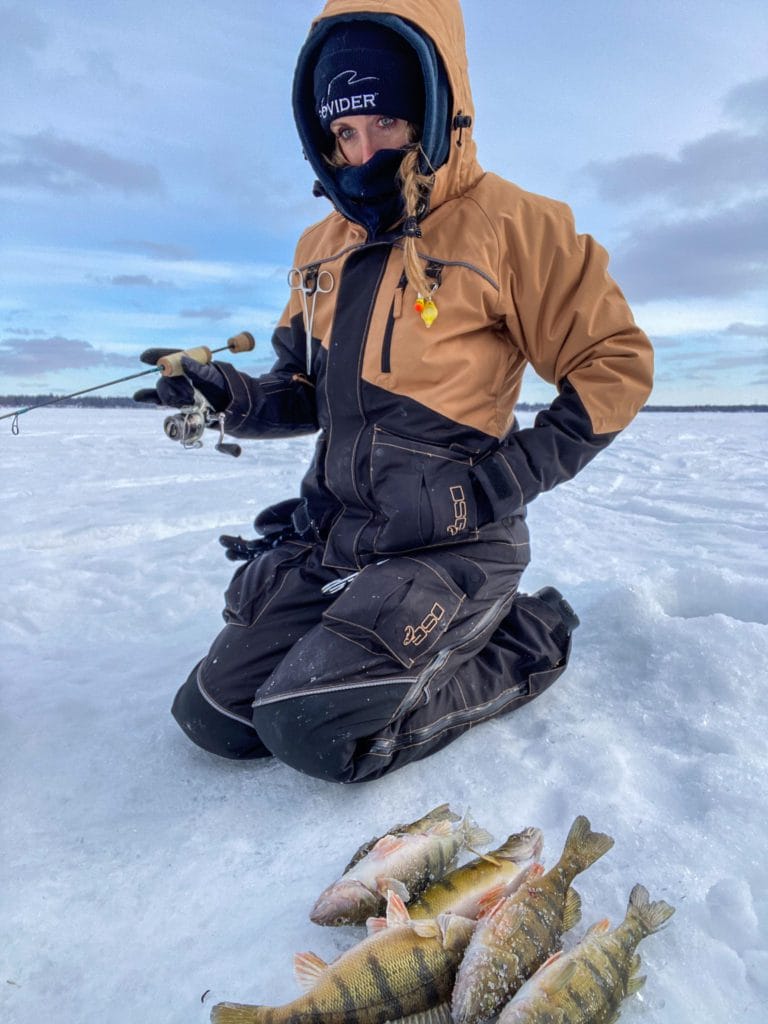 Purchasing an ice suit is an investment, but it is an investment worth making. Some items to take into consideration:
Is the brand reputable? Buy from a brand that has a good track record. After all, the suit could end up saving your life.
Cost: While float suits can be an investment, it is one worth making. As stated above, if you find a reputable brand, the suit will often last you years. The initial cost may be a hit to your wallet, but it is better than having to purchase a suit each season.
Has it been tested? While it is one thing to slap a sticker on an ice suit and say it is this and that, it is another thing to have it field-tested by actual users. Look for a brand that has tested it with REAL ice fishermen and women.
Can I move comfortably in it? Drilling holes and running for a tip-up are all things to consider. Also, consider you may have layers underneath. Can you do these things in your suit, and can you do them comfortably?
What ice fishing apparel do I use and what do I recommend to women?
I used to ice fish in a work brand of bibs with a heavy coat. Time was limited because I was cold fast. Safety, well….young and dumb.
Now, for multiple seasons I have worn DSG Outerwear ice suits. I have tested this out in various conditions and can without a doubt recommend this to other women. I specifically love the Avid. It has FLOTEX® layered foam insulation for warmth, as well as flotation assistance. FLOTEX® is a very lightweight material that makes the fit of this suit indescribable. I have no issues moving around or worrying it will bunch up in weird ways. It definitely keeps me warm on the ice without a shack for multiple hours. And well, the color options are dang good as well. 
Whatever ice fishing apparel you choose, make sure you choose safety first to ensure you have an enjoyable and successful ice season! 
This post may contain affiliate links. Miss Pursuit may earn a small commission for our endorsement, recommendation, testimonial, and/or link to any products or services from this website. Your purchase helps support our work in bringing you real information about hunting and the outdoors.