This post contains affiliate links.
Want to know how my first thru-hike started? With my partner forgetting his hiking shoes. No, this wasn't a simple "drive home and get them," situation as we were hundreds of miles away. Clearly, he did not use the sacred Google doc created just for this reason. There was a millisecond of internal panic when I doubted we would make it off the mountain(s) alive. Since I am writing this, you know the ending of the story…we made it. If you're thinking about a thru-hike, or have one planned, I want you to make it out alive as well. While my first post gave you suggestions for what to do prior to hitting the trail, it's time for the real fun. In part two of this three-part thru-hike series; let's talk the trail.
You have done the things to prepare for the day you leave on your hike. You have read the trail's requirements, done your pre-hike trip, packed and re-packed. Now what? Step one: remember your shoes. Definitely double-check before you leave that you have everything you need and nothing you don't. Equally important is to know where you are and where you are going. Why? Remember the end goal of getting out alive? That's why.
How to Survive the Trail on a Thru-Hike
There is nothing quite like being lost in the wilderness. In fact, this is something I encourage you to avoid. Makesure that you have different navigational options from traditional paper maps to GPS location via watch or an app to ensure you stay on the correct trail. Check in with it often and say nice things to it. After all, it is going to help prevent you from getting lost.
Part of your presearch (pre-research), was to review the qualities of the trail you plan to hike in order to choose the best equipment. You brought it, so use it. Don't be shy.  For instance, that time we went down a closed part of the trail (whoops,) those trekking poles came in real handy. To be honest, they were embraced as third and fourth limbs the whole time. Your body may not be used to this type of activity so utilizing first-world hiking luxuries from hydration bladders to headlamps will help keep you safe on the trail.
No one ever wants a medical emergency on a thru-hike but it is valuable to know where your bail-out points are in case they are needed. These should have also been a part of your presearch. When you talk about them aloud to yourself or your partner(s) as you pass their location you will solidify it to memory.  Always better to be safe than sorry.
Do you wake up thinking about your next meal? If that is you, you may be a bit uncomfortable without a plethora of food at your fingertips. It will be important for you to bring nutritious food for the trip. My favorites are nuts, dried fruits, Justin's butter packets(assorted flavors), and applesauce. These are so easy to keep in the side pockets of your pack for a good ol' fashion "grab and go." Backpacker's Pantry for lunch/dinner has delicious options. You will burn a lot of calories during your hike, so make sure to stop every couple of hours to re-energize.
The general rule of thumb on a thru-hike (and life) is if you see water, fill up. Different water sources along the way may not be available, depending on the time of year, and you do not want to be stuck without water. Find out where the water sources are during your presearch. Even if you have to hike a bit off the trail, it will be worth it. If you've partnered up, use this as an opportunity for one person to make lunch, get snacks, rest, and another to hunt for water sans the weight of a pack. Plenty of water filtering options are available. Sawyer has a great squeeze filter system that is quick, easy, and efficient. Between the extra containers provided in the system and our hydration bladders, there should always be plenty of water. Adding Ultima electrolytes to the extra water bottles always provided a flavored pick-me-up from just drinking regular water. Whatever your system is, do not pass up on water along the way.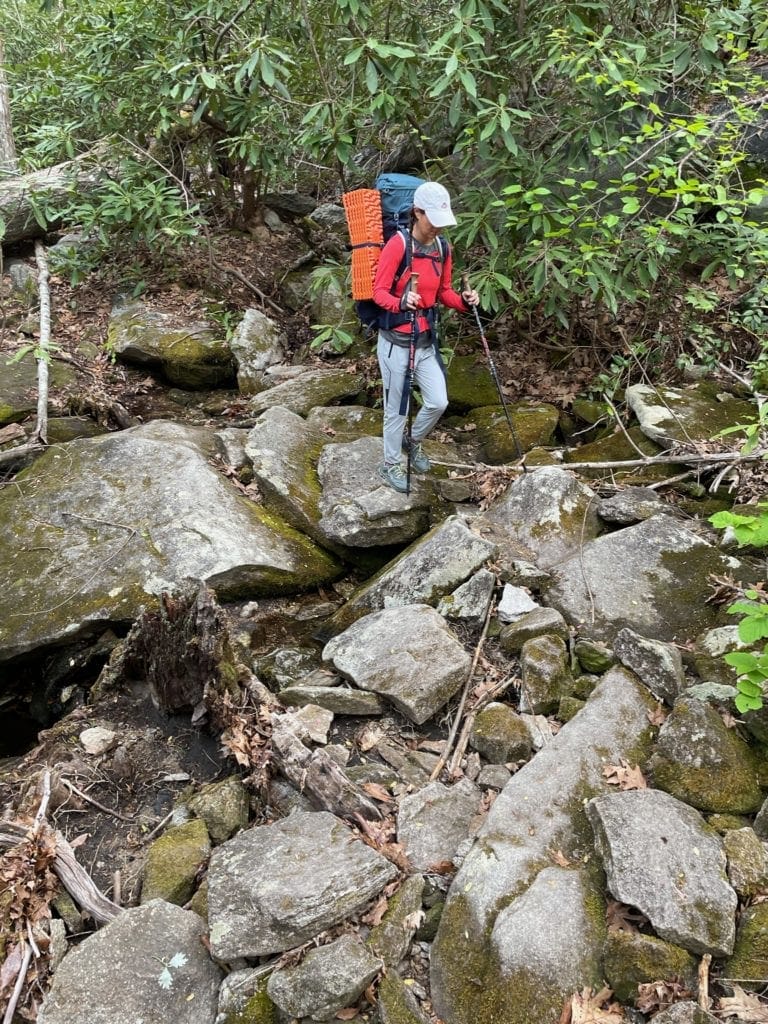 My battle buddy's favorite pastime on the trail was to lie to me about how much further we had until our next stop. "It was for your own good," he said. Famous last words. Regardless if you are alone or with a group, you have got to have something to keep your mind off the inevitable moments of struggle. Pick a topic and go through the alphabet thinking of one thing from that topic, invite five people to a dinner party then pick the two you plan to keep, name that (tune, movie, etc.), chant your favorite mantra, enjoy the world around you in silence. Or do all of these things, as you will not be at a loss for time while you are out there. Be prepared for moments of very intense fellowship during your thru-hike. This is natural so embrace it.
Think of all the luxuries you will enjoy when you finish the trail and remember to smile because you are incredible for embarking on the journey!
Miss Pursuit is a participant in the Amazon Associates Program. Miss Pursuit may earn a small commission for our endorsement, recommendation, testimonial and/or link to any products or services from this website. Your purchase helps support our work in bringing you real information about hunting and the outdoors.
This post may contain affiliate links. Miss Pursuit may earn a small commission for our endorsement, recommendation, testimonial, and/or link to any products or services from this website. Your purchase helps support our work in bringing you real information about hunting and the outdoors.