My husband and I took our "hunting moon" trip to Alaska, so we had to fly with our firearms and weapons. We used a hard-sided bow case to pack our bows, arrows, broadheads, extra pieces of clothing, knives, range finders, and much more. While bows are not an item that needs to be declared when checking in for a flight, we requested to be present for the scanning of the case so we could lock it ourselves, cover the locks with duct tape, and be assured that all our equipment was in place for the flight.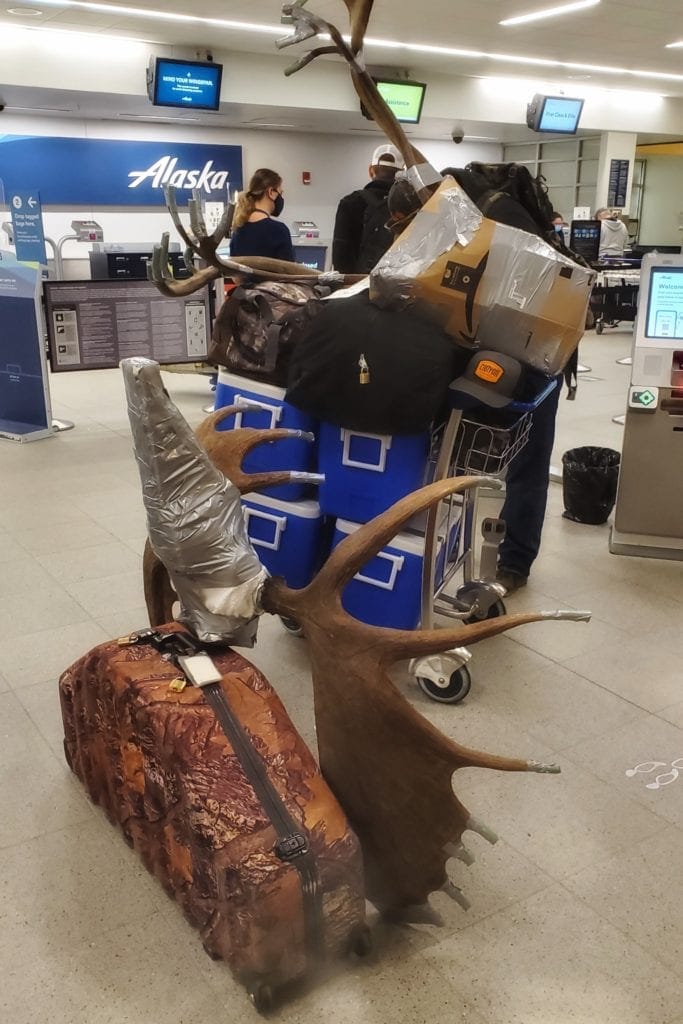 In the security room, our bow case was swabbed, as most all checked baggage is, and kept returning an alarm for explosives. This is a hard-sided bow case, never used for firearms, returning a code for explosives. After a manager was summoned to check the case and several swabs were evaluated, it dawned on us that the bow case, although in the well-sealed tack room, was stored in a barn where fertilizer was kept. The compressed air and particles pushed around in preparation for the wedding must have been blown around enough to make it into the tack room and somehow into the bow case.
Mystery solved. Case locked. On our way. We had just enough time to make it through security and to our gate even though we arrived at the airport more than two hours early.
Tips for Flying with Firearms and Weapons:
Clean your firearm and bow cases prior to packing them for your trips.
Airlines each have a specific set of guidelines for firearms, ammunition, and archery equipment. One thing is consistent, however, no firearm or ammunition, firearm parts, magazines, etc. are allowed in carry-on luggage or on your person on any flight. The exception is rifle scopes. Law enforcement officers have their own set of guidelines they must follow.
Invest in quality, lockable, hard-sided boxes for your firearms and ammunition that fit inside your checked baggage.
And, invest in quality, durable hard-sided cases for your rifles and shotguns. Padding is a must. All firearms and ammunition must be declared at check-in. You will accompany your firearm to a security area for inspection. Now, any kind of lock will work, just be sure you have an extra set of keys on yourself or your flying partner, and your cell phone available should TSA need to open the case for any reason after you've left the security area. In some cases and with some airlines, firearms and ammunition cannot be in the same case.
AIR Canada for example, requires them to be in separate containers with a declaration form for each container. Frontier does not allow firearms on international flights. Southwest allows you to pack firearms and ammunition in the same box. Some require ammunition to be in the manufacturer's original packaging and further secured inside another container. Handguns, regardless of airline are not allowed to be transported through or into Mexico or Canada.
Check the flying with firearms regulations and guidelines for an airline BEFORE you purchase your tickets.
General TSA guidelines are only basic suggestions. Each airline has different requirements. If you prefer to take your archery equipment, things get a lot easier. Most airlines consider archery equipment as sports equipment but still require them to be in checked baggage only. Bows, arrows, broad heads, etc. are allowed as long as they are secured in a case. Sometimes, depending on the plane, there isn't room inside for your bow.
Use the extra space in your bow case for items that are sometimes too bulky for your carry-on luggage.
Jackets, hunting pants, socks (good padding around broadhead boxes, knives, bow wrenches, range finders, etc.). We have put hunting boots in this case before as well. Archery equipment does not need to be declared as a firearm or ammunition. However, TSA can open your bow case for inspection. Otherwise, have your cell phone on in case they call you to unlock it. Most of the time, this is an oversized piece of baggage so you can most likely accompany the case to be checked.
If you pack your bow case with a ton of extras as we do, I highly suggest you request to accompany the case through its security screening to make sure all your items are in place and you can be assured it is locked securely before it is loaded onto the plane.
Plan for at least an extra half hour of time when flying with a firearm.
Never be in a rush when traveling with any kind of weapon.
Have patience and be courteous.
While people travel with their firearms all the time, it is still considered a higher security concern, and there are protocols that are strictly adhered to by each TSA and airline employee. If you're traveling to hunt, one action that I cannot stress enough is to check your equipment before you head to the field to hunt. This may require you to be on-site for the hunt, but things happen. Your firearm or bow just had a trip in a non-pressurized environment and wasn't handled with the best of care through baggage claim. Check to see if your scope is still zeroed? Are your pins on your bow sight in the right place?  What about your peep?
And finally, have fun and bring back some memories. Never be afraid to ask questions ahead of booking flights. Customer service representatives are there for a reason. And again, clean your cases, especially if you store them in a barn.
Commonly Asked Questions About Flying with Firearms:
What are the rules for flying with a firearm on a plane?
When traveling with a firearm, it must be unloaded, locked in a hard-sided container, and declared at the airline check-in counter. You'll need to follow both federal and airline-specific regulations.
Does TSA allow firearms in checked luggage?
Yes, the TSA (Transportation Security Administration) permits firearms to be transported in checked luggage, but they must be properly declared, unloaded, and secured in a locked container. Ammunition must also be packed separately.
What are the TSA requirements to fly with a rifle?
TSA requirements for flying with a rifle include securing it in a hard-sided case, ensuring it's unloaded, and declaring it to the airline during check-in. Ammunition must be stored separately in a secure container.
Do airlines charge to check a firearm?
Airlines may charge fees for checking firearms, but policies vary. Some may include the firearm as part of your baggage allowance, while others may charge an additional fee. It's essential to check with your specific airline for their policy and any associated charges.
Hope these tips for flying with firearms help you on your next adventure!
This post may contain affiliate links. Miss Pursuit may earn a small commission for our endorsement, recommendation, testimonial, and/or link to any products or services from this website. Your purchase helps support our work in bringing you real information about hunting and the outdoors.