On a hunt last month, we had a less-than-stellar experience with our hunting guide. Our group discussed if you write a bad review. My husband said no. It can hurt someone's livelihood. But, then we talked about how we are the people who read reviews. By not writing a review we are perpetuating the bad experience.
This guide had several good reviews and a few reviews where people had a similar negative experience to what we had. If you are a review reader like us, you may see that it can turn into a "war" with the business where they blame you for your experience and it gets ugly.
So…what do you expect from a guided hunt? If you have a bad hunting guide, do you leave a bad review for a hunting guide?
Define the Type of Hunt
When you set up the hunt, is it guided, semi-guided, or land access? You should have a conversation about what the expectations are for your hunt. In general, with a hunting guide, you are paying either for access to land you could not hunt by yourself, their equipment (calls, decoys, stands, feeders, boats, etc.), expertise, or all the above.
Most people who hunt with a guide are either looking to learn something about the type of hunting, on a "vacation" or want to hunt a different species. Hunting with a guide is a luxury and you are paying for a service. It is reasonable to want to receive what you are paying for.
What is the Guide's Job?
The main job of a guide is to set you up for success. This means giving realistic expectations, being respectful, and following through on claims/promises. The guide's job is to tell you what they feel you should expect given the conditions, what they see from scouting and their experience in that area or with whatever type of hunting you are doing.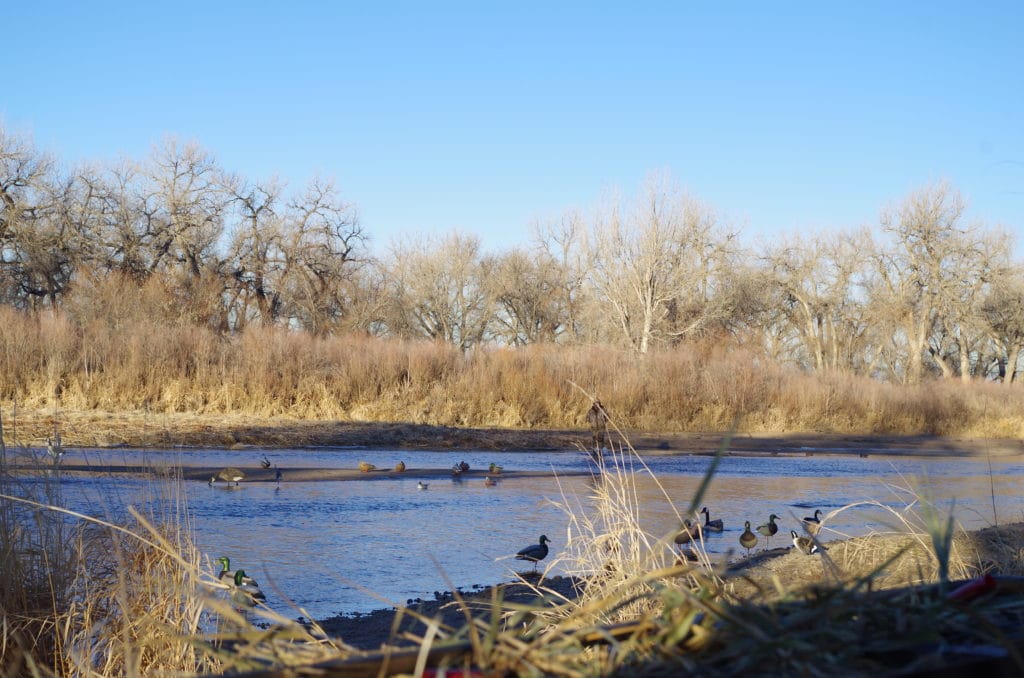 The expectation is honesty, but also to not be disappointed, which at best leaves you not going back and at worst leads to many bad reviews. A good hunting guide, in my opinion, will also tell you why they choose to do something out of the norm like going in late or saying we should have at least X opportunities with the current conditions.
What is the Hunter's Job?
The hunter's job is to communicate with the guide their goals and to be honest about their expectations and experience. If you do not communicate with the guide, you set yourself up for failure and you set up the guide to have a hard time. Most hunters have expectations and goals that can get in their own way. The main thing here is to tell the guide what you need and then listen and trust them to be an expert.
There is nothing wrong with respectfully saying what you need or asking questions if something is not fitting right. Don't sit in a blind you can't see out or suffer through a malfunction in your equipment. The hunting guide can help and will if the resources are available. Also, listen to the guide, if they tell you to sit down, be quiet, and be still and you don't listen, then the failure of the hunt is likely yours. This takes honest self-reflection which can be a hard pill to handle.
Finally, be respectful. This is their livelihood. Yes, it is a service, but they chose to let you come. They could have said they are booked, the weather is bad, the birds are not flying, or something else. Many guides can choose their clients and do have limited availability. You should be a team on the hunt when they are helping you within your limitations. When you look good, the guide looks good.
When to Write a Tactful Review on a Bad Hunting Guide
Normally, you would first talk to the guide about what happened and why you are disappointed. This should be respectful. If the guide told you there would be three shot opportunities and there were five, then you got a better experience than expected, even if you missed everything. If you do not get into your blind until after sunrise because the guide was late and there are birds flying over, then that is a bad situation.
If you see the birds flying to the pond you are hunting the day before and all of a sudden, they aren't there and the guide tries to make it right by offering another hunt, that is an acceptable situation.
First, what is your goal in writing a review? Is it to attack their business? Is it to prevent other people from having a similar experience? If the goal is to help others not "waste" their money on a bad experience, then proceed… after you have had some time to digest the situation.
Writing a scathing review in the blind or on the way home while you are still angry/frustrated is never the answer. If the guide talked poorly about others during your hunt, it is likely your review will only start a war that you may not want. It is your right to speak freely, but remember your words do have the power to both raise up and bring harm – to you and the person you are reviewing.
What to Write in Your Review
Stick to the facts. It is hard to not write your feelings. We have all seen and maybe been, the person yelling insults at the customer service person. This makes you look bad and not credible. Here are examples of reasonable negative comments:
We hunted the same pond that was hunted four days in a row.
There was missing communication regarding expectations.
We hunted land we could have hunted on our own when promised private land.
We paid to access land that the guide did not have permission to hunt.
Here are examples of reasonable positive comments:
The birds were not flying so the guide let us jump shoot/tried to find more birds/moved the blind.
We stayed for the afternoon to hope the flight got better.
They offered us another day when conditions are more favorable.
We did not see any animals, so we received a partial refund.
Remember when choosing to write an honest review of a bad experience is the reason you are writing it. We live in a world where we don't often think about the effect of our negative comments. We, as hunters, should stick together, but also should have the expectation to receive the services we pay for.
This post may contain affiliate links. Miss Pursuit may earn a small commission for our endorsement, recommendation, testimonial, and/or link to any products or services from this website. Your purchase helps support our work in bringing you real information about hunting and the outdoors.