At Badlands, they make women's camo by women and for women. Here's our review of the Badlands women's camo line.
Chasing hounds through the woods comes with an array of obstacles that as houndsmen and hunters we often enjoy in all its misery. Dealing with inadequate attire is not one of those obstacles I take pleasure in. I have spent many years testing a variety of pants in all styles in the quest to find a pant that would be comfortable, durable, and breathable. More often than not, they would fall short, leaving me to struggle with my pants more than paying attention to the task at hand. I am pleased to report that both the Badlands pants I have tested, meet the criteria. From hiking miles for sheds, mushroom picking, cabin maintenance, and straight into bear hunting with hounds, the Badlands Lagatha Leggings and the Woman's Task Pant have met the challenge.
Why I Love Badlands Pants
Durability
In our terrain, we walk through thick alders, raspberry canes, and a mess of blowdowns. I have attempted wearing thinner material pants in the past often emerging from the bush with thorns piercing through the material into my legs and tattered as if a feral cat had a hold of my thighs. Neither is ideal, given the magnitude of mosquitos we also encounter. A hole in your pants with exposed skin might as well be a buffet for pesky mosquitos and black flies. Both styles of pants consist of a thicker yet breathable fabric. I have hiked high and low through our terrain without issues, and with no tears or snags.
Comfort
The hunting industry has come a long way; so have I since the days of wearing my dad's oversized camo waddling to my deer stand. Now, I strive to wear clothes that optimize my movability, comfort, and quietness. The last thing I want to worry about is being uncomfortable in the field or trying not to create noise simply by moving my legs. Both pants were very comfortable. Though, I do prefer the Task Pant over the Lagatha Pant. As a matter of personal preference, I prefer a looser-fitted style for most activities. However, the Lagatha pant is very comfortable despite the tighter fit and I really liked the high, thick waistband. They didn't fall down like many legging-style pants and I was able to move easily, climbing over downfall and trees with no resistance. The thicker material near the calves and ankles was a smart design.
Quietness
During the spring season, I spent most days hiking the crown land and looking for moose sheds. I wasn't deliberately trying to be quiet, yet I managed to sneak up on multiple moose with no effort, thanks to the quiet fabric and movability of both pant styles. Even walking through alders and raspberry canes, both styles were very stealthy and didn't snag the thorns as I walked through.  They brushed passed the thorns with ease which is ideal for our terrain.
Task Pant Overview  
True to their description and true to size, the Task Pant is very versatile. From hiking through the woods to chopping firewood back at camp, they fit the task. Finding pants that don't slow me down has been a challenge over the years and I am happy to report that these fit the bill. Bear hunting with hounds is a style of hunting that requires you to adapt to the weather and terrain as it comes with often no time to change. Having attire that will work through it all is essential. Often we set out early in the morning when it's cool and the leaves are dewy, leaving your legs wet (and cold!) almost immediately. I found that these pants dried rather quickly and didn't absorb the water as I passed through the foliage. When the heat of the day sets in, I didn't feel overdressed, despite the thicker fabric. Overall, I was very pleased with this style and I will continue wearing them and testing them out through the fall seasons.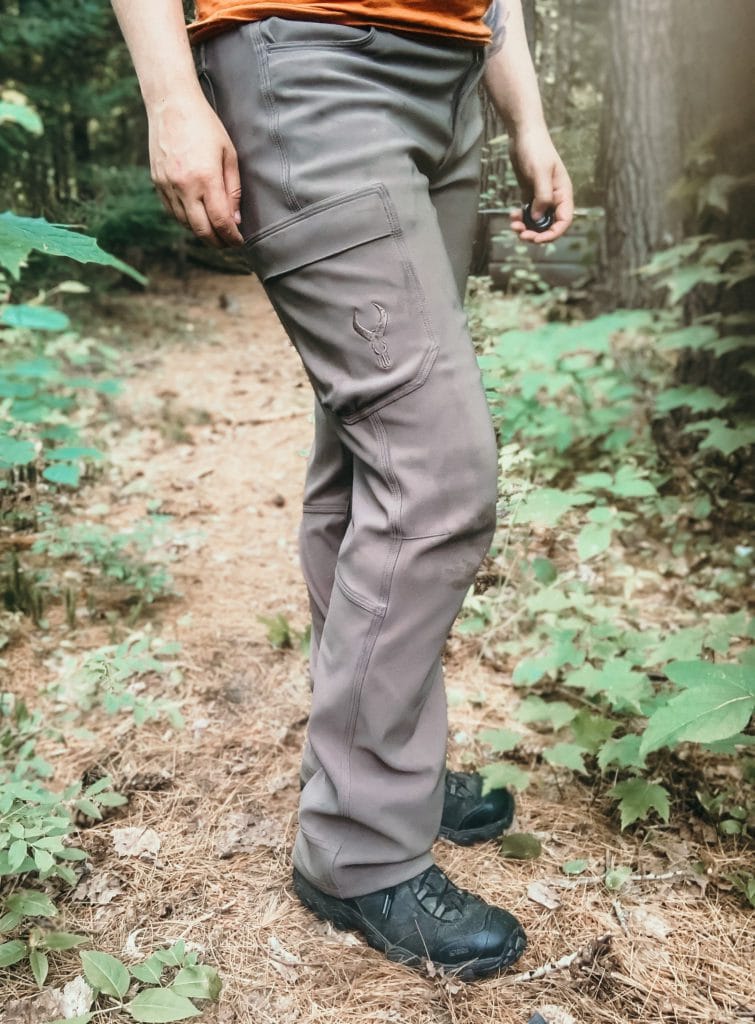 Lagatha Legging Overview
I'm not going to lie, the name of the pant in itself makes me feel like a Viking warrior. They held up to everything I put them through this season and still look brand new. I really liked this style for the days I had a few hours to shed hunt but had to run into town afterward. There was no need to change as they could be worn in either setting. The Lagatha Legging is very thick as far as leggings go, which was ideal for our terrain. They didn't snag on the raspberry canes and I had no issues with noise as I walked through the brush. I really liked pairing these with my gators for added protection on my calves and for water on the foliage. With most pant styles when I use my gators, I end up with bunching at the bottom but with the fitted leggings, there was no bunching and I found that to be much more comfortable. I usually wore these when I knew I'd be carrying my day pack as I usually have a few things in my pockets. These have a pocket on the side but with the right fit, I didn't often use it. 
In conclusion, Badlands woman's pants are worth checking out if you are a hounds woman in need of some durable pants that fit the task. They'll become a staple in your wardrobe. As we move into fall weather, I'll continue wearing them and plan to layer the task pant with a thin underlayer. They are both very versatile and can transfer flawlessly to town if needed, back at camp, and then back up to the mountain town. As a busy mom with no time to change in between, these meet my requirements!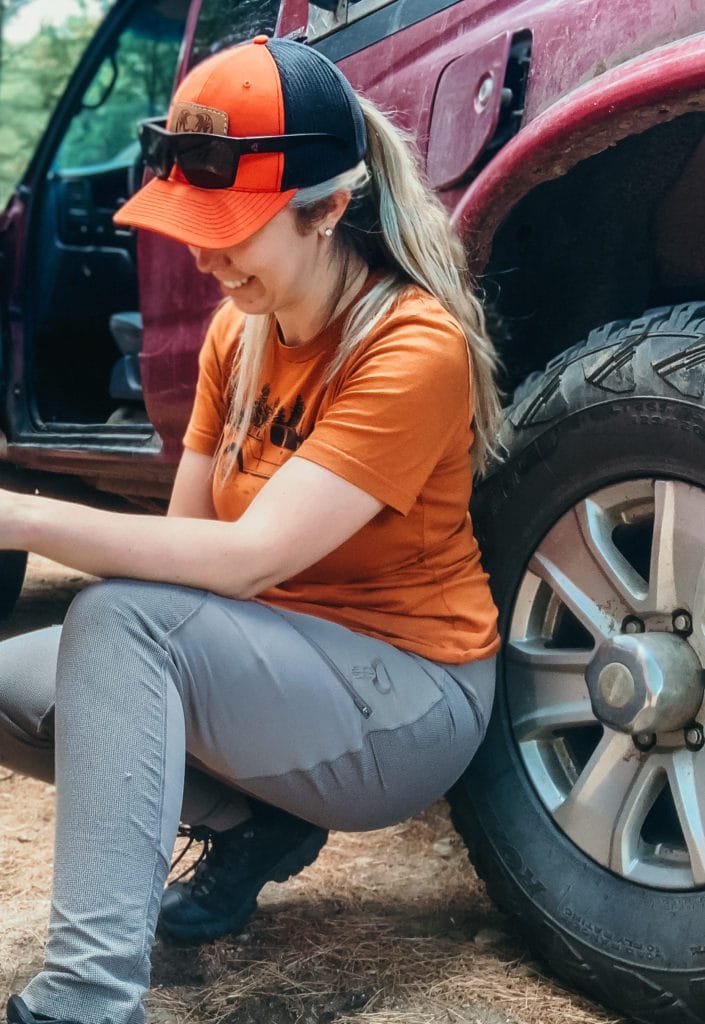 This post may contain affiliate links. Miss Pursuit may earn a small commission for our endorsement, recommendation, testimonial, and/or link to any products or services from this website. Your purchase helps support our work in bringing you real information about hunting and the outdoors.