This post has been sponsored by Ben's. All opinions are 100% our own.
How do you keep insects and ticks away? I've got an idea – Ben's Tick and Insect Repellents. If you hate them as much as we do, then you know the problem you'll face every time you step out the door to go on your next outdoor adventure.
Why is it important to keep ticks and inspects at bay?
Most tick bites are harmless and may not need medical care, but ticks (such as the deer tick and wood tick) can be carriers of nasty bacteria that cause diseases like Lyme disease. Ticks can transmit it to the people they bite. Even just a tick alone is such a pain. If you knew how many times, before using Ben's, I've picked out ticks from our family – well, ugh!
What Ben's Tick and Insect Repellents do we use when heading outdoors?
Ben's 30% DEET Tick and Inspect Repellent (Wilderness Formula)
It provides protection for our whole family and is proven to repel disease-carrying insects, including ticks and mosquitoes that may carry Lyme disease, Zika virus, and the West Nile virus. Ben's 30 also repels chiggers and biting flies so we can enjoy the outdoors bite-free.
A few benefits include:
Ben's water-based formula causes less repellent to evaporate off your skin, helping it stay on your skin and last longer.
You can apply Ben's without the stinging, irritation, or drying effect of alcohol-based repellents. Ben's 100 is the most potent DEET formula available, for powerful insect protection.
Ben's Tick and Insect Repellent is fragrance-free so you can smell the outdoors, not your repellent.
Ben's products are environmentally friendly and emit no ozone-depleting propellants.
Ben's Eco-Spray delivery systems release a fine mist at any angle for easy application.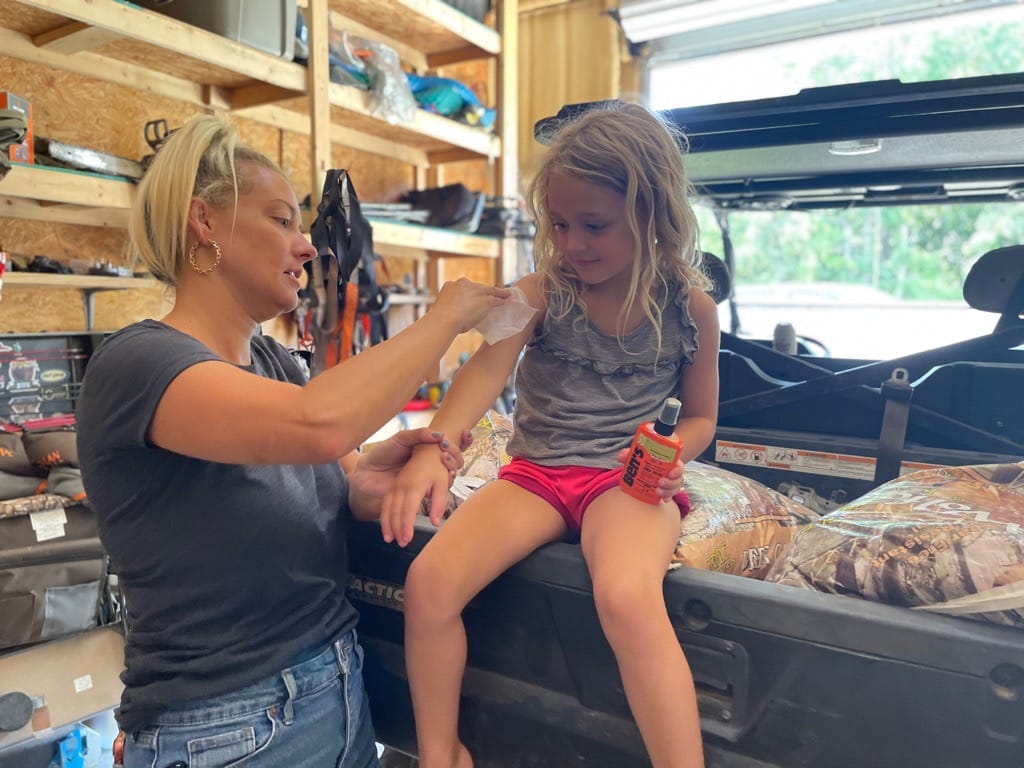 Ben's 30% Tick and Insect Repellent Wipes
Ben's Tick and Insect Repellent Wipes provide maximum strength tick protection that lasts 12 hours, so we can enjoy the day hiking, hunting, gardening, or camping. Their formula is tough on bugs without being tough on you, making it the best tick repellent for kids. The tick repellent features powerful protection against deer ticks, wood ticks, and more.
Ben's Insect Repellent Apparel
Ben's Clothing and Gear insect treatment repel and kill biting insects on contact. Rugged and powerful, it adds an extra layer of insect protection. The 0.5% permethrin formula bonds to fabric fibers and lasts up to six weeks through several wash cycles.
Repels mosquitoes, ticks, and other insects away from your clothes and gear with the CDC-recommended active ingredient, permethrin.
Stay bug-free with the second line of defense that repels and kills disease-carrying insects like ticks and mosquitoes, as well as flies, gnats, and other insects.
Ready to get outside and not worry about ticks, mosquitoes, chiggers, and other insects? Get going with Ben's Tick and Insect Repellents!