As we age, memories fade, and details sometimes become hazy. Photographs are our way of preserving these moments as a way to go back in time and remember how we felt, the events leading to that moment and so much more. However, we don't always remember to take that perfect photo. Or maybe the photo didn't turn out, or it didn't capture the moment quite as you remember. I can recall just about every detail of when I have taken an animal, right down to the way I felt beforehand and especially afterward. This is where custom paintings become invaluable.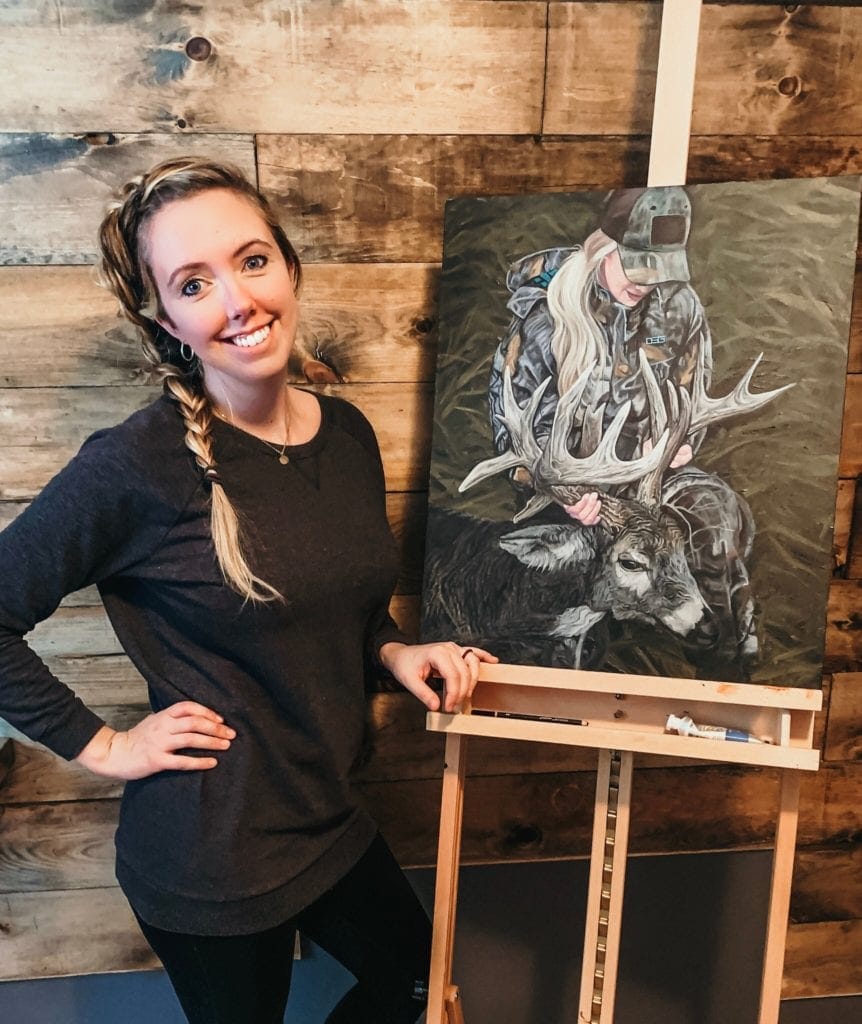 As an artist, hunter, mother, and someone who loves nature, I know just how valuable these moments are. Whether it's a memorable hunt or a sentimental place or an event, these are the life celebrations we want to remember. Which is why I have been helping my clients put these moments onto canvas.
I have worked from a single photo, as well as an array of photos to create a custom painting that was never captured on film.  
If this is sparking an idea or making you remember a moment you wish you could see again, then here's how to commission a custom painting.
How to Order a Custom Painting
Reach out. You don't need to have everything decided or figured out before you contact me. If you have an idea, let me know and I can let you know my thoughts as well as what I would need to know from you as far as reference photos.
When I create a painting from a memory, there are SO many questions that I will ask you. 
For instance, right now I am working on a large painting of a client's whitetail on the front of his property with his beautiful log home in the background. He sent me photos of his home from several angles, as well as photos of his deer after he harvested it. My job was to bring it all to life. I asked a magnitude of questions for him to decide, including what time of year he would like the painting. In which state is his house located? What kind of trees are on the property? Which way is the house facing so that I can adjust the light accordingly? What time of day would the scene be painted (sunrise, sunset, etc)? Are there any details you'd like included or excluded? What color is the room that it will be hung in? What color scheme appeals to you?
The more info you can provide, the more accurate the painting will be. The better the quality of the photos, the better I can capture the details. However, I can usually find reference photos for simple details to work from. I will usually come up with several sketches to choose from and let you decide which direction to go. In this example, I sent a variety of different posture examples of the deer from which to choose. Once it's finalized and we discuss canvas size, I will put the sketch onto the canvas and get ready to paint. Updates are sent along the way and altered as needed.
As you can see, creating a painting is more than just putting the paint on canvas. Specifically, with these types of custom paintings, the planning process is extensive but it is always my intention to bring the moment to life for my client so that every time they glance at it, it brings back those feelings.
Hopefully, this gives you an idea of how to go about ordering a custom painting. As I move forward with my art, I hope to take on more and more paintings that align with my passions including nature, hunting, and the outdoor lifestyle that we cherish. 
This post may contain affiliate links. Miss Pursuit may earn a small commission for our endorsement, recommendation, testimonial, and/or link to any products or services from this website. Your purchase helps support our work in bringing you real information about hunting and the outdoors.