This Female Hunter Feature is for Colleen Donohue. Here we go!
I was born and raised in South Louisiana and began hunting and fishing at 3 years old. I love any and all hunting (waterfowl, hogs/predator, alligators, deer, and small game) and fishing (saltwater, freshwater, offshore, and crabbing). If I haven't done it yet, I want to learn! I love hiking, exploring the outdoors, and traveling to different states to experience all of the different forms of nature, and try to learn as much as I can. I'm just your average Cajun girl who loves the outdoors and spreading laughs. My goals would be to get more people outdoors and to help educate as I learn, and share my experiences.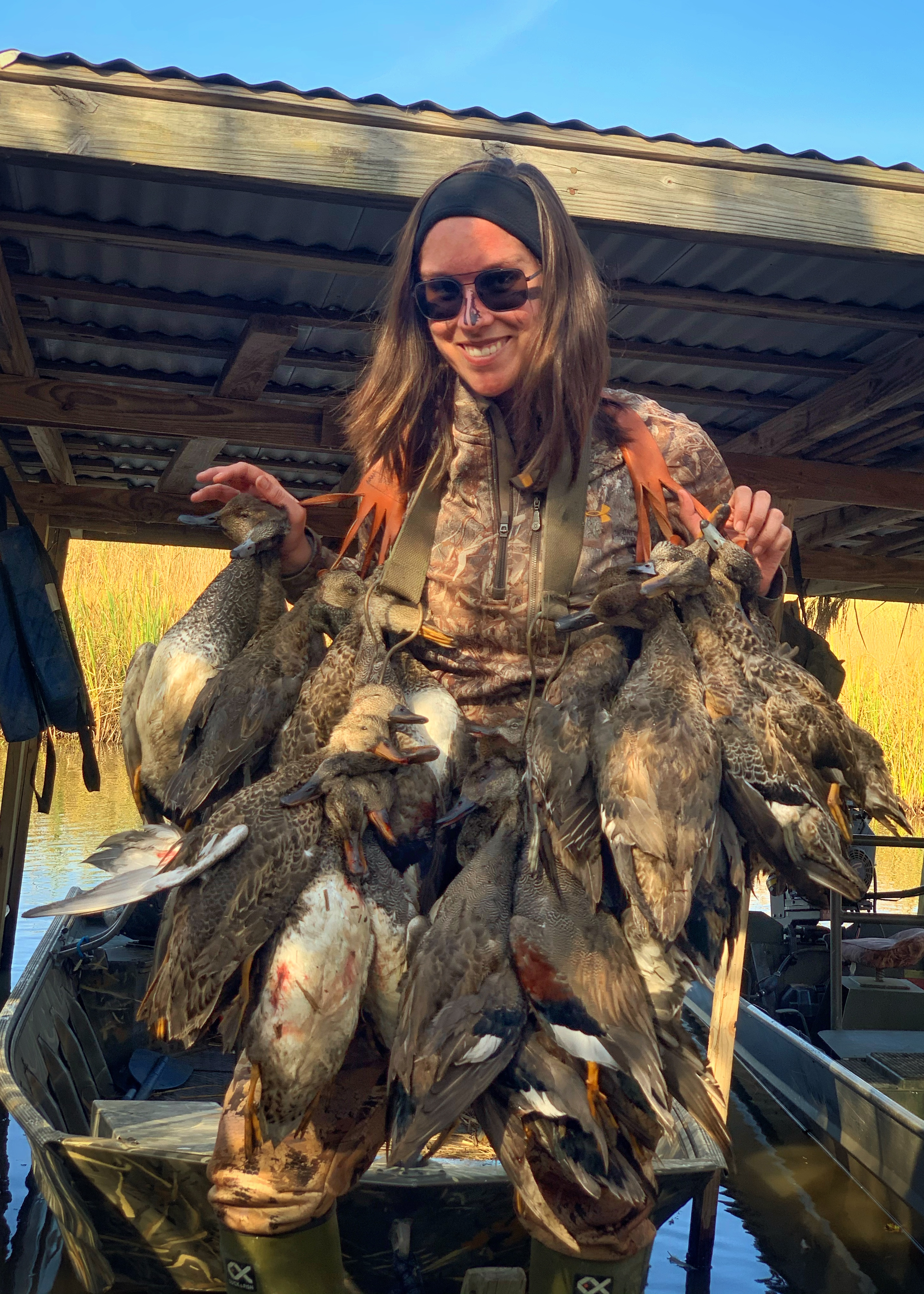 Why do you hunt?
I love hunting because I love all of the different challenges, from the speed of smaller objects flying by, the adrenaline from a predator hunt, getting the proper nutrition or food plots, learning the different species habits to have any luck at all, tracking, knowing how to make the shot count… I love it all, there's always something new to learn!
When was your first hunting memory, and how old were you?
I was three years old, my dad would take my siblings and me hunting with him in the blind, and I immediately fell in love. The beautiful sights and the thrill of seeing all of the ducks. It was amazing and I couldn't wait to learn how to do it!
What do you love most about hunting?
Hunting is like therapy, it's a time and place when I can reflect on things, have good ol' belly laughs, learn new things, make memories, not to mention if successful, bring home food to eat. Even if we don't take a shot, I'm still more than happy to just be out there.
What's your most memorable hunting experience?
There are really so many. My most recent memorable hunt, was hog hunting from airboats and making some amazing new friends.
Do you have a favorite wild game OR fish recipe?
I'm a Cajun, there are so many amazing recipes. One of my favorites, my Uncle has always cooked, and it always brings back good memories–I drool over it haha!
Roasted Duck with Rice and Gravy
Ingredients
4 Whole ducks
Tony Chachere seasoning
1 Onion, roughly chopped
1 Bell pepper, roughly chopped
Satsuma, cut in half, peel on
Bacon, diced
Sweet potato, quartered
Cooking oil (coconut oil, butter, ghee)
16 oz chicken stock
1 c Red wine
Directions
Preheat oven to 325 degrees.
Season ducks with Tony's or your preferred seasoning
Stuff the inside of the ducks with onion, bell pepper, satsuma, bacon, sweet potato
Stick a toothpick(s) in to close up the opening and keep everything in.
Warm the oil in a dutch oven and brown the whole ducks really well (15-20 min).
Pour the chicken stock over the duck, until the stock is about halfway up the duck.
Bring to a boil, and reduce heat to simmer for 30 minutes.
Skim the grease off the top. Add 1 cup of red wine.
With breast side down, place the dutch oven with the lid on into the oven. Roast the duck for 2-3 hours, basting regularly.
NOTE: some birds are tougher than others. For example, Gadwall and Teal will be tender a good bit before Wigeon. For the tougher birds, remove the more tender birds and continue cooking the tougher birds longer.
Serve over rice and gravy. We usually have the early sweet peas as a side.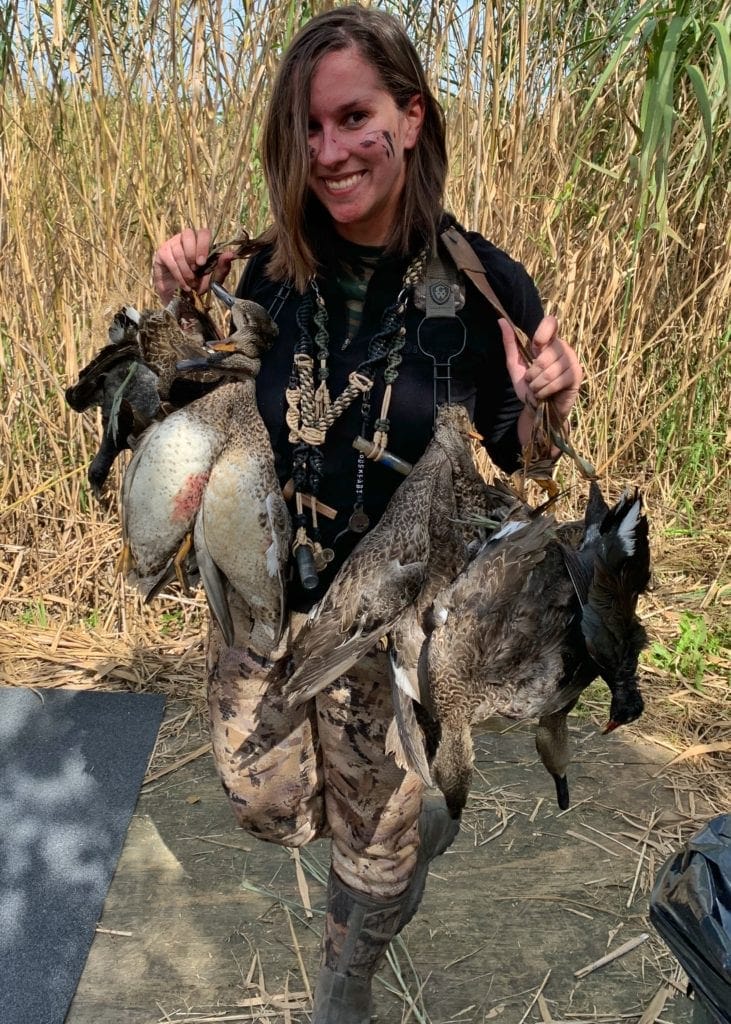 Do you have a dream hunting excursion?
I have a pretty big bucket list, but if I had to choose, a dream hunt would probably be an Eider hunt in Maryland with Jeff Coats in his biggest sea duck boat or an Alaskan Moose hunt!
What would you say to other women who haven't tried hunting yet?
Get out there! It's always good to try something new, and if one thing isn't for you, there are so many different types of hunting with many different options! Don't like waking up early – there's afternoon hunting, don't like the cold – there's spring hunting, don't like guns – there's bow hunting, feel like you aren't strong enough – I bet you'll surprise yourself and boost that confidence, don't like getting dirty – there's gear for that, don't ever feel like you can't do something! Ask questions, ask for help, and never give up!
Follow Colleen on Facebook…
Follow Colleen on Instagram…
Follow Colleen on GoWild…
Follow Colleen on YouTube…
This post may contain affiliate links. Miss Pursuit may earn a small commission for our endorsement, recommendation, testimonial, and/or link to any products or services from this website. Your purchase helps support our work in bringing you real information about hunting and the outdoors.