This female hunter feature is for Jessica Ann. Here we go!
Born and raised in Wisconsin, I fell inlove with the great outdoors at a young age. As a registered nurse, I developed the desire to educate and give back to local communities. Following my grandfather and father's footsteps, I adapted their passion for hunting. I thrive to learn from others and enjoy networking and meeting people along my journey. Pulling all these elements together, I created my very own brand and TV show.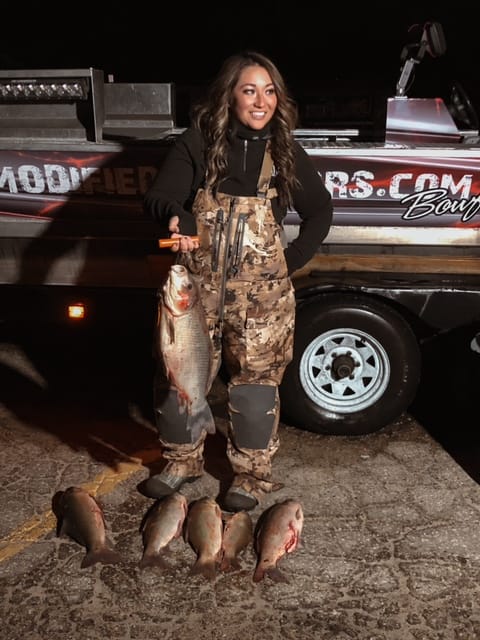 Why do you hunt and spend time outdoors?
Hunting is my passion, it's my drive. I have never felt so alive than when I'm in the woods, in a tree, in a duck blind, or climbing mountains. I hunt for many different reasons, the main reason is to put food on the table for my family. I love being able to provide for my family and there's just something about harvesting your own wild game, preparing it, and cooking it yourself. I also hunt to manage our various wild game populations. Last but certainly not least, hunting is a family tradition, it's something we thoroughly enjoy sharing as a memory together season after season.
When was your first hunting memory, and how old were you?
At the age of 6, sitting with my father opening morning of our whitetail rifle season in northern Wisconsin, on our family's land. I remember following behind him when we walked out in the morning and how he helped me practice walking in the woods quietly weeks before to prepare, I vividly remember pulling out my array of snacks (which I still pack every time), trying not to make a lot of movement or noise, and to his surprise, I lasted longer than he assumed I would that first day in the woods.
What do you love most about hunting and spending time outdoors?
I love the adventure. It's not just waking up the morning of a hunt and going out hunting. It's the months of preparation, all the invested time and energy. Seeing all your handwork pay off with a successful harvest, truly is the best feeling. Nothing beats opening morning chills, buck fever, or the ability to watch someone else experience their first harvest. I love how much we can learn, not only from each other but from the journey it takes to get there each and every time.
What's your most memorable hunting experience?
Oh, now that's a hard question. They are all memorable in their own ways! The first that comes to my mind is my turkey hunt last year, it was insane! I went out early in the morning, sat in a ground blind, and had a tom walk out just a few feet in front of me shortly after sunrise. Unfortunately, I let my nerves get the best of me and I took a shot and missed! I then switched gears and went chasing after a few different toms we had seen while out scouting. A good friend assisted in teaching me the ways of hunting with a Scoot and Shoot. This was a new way of hunting for me but boy did I get a workout in! There I was army crawling through field after field after field. Finally, we found a few toms in a huge open field, once the two toms spotted us, they came barreling up the hill so fast that my adrenaline was pounding. They spotted us and started to turn away, I had only a second to react, I jumped up and took my shot. 60 YARDS! Down went this beautiful Tom and I finally harvested my FIRST turkey! Redemption at its finest.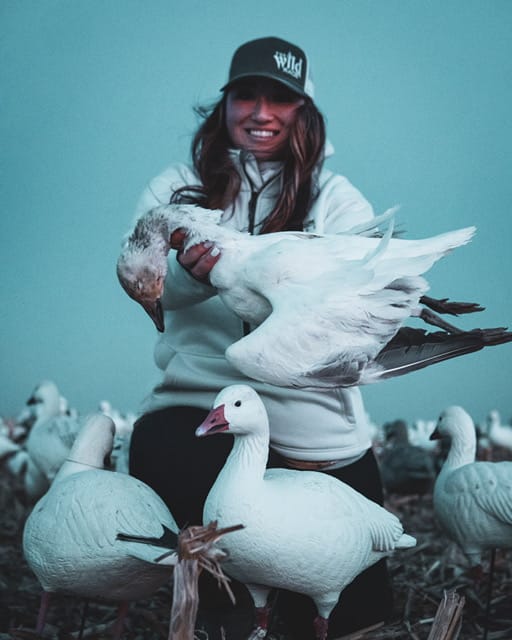 Do you have a favorite wild game OR fish recipe?
Venison Enchiladas! It's one of my favorites and is super easy to make. My mother is from South Korea so I also enjoy an Asian-style twist on a lot of my wild game, it's delicious!
Do you have a dream hunting excursion?
New Zealand archery red stag hunt is my ultimate dream and goal!
What would you say to other women who haven't tried hunting or spending time outdoors yet?
DO IT! Try anything and everything once. There's SO much to learn and do when it comes to the outdoors, more specifically hunting. It's a different world and one you'll get addicted to quickly the more you open your heart and mind to it. You will meet some of the most amazing people, you can explore places you didn't even know existed in your own backyard! You get to be a part of a larger movement, being the difference and the change, and more importantly, conservation! Don't be afraid to do it solo either, that's how I started to where I am now. Don't wait for someone to tag along, do it on your own! If you ever want to tag along on any of my adventures, send me a message! My TV show and foundation's mission statement reflects on introducing individuals from diverse backgrounds, youth, men, and women of all ages to the outdoors. Getting them involved and finding their own passions, it's a race to change the future!
Visit The Wild Race…
Follow The Wild Race on Facebook…
Follow Jessica on Instagram…
Follow The Wild Race on Instagram…
Read more of our Female Hunter Features here!
This post may contain affiliate links. Miss Pursuit may earn a small commission for our endorsement, recommendation, testimonial, and/or link to any products or services from this website. Your purchase helps support our work in bringing you real information about hunting and the outdoors.