This Female Hunter Feature is for Katie D'Arcy. Let's go!
Having spent her entire life enjoying the outdoors, Katie D'Arcy took up hunting about five years ago after working in content marketing and public relations for a number of industry-leading archery, hunting, and outdoor companies. Hunting soon became a passion and way of life that she now shares with her boyfriend and two sons – and hopes to share with the growing force of women entering the industry and sport. Combining her passion for the outdoors, archery, fitness, wild game feasting, raising boys, and writing, Katie hopes to share her growing knowledge so others may enjoy the benefits of everything the outdoors has to offer.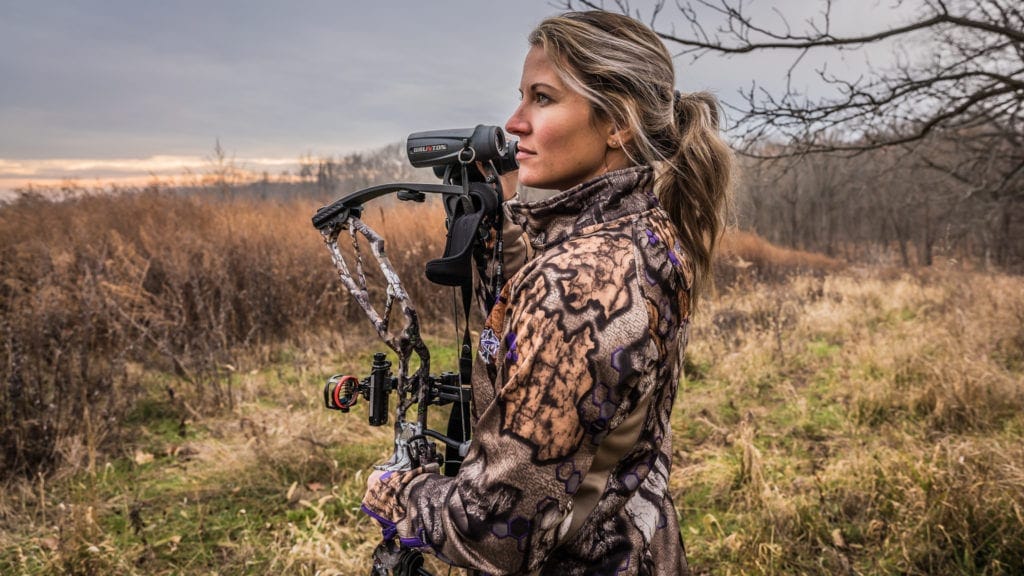 Why do you hunt, fish, and spend time outdoors?
I hunt and fish to spend time with loved ones outside in the blessing God created for us to enjoy. Hunting is the perfect mix of being physically active and healthy, and also being still and meditative.
When was your first hunting and how old were you?
My first hunting experience was a goose hunt with waterfowl greats George Lynch and Jason Pollack – and while I'd been fine tuning my archery skills for my first whitetail season, it was the first time I'd ever held and shot a shotgun. After dropping half a dozen geese, I was hooked.
What do you love most about spending time outdoors?
Not only do the outdoors provide a relief from the craziness of everyday life, it provides a great source of accomplishment that you are able to share and enjoy over and over.
What's your most memorable hunting experience?
Turkey hunting with my boyfriend is one of my favorite ongoing memories. There are few things I enjoy more than spending time with those I love, being active outdoors. That morning ritual – the woods waking up, then chasing game in the beautiful fields and woods our great Creator gave us – it is a lifestyle I wouldn't trade for anything. I can't wait until my boys are old enough to experience it, too.
Do you have a favorite wild game recipe?
I'm told my venison lasagna is top notch:
Meat mix: 1-1.5 lbs ground venison. Season and cook with Italian seasoning, a dash of Frank's Hot Sauce, salt, pepper, garlic powder, and onion powder. Add in one jar pasta sauce, then fill half that jar with water, shake, and mix in. Set aside.
Cheese mix: 1 tub ricotta cheese, 1 package cream cheese, 1 bag mozzarella cheese (save half for top of lasagna dish), 1 cup parmesan cheese, 2 tbsp Italian seasoning. Layer 1 (in a 9×13 pan): thin layer pasta sauce. Layer 2: noodles. Layer 3: half cheese mix. Layer 4: meat sauce. Repeat. Top with remaining mozzarella cheese.
Bake covered 350 degrees for 30 minutes. Bake uncovered 15 minutes. Let sit 10 minutes before serving.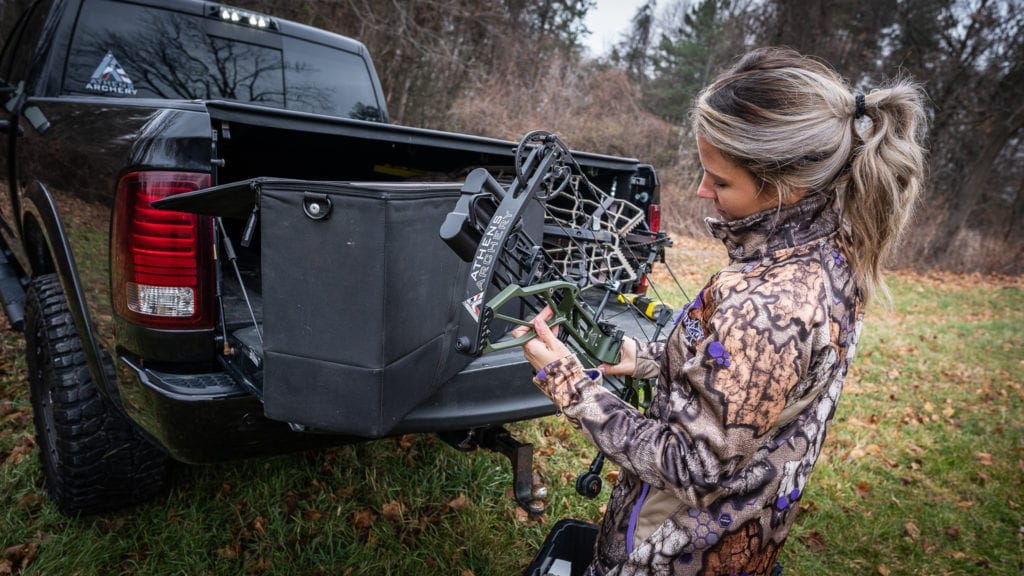 Do you have a dream hunting excursion?
I'm hoping to get an elk hunt in this year, then hopefully a trip to Africa. But I have quite the bucket list including moose, pronghorn, caribou and red stag.
What would you say to other women who haven't tried hunting or spending time outdoors yet?
To the women who, like me, were always interested in the outdoors and hunting, but didn't know where to start – it's never too late. Don't be afraid to go into your local archery or gun shop – you'd be surprised at how helpful the passionate people of the outdoors are. Try all the bows, hold all the guns – find what is most comfortable for you, and then practice, practice, practice. Read articles and watch hunting shows. Take your time getting to know the public land parcels near you and familiarize yourself with the hunt by tagging along with whoever will welcome you. Ask questions, take advice, but do what feels best for you. It's not just a man's game, as a matter of fact, many men will tell you that women are often a better shot! So get out there, fill your freezer with as much healthy wild game as you can, and enjoy this amazing world we live in.
Follow Katie on Facebook…
Follow Katie on Instagram…
Read more of our Female Hunter Features here!
This post may contain affiliate links. Miss Pursuit may earn a small commission for our endorsement, recommendation, testimonial, and/or link to any products or services from this website. Your purchase helps support our work in bringing you real information about hunting and the outdoors.