My name is Leah Robinson. I am the state coordinator for Wildlife Women in Mississippi, and I am a Drake Waterfowl Field Expert. My passion is introducing women and children to the outdoors. My husband and I guide youth and teens on deer and turkey hunts at Majestic Outdoors in Alabama. My husband and I own a small sheep farm in Mississippi, and I work as the Main Street Director in Kosciusko.
This Female Hunter Feature is for Leah Robinson. Here we go!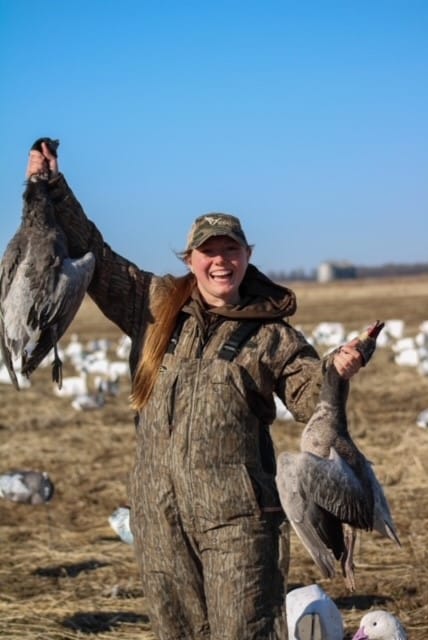 Why do you hunt and spend time outdoors?
I love everything about the outdoors, but my favorite type of hunting is duck hunting. It is a team effort. My husband and I do it together, making it very special when everything comes together.
When was your first outdoor memory, and how old were you?
My first memory of the outdoors is probably when I was fishing with my family at our farm with my Barbie fishing pole, and a catfish almost dragged me in. My dad came up behind and just pulled me and my pole out. I've been hooked ever since.
What do you love most about spending time outdoors?
I enjoy getting to soak up God's creation. I can go out and see His work in the most minor things. I can get clarity even when I've had a long week by just going out and climbing a tree or heading out to the duck hole.
What's your most memorable hunting experience?
My most memorable hunt happened in the 2020 season. I killed my biggest buck to date. We spent hours trying to find him then called in the dogs and they retrieved him in no time. I was so excited, but seeing my husband's face when we walked up to the buck was priceless. He was so excited for me. We called my dad, and he came to help us get him back to the farm. It was a proud father moment for him. My older brother was at work on the tugboat and had to FaceTime so he could see that I killed his target buck, but he was showing it off to everyone. I was on top of the world because the men in my family just boosted me up.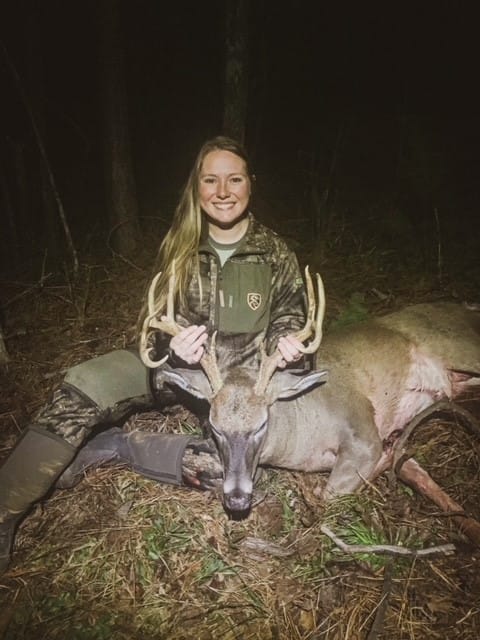 Do you have a favorite wild game recipe?
Speck steak. It is probably the easiest recipe. You take speckle belly goose and season it with your favorite seasoning. We use Sizemores, which is a local steakhouse seasoning. You can grill it or pan-sear, which is what we do. Cook it in an iron skillet to your liking. I love mine rare so it doesn't take us too long to cook it.
Do you have a dream hunting excursion?
That's a good question. I probably have more dreams than I have time to hunt, but my number one hunt is a grizzly hunt. I've always wanted to do it, and I'll eventually get up there to try it out.
What would you say to other women who haven't tried hunting or spending time outdoors yet?
Find someone who does what you want to learn and let them mentor you. Also, social media has made it so easy for us to host events so keep a lookout for that as well. You'll be able to learn a lot and make new friends in the process.
Find Leah Robinson online.
Follow Leah on Facebook.
Follow Leah on Instagram.
This post may contain affiliate links. Miss Pursuit may earn a small commission for our endorsement, recommendation, testimonial, and/or link to any products or services from this website. Your purchase helps support our work in bringing you real information about hunting and the outdoors.