Let's go fly fishing! Ah, but not so fast! Since you're a beginner, let's chat about your goals for why you decided to start to fly fish in the first place. Was it to enjoy another aspect of the outdoors? Or to learn or participate in an activity that a friend or partner enjoys? Maybe it was to eat? For me, it was to be able to explore the world and have an activity that I could do solo.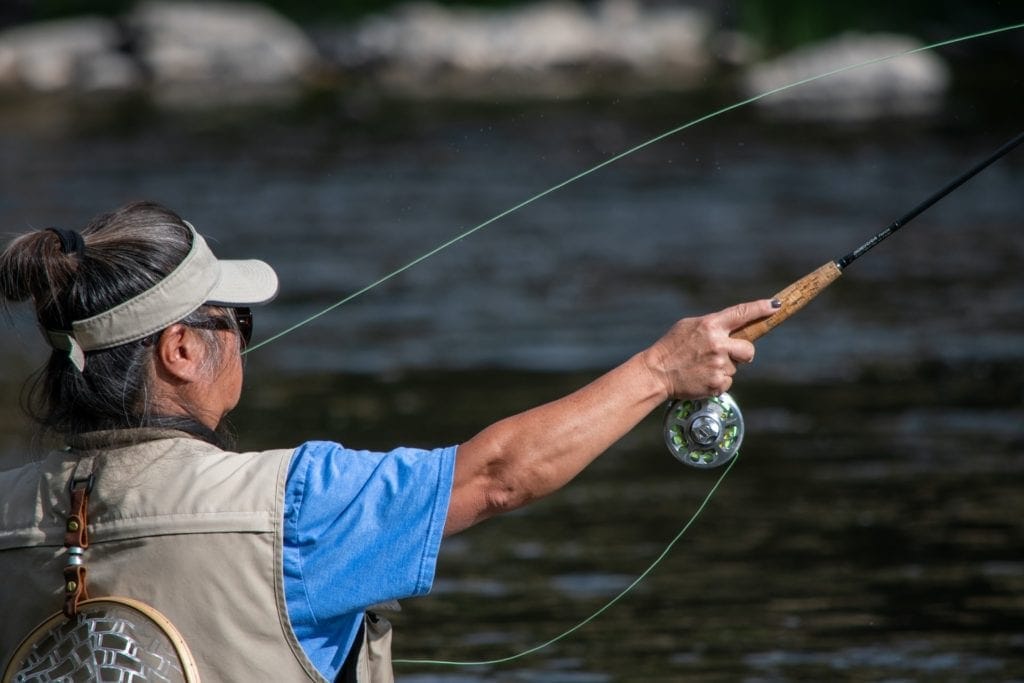 The first time I was introduced to fly fishing was by a guide who was absolutely determined to have me net fish that day. I left there totally confident I could catch them on my own, but nothing could be further from the truth.
Here are a few basics every new fly-fishing angler should know:
Be patient with yourself.
If you want to learn to fly fish, you will learn the true meaning of patience. You will lose flies, catch more foliage and "trout sticks" than you realized existed. You will cuss and want to quit. But, you will be back.
Do not get overwhelmed by advice.
There were times when I began fly fishing that I would ask what I thought was a simple question, and I would get so many responses I felt overwhelmed. Now have my own advice to offer, take baby steps.
The main focus in fly fishing is to properly cast and present your fly just so that trout will think it is a real bug and take your fly into its mouth. If that happens, congratulations, because trout have phenomenal eyesight! You then have only a split second before that finicky trout discovers it isn't a "real" bug and you have to find a way to set your tiny hook into the soft tissue of its mouth. But wait, you're not finished! Now you have to net the fish by keeping tension on the fish but not too much. It's a beautiful dance and once you are able to perform it, you'll be forever hooked.
There are so many right and wrong ways to do something but without experiencing it yourself, you will never learn. For example, I took the Orvis Fly Fishing 101 class, which is a great fundamental class. It was especially helpful for me when someone recognized I have a "bait caster" wrist action and suggested I tuck the rod end into my shirt sleeve! (MIND BLOWN!) However, it did not prepare me for the tiny creeks of Payson, Arizona, or the fast-moving waters of Pennsylvania.
In order to avoid overwhelm, I suggest you find the necessary casting style for your local waters and pick some less pressured water in your local area. Walk into the local fly shop and find out where to practice casting without disrupting other anglers, and for a spot with hungry fish. Try not to be intimidated, they were a novice at one time too.
You will get skunked.
There is something especially spectacular about fly fishing to me. I can't say if there is any one part of fly fishing that "speaks to me" more, but one thing I know for sure, without a doubt, I get "skunked" a lot! "Getting skunked" means you didn't net one single fish. But I take it even further: you didn't get one single chance to even set the hook.
I recently polled the ladies on the United Women on the Fly Facebook group managed by Heather Hodson, to find out how long they had fished before netting their first trout. A well-known outdoor female figure on social media, Amy Williams Ray, owner of The Sisterhood of the Outdoors, described her quest:
"It took me forever!! I went to a special honey hole where everyone catches them and it took me four trips-only person in history to be skunked that much lol made that first one I landed that much more special".
Shandy Danford, also a member of the United Women on the Fly Facebook group offered her journey:
"3 months…3 hard fishing months, every Saturday and Sunday from sun up to sundown, driving from Salem to the high desert, to the coast to Eugene, to Washington and everywhere in between. Turns out if you know the real basics, I mean the most basic of basic, like FF (-101) classes you'd catch earlier. HOWEVER, wouldn't change the process, my learning curve at all, it's my story…saving gas $ would have been cool though".
And there are many more stories like that, the moral, you will get skunked but do not quit.
Know your bugs.
When you are out fly fishing, make sure to have these flies on hand. Trust me on this, keep this simple! Trout eat 90% of bugs underwater and only 10% on top, and that's when the weather and everything are perfect. There are a few "bugs" that are pretty consistent in almost every trout creek and some that a trout might mistake for something "different" but close to what they are eating. Every season healthy waters have hatches. These hatches are made up of different stages of a bug's life throughout a water column.
Do not overthink additional gear.
Gear is essential to any outdoor activity. Like any other gear you will buy, you may not like it, or find it to be more of a headache than helpful. I fished for six months in tennis shoes! Not optimal, but it worked. When the weather changed, I purchased some waders and boots from Orvis. For fly fishing, you do not have to go buy the expensive stuff right away, you already spent money on your rod and reel, flies, leaders, tippet, net, clippers, and hook remover! You will want something to organize those smaller items. Many ladies love the vests, some like the front pouches, some use lanyards, and some like the slings. Fishewear, a female-owned company, partnered with Orvis to make an amazing sling that I recommend for beginners.
Here is another resource for using a lanyard which I use for additional items.
The most important part, enjoy the journey. You will write your own story.  Make your own mistakes. Have your own encouraging words.
Tips for Fly Fishing for Beginners::
Get the right gear
Before you start fly fishing, you need to have the right gear. This includes a fly rod, reel, line, and flies. You can purchase a beginner's kit that includes all of these items, or you can buy them separately. Make sure to choose the right size and weight of gear for the type of fish you plan to catch.
Learn the basics of casting
Casting is the most important skill in fly fishing. You need to learn how to cast the line and fly accurately to catch fish. There are many resources available to help you learn how to cast, including books, videos, and classes. Practice casting in an open area before you hit the water.
Choose the right location
Choosing the right location is key to a successful fly fishing trip. Look for areas with clear water, good flow, and plenty of fish. You can research online or ask local experts for recommendations. Make sure to follow any regulations or restrictions in the area.
Understand the fish behavior
Understanding the behavior of the fish you are trying to catch is important. Different fish species have different feeding habits and preferences. Learn about the types of insects and other food sources that the fish in your area prefer, and choose flies that mimic those food sources.
Practice patience
Fly fishing requires patience. You may not catch a fish on your first trip, or even your tenth. Be patient and keep practicing your casting and fishing techniques. Remember that the experience of being out in nature and enjoying the sport is just as important as catching fish.
Respect the environment
Fly fishing is a sport that relies on a healthy environment. Make sure to respect the environment by practicing catch and release, not littering, and following any regulations or restrictions in the area. Leave the area better than you found it.
Join a community
Joining a fly fishing community can be a great way to learn more about the sport and connect with other anglers. Look for local clubs or groups, attend events and workshops, and participate in online forums. You can learn a lot from experienced anglers and make new friends who share your passion for fly fishing.
Get outdoors and partake in something bigger than yourself, nature. Every minute spent outdoors is a gift.