Fly fishing can be a relaxing and rewarding hobby, but choosing the right rod and reel can be overwhelming. With so many options available, it's important to consider factors such as rod length, weight, and action, as well as reel size and drag system. This guide will help you navigate the choices and find the perfect setup for your fly fishing needs.
Hopefully, this article will give you the confidence and peace of mind to make that purchase and leave the store fully satisfied that you bought the right set-up.
The first thing you need to understand is that your new setup is the main tool used to get fish in your net. Sure, there are other items you'll need to purchase. But your fly rod and reel set-up actually become an extension of you. It should fit your casting hand well and work with you to make every cast as successful as possible in netting fish.
What are you planning to fish with your fly fishing rod and reel?
I know I had big ambitions. I wanted my first set-up to catch as many different freshwater species as possible. My target was bass – a fish I had never considered fishing for in my life. My only guidance at the time was from my first and only guide and now a friend. He suggested a 6 weight. I walk into Cabela's, and into the fly-fishing section, only to be overwhelmed.
There were rods of different lengths, different weights (we'll go over this term shortly), and different brands. Selecting a fly rod is not unlike anything else if you know what you want it to do. The salesman came over and I told him what my friend suggested. I didn't want to break the bank. He walked over, handed me a boxed-up 6-weight 9-foot rod and reel set-up and that was that. Believe it or not, the easy part is actually buying the setup.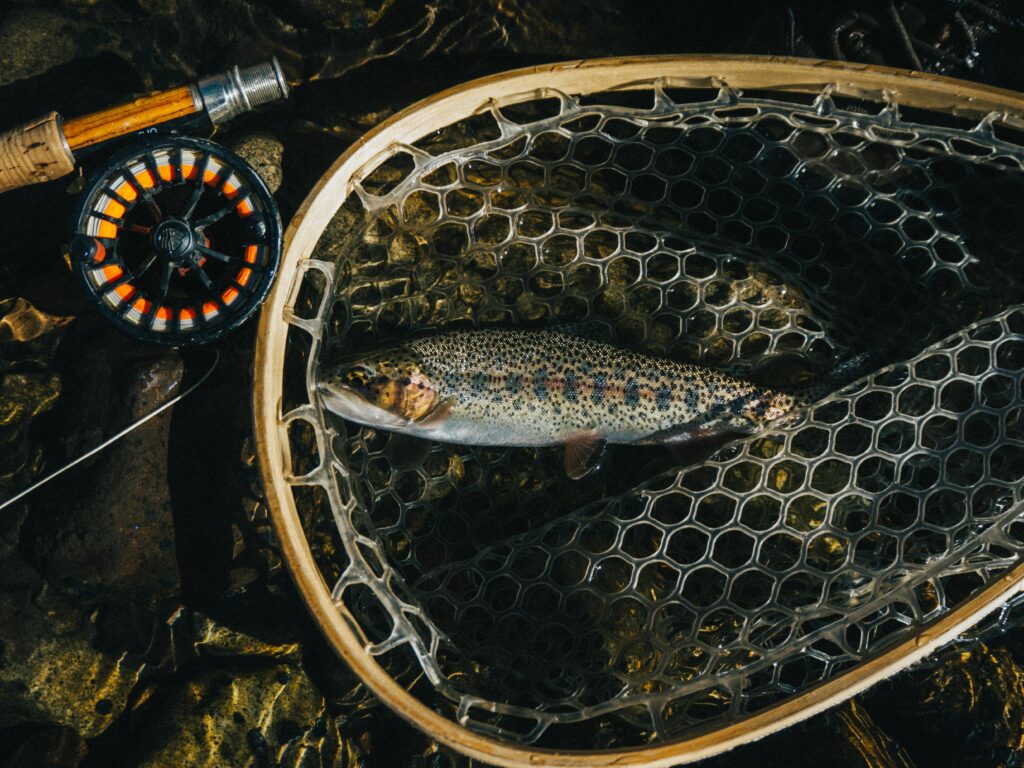 So, off I went to the first pond I could find and broke the tip of my rod on the bathroom door. Thankfully, Cabela's brands' have a lifetime guarantee regardless if it is your fault and I received a brand new set-up.
I've learned a few things from that purchase. Since then, I have purchased 3 and 4-weight rod and reel set-ups at 8.5-foot lengths. When there is a reference to a fly rod weight, it is referring to the size of the line that accompanies the reel you will place on your rod. The rod and reel will balance, and the line is the weight that actually gets your fly out into the water. 
Since I was determined to catch some wild brown trout, the salesman at Orvis strongly suggested an 8.5-foot rod length. Those set-ups felt completely different than the 6-weight I had been practicing with, not to mention the price was substantially higher.
To add one more piece to the puzzle, I was fortunate to have fished with a female pro angler that guides Penns Creek in Pennsylvania. She introduced me to a 6-weight 10-foot rod and reel set-up that I use to cast into fast-moving and deep creeks. This rod felt different, too.
So here is a quick breakdown of how to pick your first rod and reel set-up:
Small creeks: 4-5 weight 8.5 foot
Pond fishing or large creek fishing: 6 weight 9 foot
Larger ponds/lakes/creeks with bigger fish: 5-7 weight 9 foot
Open waters/windy conditions/larger fish: 7-9 weight 9 foot
Saltwater/flats/toothy fish: 7-9 weight 9 foot
I know I mentioned that I made my first purchase at Cabela's and I'm glad I did. My set-up was cheap. It has a lifetime guarantee, and I recently used that guarantee again because the reel was giving me trouble. I'm also thrilled with the service I receive at each and every Orvis shop I've ever walked into. Orvis also has a replacement program for their rods which I have also used (yes! I'm hard on my gear!). 
Now that I've spent some time in the fly-fishing world and met several business owners and guides, I would strongly suggest heading over to your local fly shop and buying local. Most of these shops are very eager to help pick the right set-up for you and will even let you practice cast with several floor models. Once you get your feet wet you might want to have a beautiful custom rod done. 
Check out SaraBellaFishing.com. They specialize in fly fishing rods designed specifically for women anglers. 
A few other factors to consider when choosing your rod and reel combo:
Determine Your Fishing Style and Target Species.
Before choosing a fly fishing rod and reel, it's important to consider your fishing style and the species you'll be targeting. Different fishing styles, such as nymphing or dry fly fishing, require different rod lengths and actions. Similarly, different species of fish may require different rod weights and reel sizes. Research the specific fish you'll be targeting and the techniques used to catch them to ensure you choose the right setup for your needs.
Consider the Rod Material and Action.
When choosing a fly fishing rod, it's important to consider both the material and action. Rod material can impact the weight, durability, and sensitivity of the rod. Common materials include graphite, fiberglass, and bamboo. Graphite is the most popular material due to its lightweight and sensitivity. Action refers to how much the rod bends when pressure is applied to the tip. Fast action rods bend less and are better for casting long distances, while slow action rods bend more and are better for short, accurate casts. Consider your fishing style and the species you'll be targeting when choosing the material and action of your rod.
Choose the Right Length and Weight.
When choosing a fly fishing rod, it's important to consider the length and weight that will work best for you. Rod length can impact casting distance and accuracy, as well as the ability to navigate through tight spaces. A shorter rod may be better for small streams and creeks, while a longer rod may be better for larger bodies of water. Rod weight refers to the size of the line that the rod is designed to cast. A lighter-weight rod is better for smaller fish and delicate presentations, while a heavier-weight rod is better for larger fish and heavier flies. Consider the type of fishing you'll be doing and the size of the fish you'll be targeting when choosing the length and weight of your rod.
Select the Reel Type and Size.
Once you've chosen the perfect fly fishing rod, it's time to select the reel that will complement it. There are three main types of reels: single action, multiplier, and automatic. Single action reels are the most common and easiest to use, while multiplier reels are better for experienced anglers who need more control. Automatic reels are the easiest to use, but they are not as versatile as the other two types. When choosing a reel, consider the size and weight that will work best with your rod. A heavier rod will require a larger reel, while a lighter rod will require a smaller reel. Make sure the reel has a smooth drag system and is made of durable materials that can withstand the wear and tear of fishing.
Don't Forget About Line and Backing.
While choosing the perfect fly fishing rod and reel is important, don't forget about the line and backing. The line is what you cast out into the water, and it's important to choose the right weight and type for the type of fishing you'll be doing. Backing is the line that goes on the reel before the main line, and it's important for adding extra length and strength to your line. Make sure to choose a high-quality line and backing that will work well with your rod and reel setup.
What size fly rod is best for beginners?
For beginners, a 9-foot, 5-weight fly rod is a good all-around size. It's versatile enough to handle a variety of fish species and fishing conditions, and it's also a good size for learning basic casting techniques. As for the reel, look for one that matches the size of your rod and has a smooth drag system.
How much does a good fly fishing reel cost?
A good quality fly fishing reel can cost anywhere from $50 to $500 or more. It really depends on your budget and how often you plan to use it. Generally, the more expensive reels are made with higher-quality materials and have more advanced features, but there are also plenty of affordable options that work just fine for beginners or occasional anglers.
What do beginners need for fly fishing?
For beginners, you'll need a fly fishing rod and reel combo, fly line, leader, tippet, flies, and some basic accessories like nippers and forceps. It's important to choose gear that is appropriate for the type of fishing you plan to do and the species you are targeting. Consider taking a lesson or consulting with a local fly shop to get started on the right foot.
Now you have all the tips for buying your first fly fishing rod and reel!
This post may contain affiliate links. Miss Pursuit may earn a small commission for our endorsement, recommendation, testimonial, and/or link to any products or services from this website. Your purchase helps support our work in bringing you real information about hunting and the outdoors.