Fishing is an absolute blast for me, and my family enjoys it as well. None of us had gone deep sea fishing before, so while on vacation in Kauai this year we decided to do a fishing boat charter with Hunt Fish Kauai. This one event turned out to be the most memorable moment of the entire week.
The water was relatively calm, but the boat did have a rocking motion to it. I have never become seasick, but things did get dicey miles out from shore. I found that standing up and staying busy made me feel better, and likely kept me from chumming the waters. The boat captain mentioned that a large number of charter boats never get full-time out on the ocean because so many people get sick. I was thankful that I fought it because our adventure was unbelievable.
The boat had been trolling with lines in the water for just under an hour when we spotted a group of seagulls start diving into the sea for a cluster of bait fish. The captain angled our boat in that direction just as two large Ahi tuna flashed and flipped out of the water in front of us. My family and the captain were on the upper level of the charter boat. He told everyone to be ready in case we got a bite. Nothing could prepare us for what happened next.
The boat had just entered the area where the fish had jumped when one line snapped down. The captain shouted, "MOM, you are up." I had barely placed my feet on the steps of the ladder to begin climbing down to the fishing level when line two snapped, then line three snapped down, and a 4th one as well – all within 10 seconds. It was at this moment that the captain braced us all with this quote, "Every one of you grab your rod and keep the line tight. This will be a fight with no rest, but let's get it done!"
What a fight it was too. Emma (19) had the shortest amount of line out, so hers got reeled in first. She managed to fight for about 30 minutes before her Ahi was brought into the boat. My husband, Jeremy, was up next with his. They left me reeling along with my 21-year-old (115 lbs. bean pole) to bring the last two in.
The captain and the deckhand were unbelievable to watch. Our lines crossed a few times, and the captain would grab the rod from the holder and dance under the other rod to switch places and keep the line from snapping. Audra and I both were exhausted and had arms on FIRE, but we kept reeling when we could and kept the lines tight.
My fish came into the boat 3rd leaving Audra to reel in the final Ahi tuna. It turned out to be the largest one of all! Each fish was proposed to weigh about 120 lbs with Audra's fish pushing closer to 150 lbs. Audra is not super outdoorsy or active, but she turned to us with the largest smile and thanked us for getting her up and talking her into going on the trip. She admitted that her intentions were just to sit and watch while we fished, but when the 4th fish hit the line, she had no choice but to get involved. Emma sat beside her and rubbed her back, partly because she didn't want her to fall out of the boat in the waves and from the fatigue. She never gave up and just kept reeling!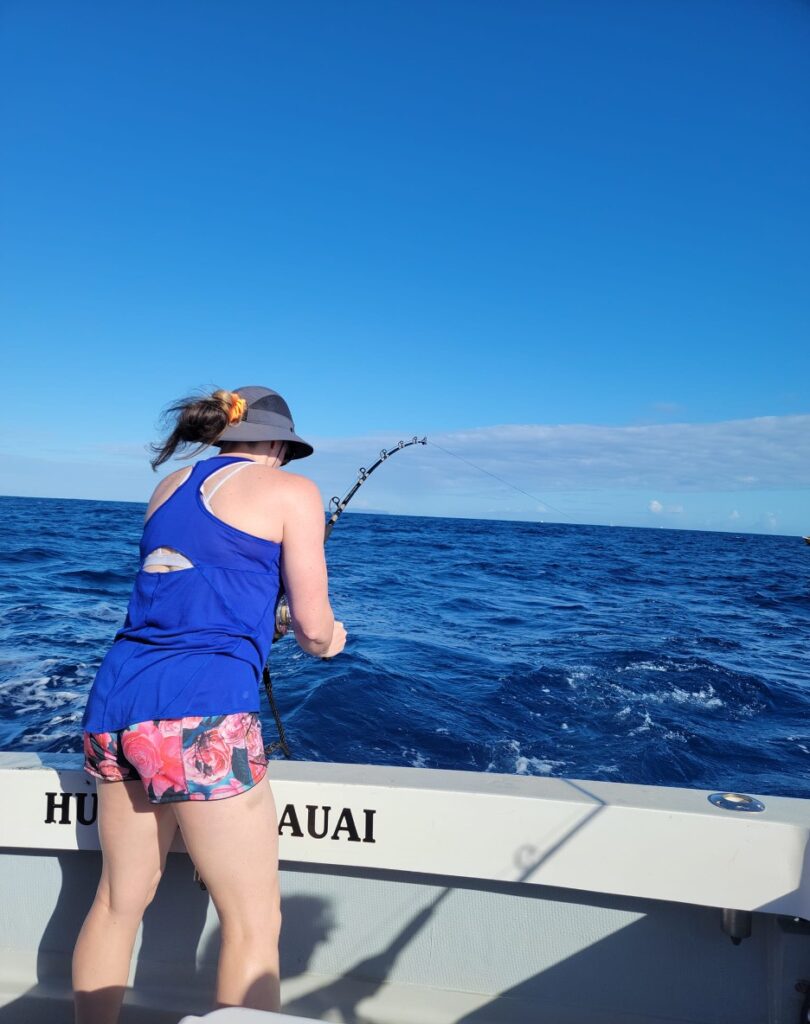 Hunt Fish Kauai did NOT disappoint. Captain Sheldon and his deck hand, Isach, were incredulous. They shared with us that it is not often at all that all lines get hit at the same time, and even rare that all four fish make it into the boat. Our 6-hour charter was over in 2 hours because we had four LARGE Ahi Tuna in the boat and no more room in the cooler! None of us minded at all. 
As I write this, I just cannot stop smiling. The feelings of shock, excitement, fatigue, and success are all still so powerful and palpable. This is one outdoor memory that will likely never fade from our family's cherished moments.
Whether you are an avid angler or not, if you ever get the chance to try fishing the ocean on a charter boat, DO IT! It will be unlikely to ever experience a moment quite like that again, but all four of us are immensely happy that we took the chance.
This post may contain affiliate links. Miss Pursuit may earn a small commission for our endorsement, recommendation, testimonial, and/or link to any products or services from this website. Your purchase helps support our work in bringing you real information about hunting and the outdoors.