For hunters and outdoor enthusiasts, the right pair of boots can make all the difference between a successful adventure and a miserable one. If you're in the market for hunting boots that offer legendary comfort, durability, and cutting-edge technology, look no further than the Irish Setter Elk Tracker XD Hunting Boots. This review will take you through the features, technology, and benefits of the Elk Tracker XD series, offering everything you need to know before embarking on your next hunting expedition. My boyfriend used them on an elk public land hunt and loved them!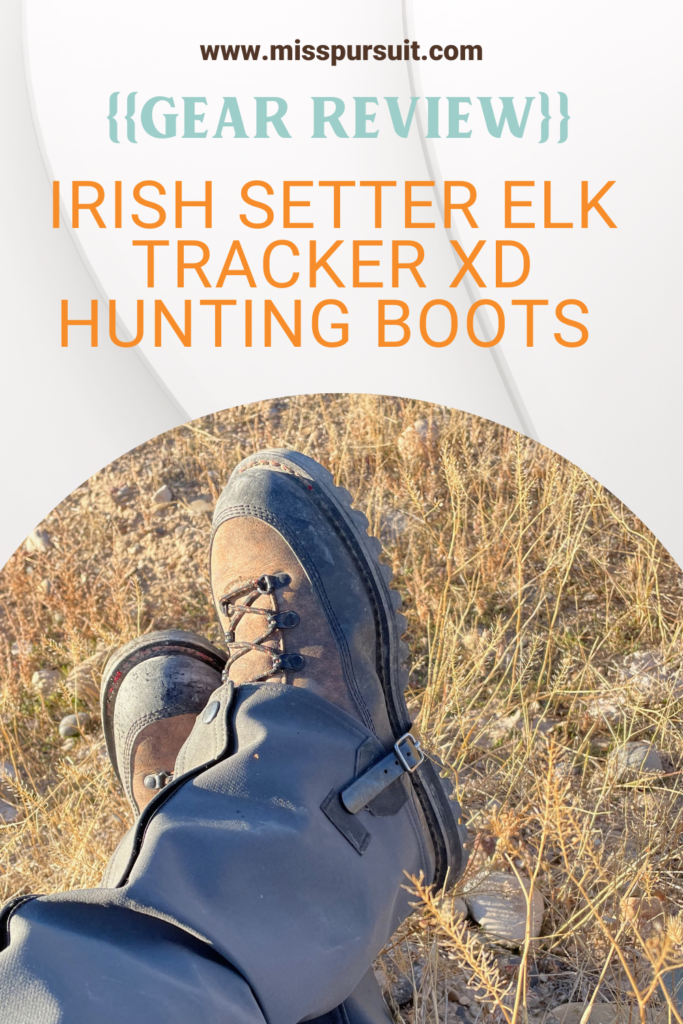 The Elk Tracker XD is the latest addition to Irish Setter's esteemed Elk Tracker series. Building on the legacy of the original Elk Tracker boots, these new XD models are specially engineered to provide extra durability and comfort for the most demanding conditions (big game Western hunting, anyone?).
Key Features of Irish Setter Elk Tracker XD Hunting Boots:
Rugged and Protective Design:
One of the standout features of the Elk Tracker XD is its full leather upper with a leather gusset overlay. This design not only enhances the overall aesthetics but also serves a critical purpose: protecting your feet from debris and preventing it from entering the boot. This is a game-changer when you're traversing rocky, uneven terrain or wading through muddy hunting grounds. My boyfriend always wears gaiters hunting, and said he did just fine without them in his Elk Tracker HD boots.
Welted Construction:
Welted construction is a hallmark of durability, and the Elk Tracker XD doesn't disappoint. The boots are built to withstand the rigors of the wild, providing added strength and resilience that are crucial for hunters who demand the best. Plus, the wraparound rubber rand adds an extra layer of abrasion resistance, protecting your feet from rocks, sticks, and sharp objects.
Temperature Regulation with TempSens Technology:
Irish Setter has taken innovation to the next level with TempSens technology. This unique feature helps regulate the temperature within the boot, ensuring your feet remain comfortable in all weather conditions. In hot weather, it wicks moisture away from your skin to facilitate evaporative cooling, keeping your feet cooler and drier. In colder conditions, it traps moisture to create a thermal barrier that maintains a comfortable temperature inside the boot.
Waterproof Protection with UltraDry:
The Elk Tracker XD boots come with UltraDry™ waterproof construction. This ensures that your feet stay dry and comfortable even in wet and muddy conditions, making these boots an excellent choice for hunting in unpredictable weather.
Primaloft Insulation:
Style #3981 of the Elk Tracker XD features 200 grams of Primaloft insulation, offering exceptional warmth without the bulk. When the temperature drops, your feet will remain cozy, allowing you to stay out in the field longer without discomfort.
Lace-to-Toe Fit:
The lace-to-toe fit design allows for a tighter and more secure fit. This minimizes discomfort caused by foot movement within the boot, especially when navigating steep and uneven terrain. The locking hook row ensures your boots stay snug during lacing. The locking hook ensures your toes from sliding forward during steep downhill navigation.
Cushin Comfort Tongue and ScentBan Scent Control:
The Elk Tracker XD includes a Cushin™ comfort tongue to provide additional comfort in the shin area. It's designed to reduce pressure points, making long hunts more enjoyable. The ScentBan™ scent control technology eliminates odors within the boot, crucial for maintaining stealth in the wild (change those socks my friend and grab some order eaters for good measure!).
EnerG Material Underfoot:
EnerG material, positioned underfoot, delivers sustained support and comfort with every step you take. It features an energy-returning core sandwiched between the midsole and outsole, offering a recharging burst of energy that keeps you going.
Removable EVA/Memory Foam Footbed:
The Elk Tracker XD features a resilient, removable EVA/memory foam footbed for long-lasting comfort and support. This ensures your feet remain cushioned and comfortable, even during extended hunting trips.
Vibram Rubber Outsole:
The outsole of these boots is made of ultra-durable Vibram rubber. It features bulls-eye air bobs with a tread pattern that releases mud and dirt, providing superior traction in any terrain. When you're out in the field, traction is essential for safety and performance.
Options for Every Hunter:
The Elk Tracker XD series comes in various styles to cater to different preferences and needs. Whether you prefer insulated or non-insulated boots, there's an option for you. The range of sizes, from 8 to 14, in both D and EE widths, ensures that you'll find the perfect fit.
The Irish Setter Elk Tracker XD Hunting Boots Legacy:
Irish Setter has a well-deserved reputation for producing high-quality outdoor footwear. The Elk Tracker XD boots inherit the best features of the original Elk Tracker series, including genuine leather welt construction, Comfort Cork EVA Footbed with Memory Foam, locking lace hooks, Primaloft insulation, Bulls-Eye Air Bob aggressive sole, and UltraDry waterproofing.
Original Elk Tracker Hunting Boots:
If you're familiar with the original Elk Tracker boots, you'll appreciate the enhancements offered by the Elk Tracker XD series. However, it's worth mentioning that the original Elk Tracker series still holds its own and provides outstanding comfort and performance for hunters. These boots are available in various styles, insulation levels, and sizes to suit your preferences and needs.
Regarding hunting boots, Irish Setter's Elk Tracker XD series is a top-tier choice.
These boots are designed to meet the needs of the most demanding hunters, offering durability, comfort, and innovative technology in one package. With features like TempSens technology, UltraDry waterproofing, Primaloft insulation, and Vibram outsoles, the Elk Tracker XD is the ideal companion for your outdoor adventures.
So, if you're looking to elevate your hunting game and invest in boots that can stand up to the harshest conditions, look no further than the Irish Setter Elk Tracker XD Hunting Boots. With these boots, you'll be better equipped to tackle any challenge the wild throws your way. Don't compromise on comfort and performance – choose the best and unleash your inner hunter with Elk Tracker XD boots.
This post may contain affiliate links. Miss Pursuit may earn a small commission for our endorsement, recommendation, testimonial, and/or link to any products or services from this website. Your purchase helps support our work in bringing you real information about hunting and the outdoors.