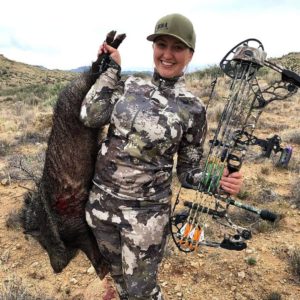 Jessica Haavisto is a hunter from Northern Arizona and currently writes for and promotes ReelCamo Girl, Great American Wildlife, Miss Pursuit, Safari Club International, Prois Hunting gear and on her own blog Outdoors Lady. She volunteers her time teaching others as a Hunter Education Instructor in Arizona and she is acting chair of the National Wild Turkey Federation Women In The Outdoors Northern Arizona Chapter.
Besides hunting big game both archery and rifle and upland birds with their German Shorthairs, Jessica enjoys hiking and outdoor photography.
Jessica graduated with a Master's Degree in Crop Science from Oregon State University and currently works as the Operations Manager for Canyon Coolers.