Sometimes all it takes is a little innovation. The trunk of your car or the bed of your pickup truck serves as your storefront. What better way to get your product out there than by hand-shake advertising and letting your product speak for itself?
That's how Canyon Coolers started. In a little over a decade, it's a multi-million dollar business with a small-town, family-owned feel. The company is still operated in a small town (Flagstaff, Arizona) by a group of misfits brought together by their love for the outdoors.
When you want to stay cool for your next hunting trip, you'll want a Canyon Cooler in the truck.
The process
The roto-molding process used to create several high-end coolers on the market today, including Canyon Coolers, is done by filling a mold with hot molten plastic and then rotating the mold at a certain speed for the even distribution of plastic across the entire body of the cooler. Insulation is then injected as a two-part expanding foam, filling the mold.
This method is much stronger than injected molded coolers and provides a consistent and durable product in a multitude of shapes and variations that have excellent ice-retention qualities. The one downside is that these coolers are heavier than others, but the benefits far outweigh this.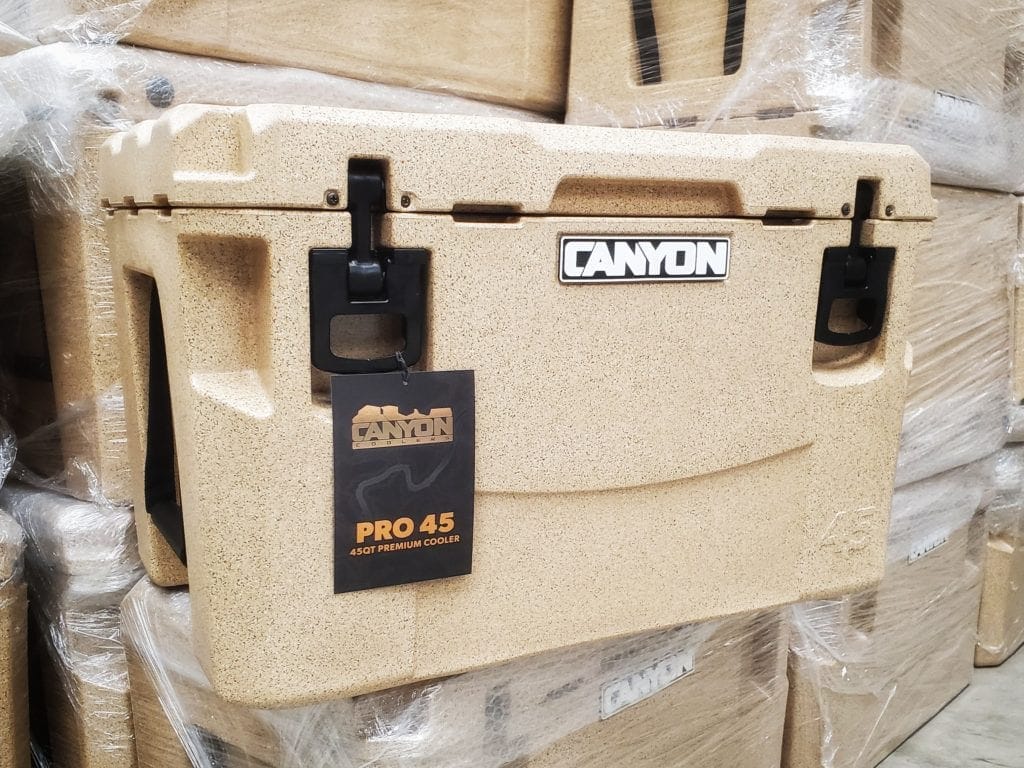 The durability
Personally, I own several Canyon Coolers, and the durability was tested during my last elk hunt. Camp had been wrapped up and we were headed home. An empty 55-quart cooler, with a seat cushion, snapped onto the lid, was sucked out of the flatbed of the truck going roughly 75mph. Skidding on the pavement for about 200 yards, the cooler finally tumbled off the road and onto the shoulder. A few scratches were noticeable and one dent, but the cushion didn't even come off. Still no leaks.
The products
The owner and a few employees also serve as whitewater guides. They've included coolers that are designed specifically to fit in raft frames. The other offerings round out the selection and include 20- and 30-quart soft-sided coolers and 20- to 222-quart hard-side coolers. New models, made in the USA, feature catering trays and cutting boards/tables, and more built-in accessories.
Along with the coolers, Canyon carries accessories like baskets, ice packs, tie-down kits, and locks to secure your goods. The current tumblers are copper to represent Arizona, the copper state, and most of the assembly happens in-house.
Hunters and anglers have found that these coolers fit their lifestyle and keep their harvests chilled until they get home to process. And yes, you'll get a quartered elk into the bigger ones if you take the time.
The best part of these coolers is their ice retention. When the directions are followed to pre-cool the cooler, you'll get a week of cold food and drinks or game meat, fish, etc. Canyon includes easy-to-follow instructions to get the best performance out of your cooler.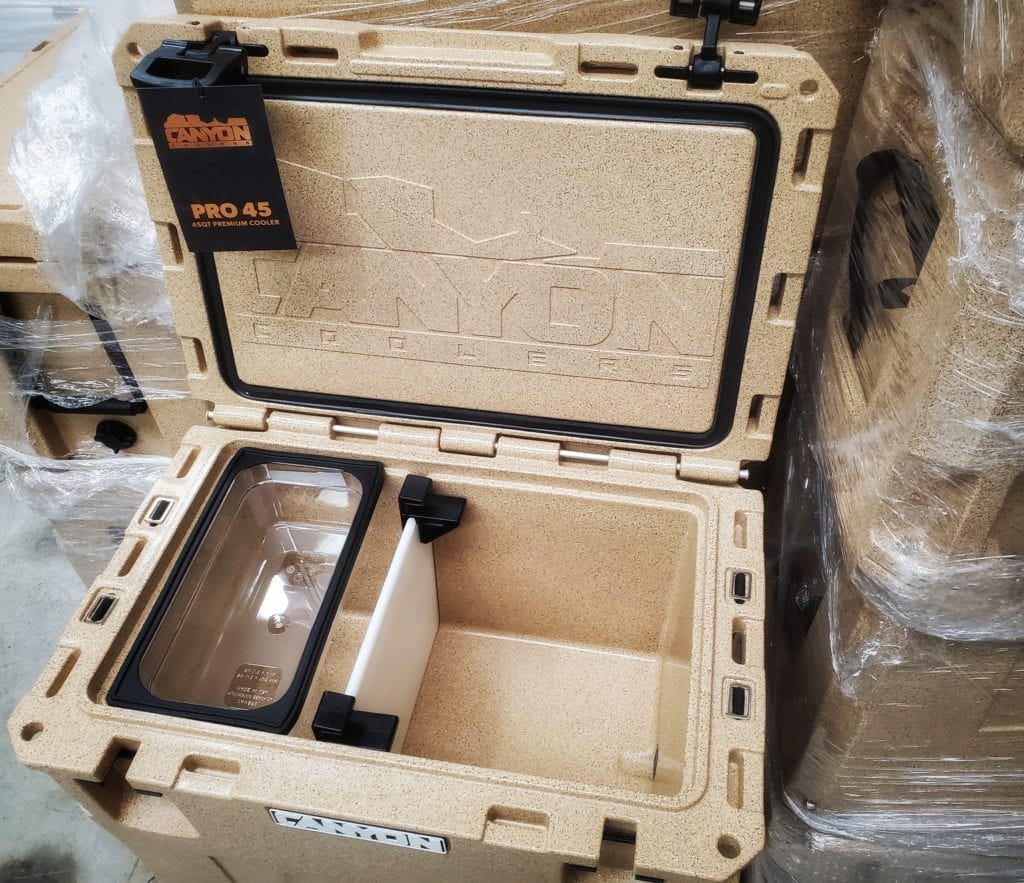 What about Yeti? What about Pelican? Canyon has the same quality and performance in their products, or better, for two-thirds of the price. Definitely check out Canyon! The coolers are sold in all the lower 48 and in Canada.
The coolers are also certified to keep bears out. Couple this with free shipping over $50.00 and a no-hassle lifetime warranty, and you won't find a better cooler anywhere.
If you like a family business with a quality product, check out Canyon Coolers at www.canyoncoolers.com.
This post may contain affiliate links. Miss Pursuit may earn a small commission for our endorsement, recommendation, testimonial, and/or link to any products or services from this website. Your purchase helps support our work in bringing you real information about hunting and the outdoors.