My kill kit is one of the most essential things I carry in my pack while hunting. A kill kit is basically a bag I keep in the outside pocket of my hunting pack so it's easy to get to. This kill kit includes all the necessities for when an animal is harvested and down in the field. It keeps me from looking through my whole pack to gather my items since it's all consolidated into one kit.
I prefer to use either a Kifaru or Marsupial pouch to keep all these items together, but when on a budget a gallon plastic freezer bag works just as well.
5 Items for Your Kill Kit
Hunting License and Game Tag
Legally, one of the first things I do in my state is to attach my tag to the animal. Each state is different as far as tags go. However, I always like to have a "hard copy" of all of my tags and licenses. Digital isn't always 100% reliable. I keep all of my paper copies in a small sandwich bag in my kill kit to keep them together and prevent any damage to them.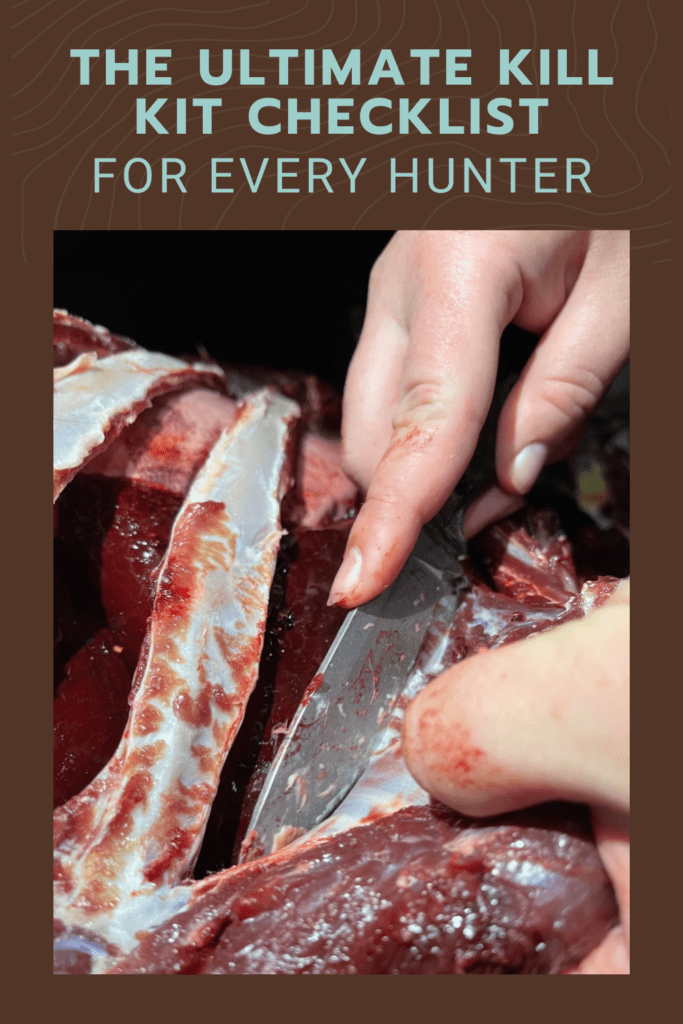 Electrical Tape
Electrical tape is a great way to attach a tag to an animal. It holds up well against all the elements and will keep the tag secured tightly. When in the field, little to no risk is preferred that a tag might fall off the animal in the process. So keeping it tight and secure is huge.
Knives
When field dressing a game animal, we all need knives. Everybody has different preferences as far as knives go. Havalon and Outdoor Edge replaceable blade knives are an absolute go-to. They ensure that a surgically sharp blade is accessible at all times. A fixed-blade knife is incredibly reliable for those tougher-to-break-down areas and ensure you'll have plenty of meat behind your edge.
Rubber/Latex Gloves
Gloves are always great to have, especially for tasks such as removing scent glands. They keep hands clean during field dressing and can easily be put on or taken off. There is always a worry about different diseases. Rubber gloves are a great step to take to avoid coming in contact with anything.
Compressed Towels
Keeping clean in the field is a commodity and oftentimes difficult to do. Compressed towels are an efficient way to get clean without taking up too much space. All that is required is a splash of water. Amazon has tons of options and they can be bought in bulk.
What do you keep in your kill kit?
This post may contain affiliate links. Miss Pursuit may earn a small commission for our endorsement, recommendation, testimonial, and/or link to any products or services from this website. Your purchase helps support our work in bringing you real information about hunting and the outdoors.