Lake Erie is a powerhouse walleye fishery. Walleye are one of the most sought-after and widely distributed fish throughout the lake, which covers a whopping 9,990 square miles of surface area.
One of the Great Lakes, Lake Erie at its deepest reaches a depth of about 210 feet. Situated on the international boundary between Canada and the United States, Lake Erie's northern shore is the Canadian province of Ontario, with Michigan, Ohio, Pennsylvania, and New York on its western, southern, and eastern shores, respectively.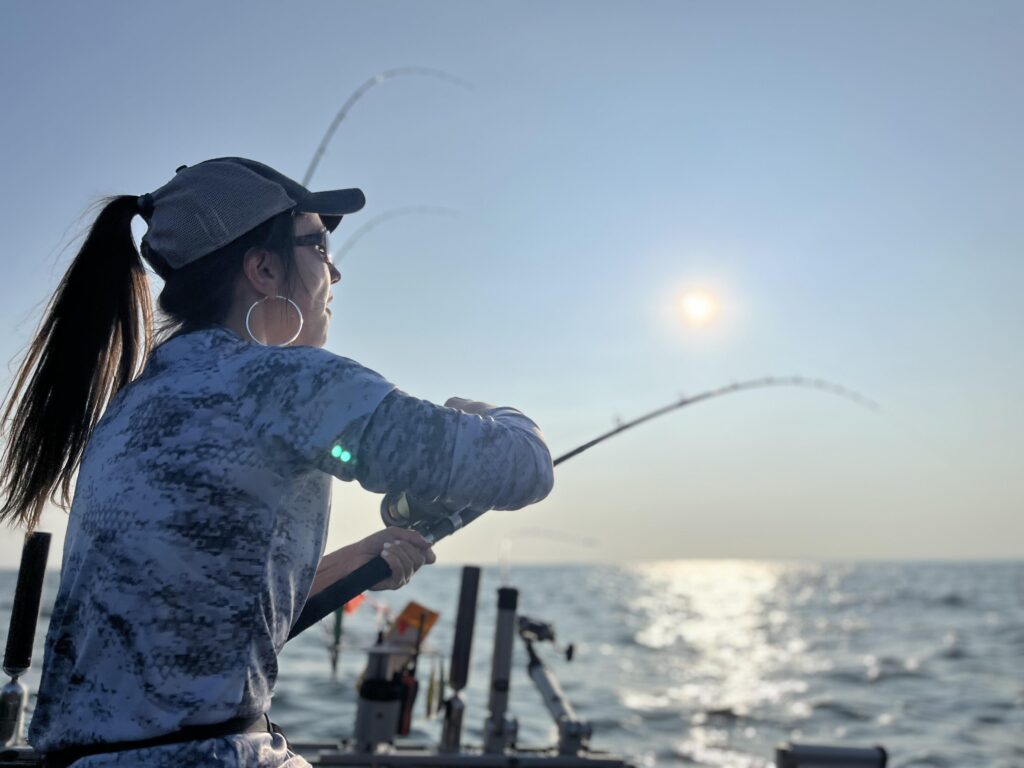 Lake Erie Walleye Fishing
I took a trip there to fish for walleye with a group of friends during the second-to-last weekend in July. We accessed via the boat launch near Irving, New York, where we met up with our captain friend Richard Brant of Reelaction Charter. Brant offers guided fishing trips on Lake Erie, Lake Ontario, and the Lower Niagara River.
On this hazy July day, we implemented the trolling method for walleye. Trolling involves pulling a heavy line behind a boat that is moving at a slow pace (trolling), with either live bait, lures, or some combination. When fish get hooked, there is usually a lot of line out, and reeling in can take a while.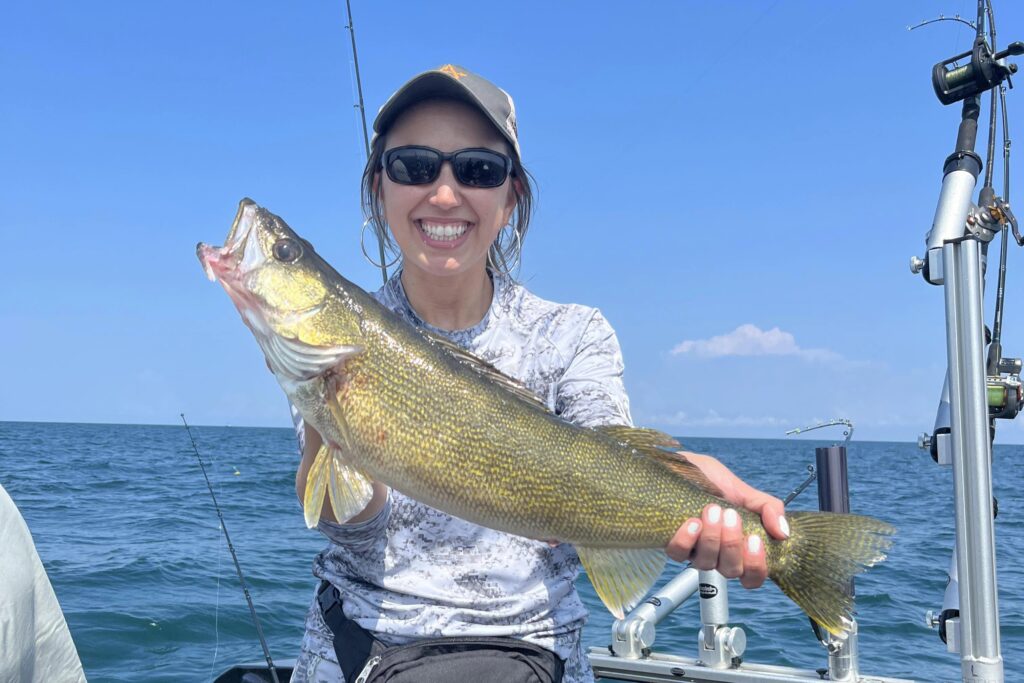 According to the New York State Department of Environmental Conservation, most walleye caught in Lake Erie are between 18 and 28 inches long and four and eight pounds, however, trophy fish exceeding 30 inches and 10 pounds are boated regularly. The walleye fishing season in the NY waters of Lake Erie runs from May 1-March 15, with a harvest limit of six fish per day that are a minimum size of 15 inches long. 
We were lucky enough to bring home seven lovely walleye between our group. I brought mine home and served up a delicious dinner of fresh-caught walleye piccata from the recipe I'll share below.
Walleye Piccata Recipe
Ingredients:
Walleye fillets
Flour for dredging
Extra virgin olive oil
Butter
White wine
Lemon juice
Capers
Salt and pepper
Fresh parsley
Lemon slices
Directions:
This recipe is adapted from the kitchen of The Mediterranean Dish. Season and dredge the walleye fillets by giving them a shake of salt and pepper on both sides and then coat them with a light layer of flour. Shake off any excess and let the fish set for a few minutes. All-purpose flour is fine, but if you prefer another variety, such as whole wheat flour, that's also okay. 
Heat up a tablespoon or two of olive oil and about a tablespoon of butter (adjust quantities as needed) in a large pan. Pan-sear the fillets on both sides for a few minutes or until the fish is firm and flaky, but not overcooked. Transfer fillets to a paper towel-lined tray to drain the oil.
Walleye Piccata Sauce
In the same pan, add a little more butter and turn the heat down a bit. Add the lemon juice, white wine, and capers. Let the sauce simmer briefly over medium heat. Return the walleye fillets to the pan and spoon the sauce all over. At this point, what's happening is that the fish is warming through and taking in the sauce, so you can even turn the heat off so as not to overcook the fish. Once warmed, garnish with fresh chopped parsley and lemon slices.
Commonly Asked Questions About Walleye Fishing on Lake Erie:
Where is the best walleye fishing on Lake Erie?
The Western Basin of Lake Erie, including areas near Toledo, Ohio, and the islands, is renowned for its excellent walleye fishing due to the shallow, nutrient-rich waters.
What is the best bait for walleye in Lake Erie?
For walleye in Lake Erie, anglers often find success with live bait like minnows or nightcrawlers, as well as soft plastic lures and crankbaits imitating shad or perch.
Is Lake Erie good for walleye fishing?
Yes, Lake Erie is considered one of the best walleye fishing destinations in the world. Its abundant population of walleye attracts anglers from all over due to its high catch rates.
What time of day is best for walleye fishing in Lake Erie?
The prime time for walleye fishing in Lake Erie is during low-light conditions, such as dawn and dusk. Walleye are more active and tend to feed closer to the surface during these times. However, they can be caught throughout the day with the right techniques.
Next time you head out to Lake Erie for Walleye Fishing, you can also make this amazing Walleye Piccata Recipe!
This post may contain affiliate links. Miss Pursuit may earn a small commission for our endorsement, recommendation, testimonial, and/or link to any products or services from this website. Your purchase helps support our work in bringing you real information about hunting and the outdoors.