My weekends include prepping fishing gear and family trips out to the lake. If you're meal planning for the weekends, make sure to add this trout recipe to your plan and take one thing off of your to-do list!
If you'll spend the summer fishing for trout, you'll need delicious recipes to enjoy with your family! Don't get bored by the same old methods. This is a fabulous recipe that will elevate your next catch to a fine dining experience! I love to serve this trout recipe with lemon-buttered broccoli and garlic mashed potatoes.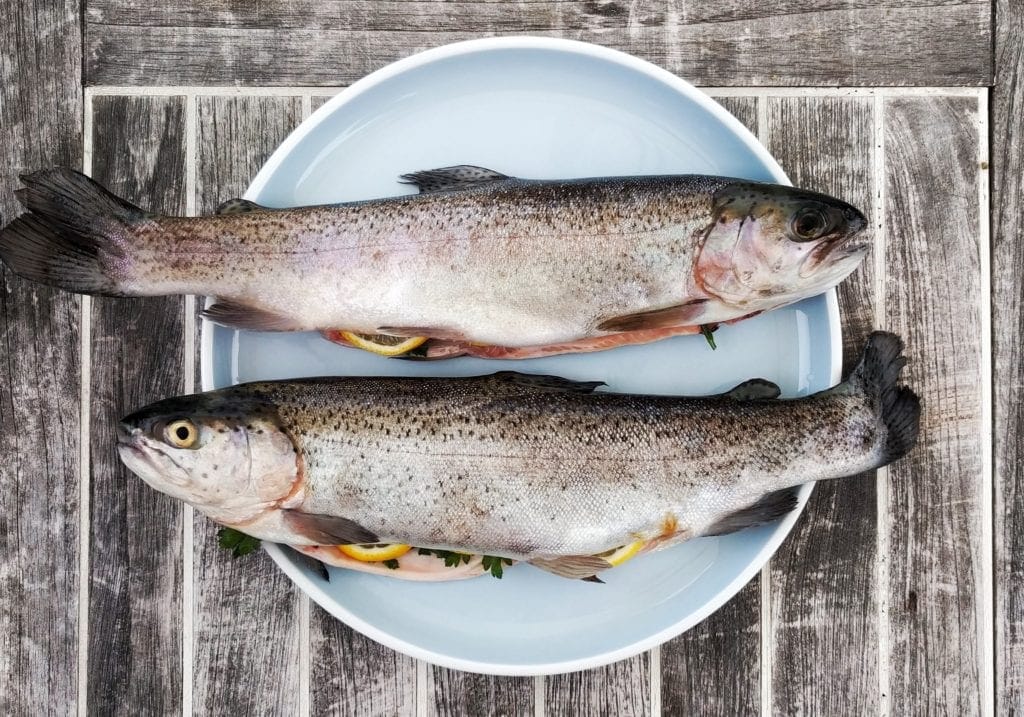 This recipe takes only 30 minutes to prepare. You'll have it ready in no time for your hungry family!
Macadamia-Crusted Trout Recipe with Mustard Sauce
Ingredients (you can find most on Amazon!)
2 oz macadamia nuts (chopped)
1 cup panko bread crumbs
3 Tablespoons unsalted butter (melted)
12-16oz Trout fillets (skin on)
3 Tablespoons olive oil
Salt & pepper
Tarragon Mustard Sauce
1 cup panko bread crumbs
3 Tablespoons unsalted butter
½ cup dry white wine
1 teaspoon dried tarragon
2 teaspoons Dijon mustard
¼ cup heavy cream
Salt & pepper
Preparation
Preheat oven to 375 degrees Fahrenheit.
Prepare Crumb Mixture. Chop macadamia nuts and mix with bread crumbs, add salt & pepper. Combine with melted butter until the mixture comes together.
Prepare trout fillets. Place fillets on a baking sheet greased with olive oil. Top fillets with breadcrumb mixture, packing to create a firm crust.
Bake trout. Bake the crusted trout fillets in the oven at 375 degrees for 10-15 minutes, until the trout is cooked and the crust is brown.
Prepare Sauce. In a medium saucepan over medium heat melt butter. Add wine, tarragon, and mustard. Bring to a simmer and reduce by ⅓. Stirring constantly, and add cream. Simmer for another minute. Salt & pepper to taste, and serve over trout fillets.
Want more trout recipes? Here are a few ways to cook it up!
Grilled Trout with Lemon and Herbs
This simple recipe involves grilling trout fillets with a mixture of lemon juice, olive oil, garlic, and fresh herbs like thyme and rosemary. Serve with a side of roasted vegetables for a healthy and delicious meal.
Pan-Seared Trout with Almonds and Brown Butter
For a more indulgent trout recipe, try pan-searing the fish in butter until crispy and golden brown. Top with toasted almonds and a drizzle of brown butter for a rich and nutty flavor.
Baked Trout with Garlic and Parmesan
This easy-baked trout recipe involves seasoning the fish with garlic, lemon, and Parmesan cheese before baking it in the oven. Serve with a side of roasted potatoes for a comforting and satisfying meal.
Smoked Trout Dip
For a unique twist on trout, try making a smoked trout dip with cream cheese, sour cream, and fresh herbs like dill and chives. Serve with crackers or sliced vegetables for a tasty appetizer.
Trout Cakes with Remoulade Sauce
Similar to crab cakes, these trout cakes are made with a mixture of flaked trout, breadcrumbs, and spices before being pan-fried until crispy. Serve with a homemade remoulade sauce for a flavorful and satisfying meal.
Trout Chowder
For a cozy and comforting meal, try making trout chowder with potatoes, corn, and bacon. Top with fresh herbs and a dollop of sour cream for a hearty and delicious soup.
Grilled Trout Tacos
For a fun and flavorful meal, try making grilled trout tacos with a mixture of fresh vegetables like avocado, tomato, and cilantro. Top with a squeeze of lime juice and a drizzle of hot sauce for a spicy kick.
What is your favorite trout recipe?
This post may contain affiliate links. Miss Pursuit may earn a small commission for our endorsement, recommendation, testimonial, and/or link to any products or services from this website. Your purchase helps support our work in bringing you real information about hunting and the outdoors.