Morgan McKeen is a K-12 teacher and lover of the outdoors. Her partner, Joel, and she dedicated their time to developing Nature's Kai with the aim of showcasing the incredible food (kai) New Zealand has to offer. With Joel's expertise in fishing, hunting, and cooking and her knowledge of teaching and education, they are determined to inspire today's youth to get into the outdoors. Their Facebook and Instagram, Nature's Kai, showcases how you can utilize your hunting and fishing bounty through easy-to-follow and delicious recipes. They have also formulated a series of lessons to inspire primary-aged children to care for the ocean.
This feature is for Morgan McKeen. Let's get started!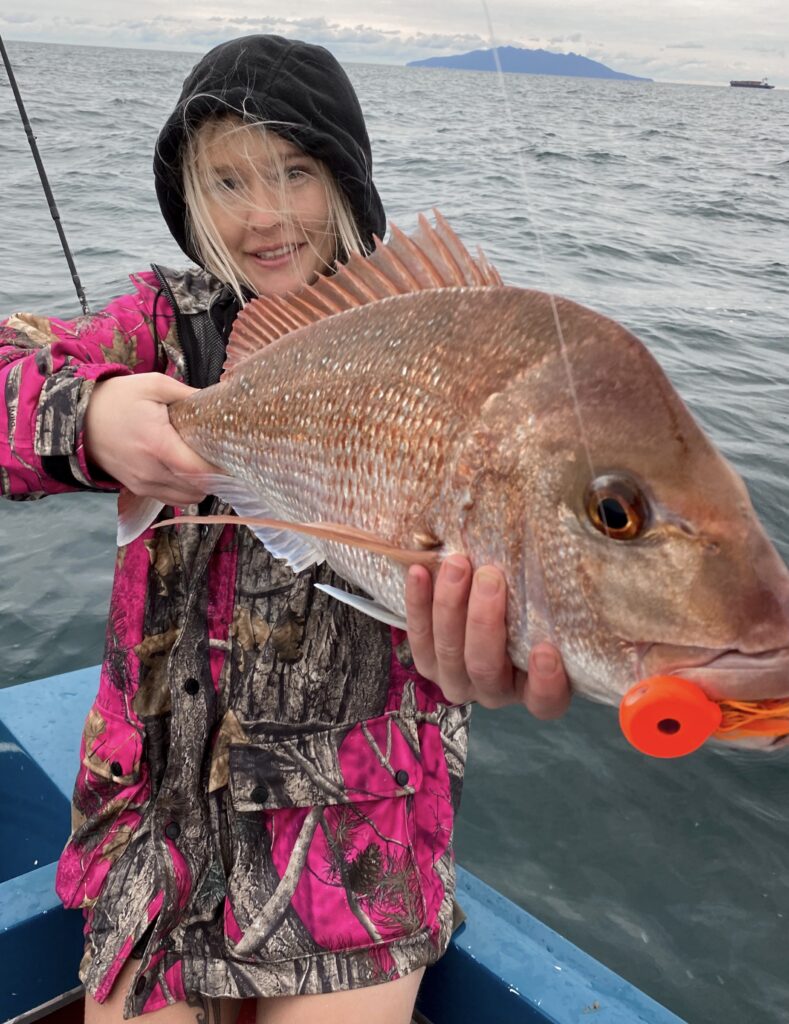 Why do you fish?
There is something special about being able to catch your own food in an ethical and sustainable way. Nature's Kai is about utilizing the whole fish, nose to tail, so we are always trying new ideas and recipes to ensure nothing we catch goes to waste.
When was your first fishing memory, and how old were you?
My first memory of fishing was with my dad when I was six years old. We were lucky enough to have access to the beach at the end of our road. I caught my very first fish (a tiny bait fish) and fed it to the cat upon our return home! Dad was so proud!
What do you love most about fishing?
I love spending time on the water. It makes my day-to-day stresses fade away and reconnects me with nature. Reeling in a good fish is an epic feeling and releasing the large breeder fish back into the ocean to swim another day is an even better feeling.
What's your most memorable fishing experience?
My most memorable moment happened as we were heading out for an early morning fish. We encountered a pod of hundreds of dolphins and false killer whales feeding. It is the most amazing experience to be greeted by dolphins, whales, and seals as you set out for a day of fishing.
Do you have a favorite fish recipe?
Nature's Kai recipe for Bluefin Tuna Gravlax is my absolute favorite. You have to try it!
Do you have a dream fishing excursion?
My dream fishing excursion would be one that would help me catch a new PB snapper of 20+ lbs! My other dream is to see an orca while we are out in the ocean.
What would you say to other women who haven't tried fishing yet?
Get out there and give it a go. You might just surprise yourself with how much you love it! Don't worry about all the tricky stuff like tying knots, removing hooks, and putting on bait; that's what the boys are for!
Tell us your favorite gear. What brands and products do you LOVE?
My favorite sliding-head lure is the Ocean Angler 80g Pure Orange Coin Drop. These coin drops are fish magnets and helped me catch my PB snapper and gurnard. My favorite outdoor jacket that never fails to keep me warm and dry is my Ridgeline Ladies Mallard Jacket in Pink Nature. I love this jacket because it is functional but also makes me feel super cute in pink!
Follow Morgan McKeen!
Follow her on Instagram here and here.
Follow her on Facebook.
This post may contain affiliate links. Miss Pursuit may earn a small commission for our endorsement, recommendation, testimonial, and/or link to any products or services from this website. Your purchase helps support our work in bringing you real information about hunting and the outdoors.