Get ready for a wild, bare-handed fishing adventure like no other! Ever wondered what it's like to wrestle catfish using just your hands? Look no further! In this article, we'll dive into the exhilarating world of noodling for catfish. Get your gloves on, because it's about to get seriously fishy! Learn expert tips, discover prime locations, and uncover the thrills and spills of this unique fishing experience.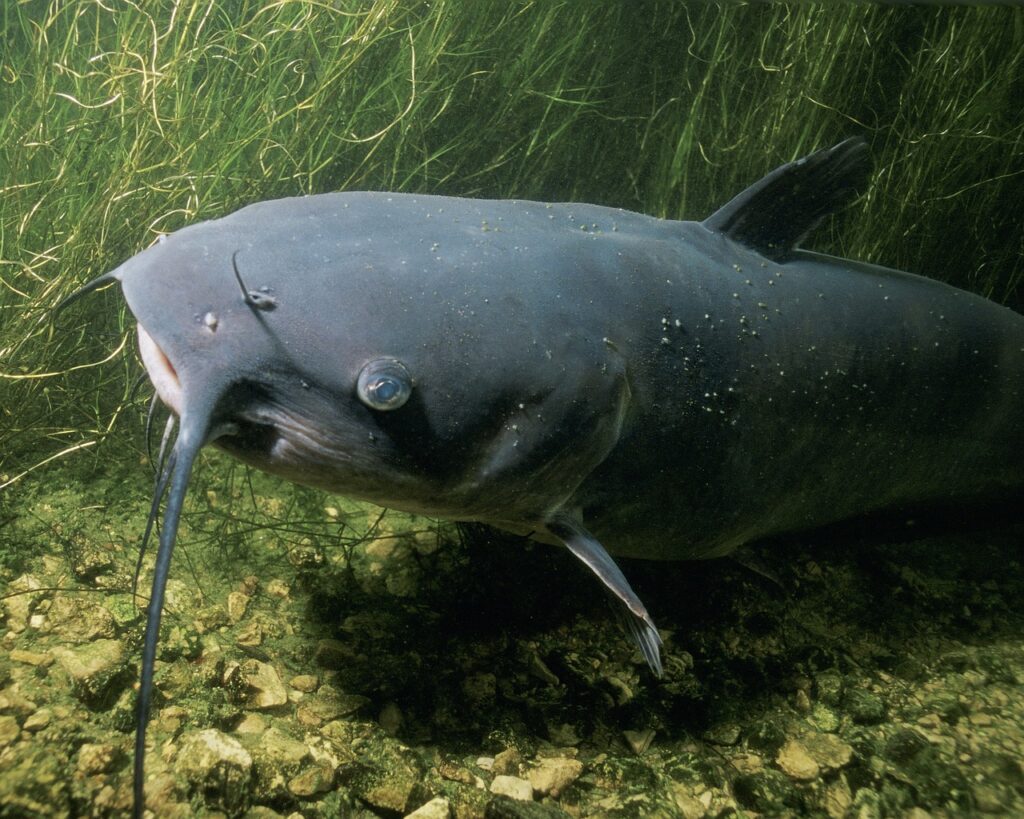 What is noodling for catfish?
Noodling for catfish is a fishing technique that involves catching catfish using only your bare hands. This method is also known as hand fishing, hogging, or grabbling. Noodling is typically done in shallow waters, such as rivers or streams, where catfish like to hide in crevices or under rocks. It requires a lot of skill, patience, and bravery, as you will be reaching into dark and murky waters to catch your prey.
The History of Noodling
Noodling, also known as hand fishing, hogging, or grabbling, is a fishing technique with a rich history that spans many generations. While the exact origins of noodling are difficult to trace, it is believed to have originated in the southern United States, particularly in regions like Oklahoma, Texas, and Mississippi. The technique was developed out of necessity, as early settlers and Native American tribes relied on noodling as a means to catch food when traditional fishing equipment was not readily available.
Over time, noodling evolved into a cultural tradition and a thrilling recreational activity. It became a rite of passage for many, with experienced noodlers passing down their skills and knowledge to younger generations. Noodling competitions and festivals also emerged, showcasing the unique sport and celebrating its heritage.
Cultural Significance
Noodling for catfish is not just a fishing technique; it's a cultural phenomenon deeply rooted in tradition, heritage, and the spirit of adventure. This exhilarating practice has served as a rite of passage and a way to connect with nature for generations.
A Tradition and Rite of Passage
For many communities, noodling for catfish is more than a recreational activity – it's a cherished tradition that has been passed down through generations. In regions like Oklahoma, Texas, and Mississippi, noodling holds a special place in the hearts of locals. It has become a rite of passage, where young individuals learn the skills and bravery required to wrestle catfish with their bare hands. The knowledge and techniques are passed down from experienced noodlers to the next generation, creating a strong bond between families and communities.
Heritage and Connection to the Land
Noodling for catfish is deeply intertwined with the heritage and natural landscapes of certain regions. The practice originated out of necessity, as early settlers and Native American tribes relied on this method to catch food when traditional fishing equipment was scarce. Over time, noodling became an integral part of the local culture, representing resilience, resourcefulness, and a close connection to the land.
In these regions, the art of noodling is celebrated through festivals, competitions, and storytelling sessions. These events provide a platform for sharing experiences, passing on knowledge, and reinforcing the cultural significance of noodling. They showcase the unique bond between people, their traditions, and the catfish-filled waters that surround them.
The Thrill of the Adventure
Noodling for catfish is not for the faint of heart. It demands courage, skill, and a willingness to face the unknown. The excitement and adrenaline rush experienced while reaching into dark underwater crevices, unsure of what lies beneath, create unforgettable memories and stories to be shared.
Noodlers often recount tales of their most daring catches, where the catfish put up a fierce fight, testing the noodler's strength and determination. These stories become part of the cultural fabric, passed down through generations, inspiring future noodlers to take on the challenge and create their own adventures.
Preserving Tradition and Ensuring Sustainability
While noodling for catfish continues to captivate enthusiasts, it's important to balance tradition with conservation efforts. Responsible noodlers recognize the need to protect catfish populations and their habitats, ensuring the sustainability of this practice for generations to come.
Noodlers adhere to catch and release practices, releasing undersized or protected catfish back into the waters. They respect local regulations and catch limits, recognizing the importance of preserving the delicate balance of ecosystems. By nurturing the catfish populations, noodlers not only maintain the cultural heritage but also contribute to the overall health and diversity of aquatic ecosystems.
Equipment You'll Need for Catfish Noodling
Noodling for catfish requires minimal equipment, emphasizing the primal connection between the angler and the fish. To get started, you'll need a few essential items:
Gloves: Choose a sturdy pair of gloves made of a thick material like leather or Kevlar. These gloves provide protection against the catfish's sharp teeth and spines, reducing the risk of injuries.
Wetsuit or protective gear (optional): Depending on the environment you'll be noodling in, you may opt for additional protection. Wearing a wetsuit or other protective gear can safeguard you against potential underwater hazards, such as rocks or debris.
Fishing net or basket (optional): Some noodlers prefer to have a fishing net or basket to hold their catch. This can make it easier to transport the catfish once they've been caught, particularly if they are large or particularly feisty.
Dive mask or goggles (optional): A dive mask or goggles can be helpful in improving underwater visibility, allowing you to better locate catfish in their hiding spots.
Techniques for Locating Catfish
Reading the Underwater Landscape
To locate catfish during your noodling expedition, it's essential to become a keen observer of the underwater landscape. Keep an eye out for specific structures and features that catfish favor as hiding spots. Here are some key elements to consider:
Underwater Structures: Catfish often seek refuge in underwater structures like submerged logs, tree roots, or rock formations. These provide them with shelter and protection from predators. Explore these areas carefully, as catfish may be lurking in the shadows.
Vegetation: Dense vegetation, such as aquatic plants or overhanging branches, can be attractive hiding spots for catfish. They provide cover and serve as an ambush point for these stealthy predators. Pay close attention to areas with abundant vegetation, as they might conceal your prized catch.
Debris and Obstacles: Catfish are known to take advantage of underwater debris, such as fallen trees or sunken objects. These create natural hiding spots where catfish can lie in wait for unsuspecting prey. Scan the surroundings for any visible signs of debris or obstacles, as they may indicate catfish presence.
Interpreting Underwater Signs
In addition to identifying physical structures, interpreting underwater signs can significantly enhance your chances of locating catfish. By understanding the language of the water, you can unlock the secrets hidden beneath the surface. Here are some signs to watch for:
Disturbed Bottom: Look for areas where the riverbed or lake bottom appears disturbed. Catfish often dig depressions or nests in sandy or muddy bottoms during the spawning season. These depressions can be a telltale sign that catfish are nearby.
Bubbling or Ripples: Keep an eye out for bubbling or ripples on the water's surface. Catfish are bottom-dwellers, and their movements can create disturbances that manifest as bubbles or ripples. These signs can indicate their presence and help you narrow down potential noodling spots.
Prey Activity: Pay attention to the behavior of other aquatic creatures, such as small fish or crayfish. If you notice increased activity or disturbances caused by prey species, it's a good indicator that catfish may be nearby, ready to strike.
Techniques for catching catfish with your bare hands:
Noodling for catfish is a unique and challenging way to catch fish. The technique involves reaching into underwater holes and crevices to grab catfish with your bare hands. To do this safely and effectively, it's important to use proper technique. Start by feeling around for catfish with your hands and feet, and then slowly and carefully reach in to grab them. It's important to be aware of potential dangers, such as snakes or other predators that may be lurking in the water. With practice and patience, noodling can be a rewarding and exciting way to catch catfish.
There are several techniques used in noodling, including the "hole method," where the noodler reaches into underwater holes and crevices to grab the catfish. Another technique is the "bank method," where the noodler waits for the catfish to come to the surface and then grabs it by hand.
Here are some additional techniques to consider when noodling for catfish:
Proper hand placement: When reaching into underwater crevices, it's essential to know the proper hand placement to avoid injuries. Aim to grip the catfish firmly around the lower jaw or behind the gill covers, ensuring a secure hold while keeping your fingers away from the fish's teeth and spines.
Reading underwater signs: Develop the ability to read underwater signs that indicate the presence of catfish. Look for signs such as depressions in the riverbed, submerged logs, or rocks with potential catfish hiding spots. These clues can help you locate the best areas to noodle.
Noodling techniques: Explore different noodling techniques to increase your chances of success. One popular technique is called "tickling," where you gently rub or tap the catfish's underside to stimulate a response. This can cause the catfish to bite or latch onto your hand, making it easier to catch.
Advanced hand fishing techniques: As you gain experience, you can experiment with advanced techniques, such as "jug lining." Jug lining involves tying baited lines to floating jugs or bottles and leaving them in the water overnight. Check the jugs the next day to see if any catfish have taken the bait, then use your noodling skills to retrieve the fish.
Seasonal considerations: Catfish behavior can vary depending on the season. During spawning season, for example, catfish may be more aggressive and protective of their nests. Understanding these seasonal patterns can help you target specific areas and increase your chances of success.
Conservation and ethical considerations: It's important to practice responsible noodling and prioritize the well-being of catfish populations. Avoid taking undersized or protected species, and release any catfish you catch that are not suitable for consumption. Respecting local regulations and catch limits is crucial to maintain a sustainable catfish population.
Safety Tips for Noodling:
Noodling for catfish can be a thrilling experience, but it's important to prioritize safety. Always go with a partner and make sure you have the proper equipment, such as gloves and boots. Be aware of your surroundings and watch out for potential dangers, such as snakes or other predators. It's also important to know the laws and regulations in your area regarding noodling, as it may be illegal in some places. With proper precautions, you can enjoy the excitement of noodling while staying safe.
Benefits of Noodling
Noodling for catfish offers a range of unique benefits that attract both seasoned anglers and adventurous newcomers:
Thrilling experience: Noodling provides an adrenaline-pumping and hands-on fishing adventure unlike any other. The physical challenge of reaching into dark crevices and the suspense of feeling for catfish adds an exhilarating element to the sport.
Minimal equipment: Unlike traditional fishing methods that rely on rods, reels, and bait, noodling requires minimal equipment. This simplicity allows for a more direct and intimate connection with the fish, heightening the sense of achievement.
Exploring Catfish Species for Noodling
Blue Catfish (Ictalurus furcatus)
The Blue Catfish, known for its bluish-gray coloration, is a formidable species that can grow to impressive sizes. It is recognized as one of the largest catfish species in North America, making it a sought-after catch for noodlers. Blue Catfish prefer large river systems and reservoirs with deep channels and ample cover. Their scavenging nature and voracious appetite make them opportunistic feeders, devouring anything from fish to crustaceans. Catching a trophy-sized Blue Catfish through noodling is a thrilling accomplishment that many noodlers aspire to achieve.
Flathead Catfish (Pylodictis olivaris)
The Flathead Catfish, often referred to as "mudcat" or "yellow cat," is a brawny predator with a distinct appearance. It features a broad, flat head and a mottled brown or yellowish-brown body. Flatheads are renowned for their immense strength and tenacity, putting up fierce fights when hooked. They tend to inhabit rivers and lakes with deep pools, submerged logs, and rocky structures. Flathead Catfish are primarily active during the night, using their keen sense of smell to locate prey such as fish, crayfish, and even small mammals. Noodling for Flathead Catfish requires skill and determination, as their cunning nature and solitary behavior make them a worthy adversary.
Channel Catfish (Ictalurus punctatus)
The Channel Catfish is one of the most widely distributed catfish species in North America, making it a popular target for noodlers. It possesses a sleek body with a bluish-gray to olive-brown coloration and distinctive forked tail fin. Channel Catfish can thrive in various aquatic habitats, including rivers, lakes, and reservoirs. They are opportunistic feeders, known to devour a wide array of food sources, including insects, small fish, and plant matter. Channel Catfish are renowned for their spirited fights, making noodling encounters with them an exhilarating experience for anglers of all skill levels.
Yellow Bullhead (Ameiurus natalis)
While not as large or widely sought after as its counterparts, the Yellow Bullhead is a fascinating catfish species that adds diversity to the noodling experience. It features a stout body, barbels, and a predominantly yellow or olive-brown coloration. Yellow Bullheads are commonly found in slow-moving rivers, ponds, and backwater areas. They have a scavenging nature, feeding on a diet consisting of aquatic insects, small fish, and detritus. Although they may not reach the size of other catfish species, their willingness to bite and the abundance in which they can be found make them an accessible target for novice noodlers or those seeking a less challenging adventure.
White Catfish (Ameiurus catus)
The White Catfish, also known as "Forktail Cat" or "Silver Catfish," is a freshwater species with a distinctive appearance. It has a bluish-gray to olive-brown body coloration with a white belly, giving it its name. White Catfish can be found in rivers, lakes, and reservoirs throughout North America. They prefer areas with slow to moderate water flow and tend to hide near submerged structures or along the bottom. These catfish are omnivorous, feeding on a variety of prey such as insects, small fish, and plant matter. Although they may not grow as large as some other catfish species, White Catfish provide ample excitement and make for a delicious meal.
Giant Mekong Catfish (Pangasianodon gigas)
The Giant Mekong Catfish holds the title for being one of the largest freshwater fish species in the world. Native to the Mekong River basin in Southeast Asia, this colossal catfish can reach astonishing sizes, exceeding 9 feet in length and weighing over 600 pounds. Noodling for the Giant Mekong Catfish is a rare and exceptional opportunity that requires venturing to its native habitat. Due to its endangered status, strict conservation measures are in place to protect this magnificent species. The sheer size and rarity of the Giant Mekong Catfish make it an elusive and awe-inspiring target for the most adventurous and conservation-conscious noodlers.
Striped Catfish (Pangasianodon hypophthalmus)
The Striped Catfish, also known as "Pangasius" or "Sutchi Catfish," is a catfish species found in Southeast Asia. It features a slender body with a silver or grayish coloration and distinctive stripes along its sides. Striped Catfish are highly adaptable and can thrive in various freshwater environments, including rivers, lakes, and flooded areas. They are commercially important for aquaculture purposes, providing a significant food source in many regions. While not traditionally targeted through noodling, the Striped Catfish deserves recognition for its economic importance and its role in supporting local communities.
Blue Catfish (Ameiurus nebulosus)
The Blue Catfish, also known as "Blue Channel Catfish," is a species that can be found in North American waters. It shares similarities in appearance with the Channel Catfish but can be distinguished by its deeply forked tail fin and bluish-gray to slate-colored body. Blue Catfish inhabit rivers, reservoirs, and larger bodies of water, where they patrol for food. They are opportunistic predators, feeding on a diet of fish, crustaceans, and other aquatic organisms. Blue Catfish are known for their impressive size and hard-fighting nature, making them a sought-after catch for noodlers seeking an exciting challenge.
By understanding the characteristics, behavior, and preferred habitats of these various catfish species, noodlers can tailor their fishing strategies and target specific species that align with their preferences and skill levels. Whether pursuing the mighty Blue Catfish or the elusive Flathead, each species presents a unique noodling experience that showcases the rich diversity of catfish in our waters. So, choose your target species, prepare your gear, and dive into the thrilling world of noodling for catfish!
Noodling Competitions and Events: Celebrating the Thrill of Catfish Wrestling
Noodling for catfish isn't just an ancient fishing technique; it has evolved into a vibrant subculture that celebrates the art of barehanded fish-catching. Enthusiasts from all walks of life come together at various noodling competitions and events, showcasing their skills and engaging in friendly competitions that captivate both participants and spectators alike.
One of the most renowned noodling events is the Okie Noodling Tournament held annually in Pauls Valley, Oklahoma. This legendary gathering attracts participants from far and wide, eager to test their mettle against the formidable catfish of the region. The tournament draws inspiration from the rich history of noodling in Oklahoma, where the technique has been passed down through generations. Here, competitors plunge into muddy riverbanks, feeling for the telltale signs of a lurking catfish. The excitement and anticipation are palpable as noodlers grapple with these powerful fish, showcasing their strength and agility in the ultimate battle of man versus catfish.
Hand Grabbin' Rodeo: A Southern Tradition
Deep in the heart of the South, the Hand Grabbin' Rodeo takes noodling to new heights. Held in various locations across states like Mississippi, Alabama, and Texas, this spirited event brings together seasoned noodlers and newcomers eager to join the ranks of catfish wrestlers. The rodeo combines the thrill of noodling with a festive atmosphere, complete with live music, mouthwatering barbecue, and friendly camaraderie. Participants share stories of their biggest catches and toughest struggles while reveling in the sense of community that binds them together. The Hand Grabbin' Rodeo showcases the cultural significance of noodling in the South, where this age-old tradition is deeply ingrained in the fabric of local life.
Catfish Days Festival: A Family Affair
In the charming town of Paris, Tennessee, the Catfish Days Festival reigns supreme as a beloved annual gathering for noodling enthusiasts and their families. This lively event celebrates not only the thrill of noodling but also the rich culinary heritage associated with catfish. Attendees can witness exciting noodling demonstrations, learn about catfish conservation efforts, and indulge in mouthwatering catfish dishes prepared by skilled local chefs. The festival serves as a reminder that noodling is not only about the thrill of the catch but also about the celebration of community, culture, and the connection between people and the waterways that sustain them.
World Catfish Noodling Championship: A Global Showdown
For those seeking a truly international noodling experience, the World Catfish Noodling Championship is the pinnacle of the sport. This prestigious event brings together noodlers from different corners of the globe, showcasing their skills and vying for the title of world champion. The location changes each year, offering participants the opportunity to explore diverse catfish habitats and adapt their techniques accordingly. The competition pushes noodlers to their limits, testing their physical strength, mental acuity, and intimate knowledge of catfish behavior. The World Catfish Noodling Championship represents the epitome of noodling as a sport, attracting dedicated practitioners who are passionate about this unique form of angling.
From the storied Okie Noodling Tournament to the festive Catfish Days Festival and the fierce World Catfish Noodling Championship, these events embody the spirit of noodling for catfish. They provide a platform for enthusiasts to showcase their skills, learn from one another, and forge lasting connections. Through these competitions and gatherings, the art of noodling continues to thrive, ensuring that this time-honored tradition will be passed down to future generations.
Which states allow catfish noodling?
Catfish noodling is legal in several states, including Oklahoma, Mississippi, Texas, Louisiana, Alabama, Arkansas, and Georgia. However, it's important to note that regulations and specific requirements may vary by state. Always check and adhere to local fishing regulations and obtain any necessary permits or licenses before engaging in catfish noodling.
What is the point of catfish noodling?
Catfish noodling offers a unique and thrilling fishing experience. For many enthusiasts, the point of catfish noodling is to test their skills, courage, and connection with nature. It allows individuals to engage in a hands-on approach to fishing, relying solely on their bare hands to catch catfish. Noodling is often seen as a challenge and an opportunity to connect with tradition, heritage, and the natural environment.
Why is it called noodling?
The term "noodling" originated from the technique itself. When catfish noodling, anglers insert their hands into underwater crevices and holes, using their fingers to feel around for the catfish. This action resembles the movement of a noodle, hence the name "noodling." The term has become synonymous with this particular fishing method and is widely used to describe catching catfish with bare hands.
What injuries can you get from catfish noodling?
Catfish noodling carries inherent risks, and injuries can occur during the process. The most common injuries include scratches, cuts, and puncture wounds caused by catfish teeth, spines, or sharp underwater objects. Additionally, noodlers may encounter snakes or other predators while reaching into dark crevices, potentially leading to bites or other injuries. It is crucial to exercise caution, wear protective gear, and be aware of potential hazards to minimize the risk of injuries during catfish noodling.
This post may contain affiliate links. Miss Pursuit may earn a small commission for our endorsement, recommendation, testimonial, and/or link to any products or services from this website. Your purchase helps support our work in bringing you real information about hunting and the outdoors.