Pheasant is one of the most versatile game birds you can eat. It can be cooked in several ways and has a taste and density that almost resembles that of chicken. One of my favorite ways to cook pheasant is in the slow cooker, simmering in a stew of rice and vegetables, poured over a couple of fluffy biscuits. Grab a seat, get out your slow cooker (you can grab one on Amazon!), and let the mouth-watering begin!
Pheasant Recipe: Slow Cooker Stew
Ingredients
Cleaned pheasant breasts (I usually cook about 4 breasts at a time which feeds up to about 4 people, depending on your appetite!)
3 chopped carrots (I prefer to cut mine into thinner slices so that they cook better)
1 container of sliced mushrooms
1 box wild rice
2 15 oz cans of cream of mushroom soup
2 cloves garlic, minced
1 tbsp parsley flakes
1 tsp garlic salt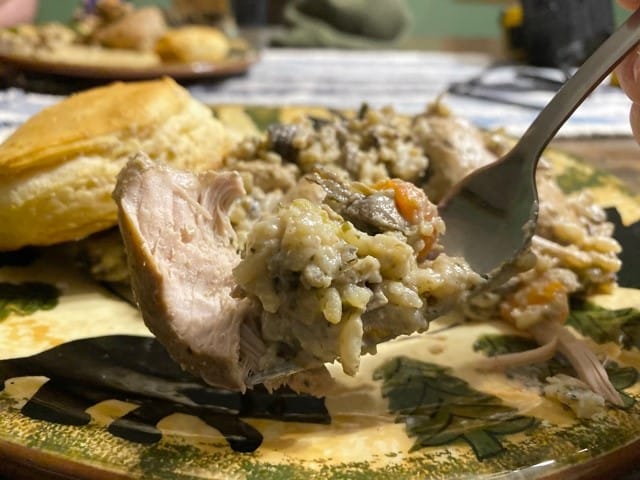 Directions
You can season the pheasant breasts if you would like, though I don't find it necessary. If you choose to, I recommend Grill Mates: Roasted Garlic and Herb seasoning.
Combine all ingredients, except the rice, in the slow cooker. Cook on high for 3 hours.
Add the rice and continue cooking until moisture is absorbed and the pheasant reaches an internal temperature of 160°-165°, about one hour.
All of the ingredients listed above can be modified in quantity or type…whatever you prefer, truly! Instead of rice, you could add chopped red potatoes. Add a handful of chopped spinach for some color and extra vegetable taste. I typically have an extra, smaller can of cream of mushroom soup on hand to add near the end if I want a more stew-like consistency or need to add more moisture to the mix.
Make up some biscuits or croissants, serve, and enjoy!
Commonly Asked Questions About Pheasant Recipes:
Which cooking method is best for pheasant?
The ideal cooking method for pheasant is roasting. Roasting ensures that the meat remains tender and moist while developing a flavorful, crispy skin. You can also consider grilling or braising for a different taste.
Why do you soak pheasant in salt water?
Soaking pheasant in salt water, a process known as brining helps tenderize the meat and enhance its flavor. The salt solution also helps retain moisture, preventing the meat from drying out during cooking, resulting in juicier and more flavorful pheasant.
How to cook pheasant Gordon Ramsay style?
To cook pheasant in Gordon Ramsay's style, follow these steps:
Preheat your oven to 400°F (200°C).
Season the pheasant with salt, pepper, and olive oil.
Sear the pheasant in a hot pan until golden brown.
Transfer it to a baking dish, add herbs and garlic, and roast for about 15-20 minutes.
Rest before serving.
What do you eat pheasant with?
Pheasant pairs well with a variety of side dishes, such as:
Wild rice
Roasted vegetables (carrots, Brussels sprouts, or asparagus)
Cranberry sauce
Mashed potatoes
Gravy
A light salad with vinaigrette dressing
Choose sides that complement the flavors of the pheasant and your personal preferences.
Hope you enjoy this pheasant recipe! Now, grab the slow cooker and enjoy!
This post may contain affiliate links. Miss Pursuit may earn a small commission for our endorsement, recommendation, testimonial, and/or link to any products or services from this website. Your purchase helps support our work in bringing you real information about hunting and the outdoors.