Impress your guests with this mouthwatering, bacon-wrapped recipe for venison tenderloin. Follow these simple steps for a perfectly cooked and flavorful dish.
This recipe for venison tenderloin will be ready in about 30-45 minutes and serves 8 people.
Ingredients for Venison Tenderloin (most can be found on Amazon Fresh!)
Venison Tenderloin
Garlic powder
Pepper
Garlic Herb Cream Cheese
Bacon
Preparing the Venison Tenderloin
1. Rinse the meat and pat dry.
2. Lay butterfly tenderloin open.
3. Sprinkle generously with any seasoning you prefer.
4. Begin to spread garlic herb cream cheese on the inside of the venison tenderloin.
5. Close the tenderloin after you have coated the inside of the tenderloin well.
6. Begin basket weaving the bacon around the entire roll. See the instructions below on how to basket weave the bacon!
7. Cook slowly on low on the grill or oven. You will not want to overcook venison. You want it on the medium-rare side. It should be pink on the inside. If you cook venison too long it is not good!!
How to Basket Weave Bacon for the Perfect Venison Tenderloin
On a piece of wax paper, lay three strips of bacon horizontally with the long edges touching.
Fold the middle piece of bacon in half back onto itself.
Place a fourth strip of bacon vertically across the top bacon slice, middle gap, and bottom bacon.
Fold the left side of the top and bottom slices of bacon back over the vertical slice of bacon.
Place a fifth slice of bacon vertically over the top gap, middle bacon, and bottom gap.
Fold the top and bottom horizontal bacon back over the fifth piece of bacon.
Fold the right side of the top and bottom pieces back over the vertical strip of bacon.
Place the last vertical strip over the top gap, middle bacon, and bottom gap, and fold the horizontal strips of bacon back.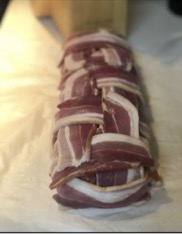 Now you have the perfect recipe for venison tenderloin. Obviously, bacon and cream cheese make it DELICIOUS!
This post may contain affiliate links. Miss Pursuit may earn a small commission for our endorsement, recommendation, testimonial, and/or link to any products or services from this website. Your purchase helps support our work in bringing you real information about hunting and the outdoors.