Sometimes as home chefs, we all reach a point where "When's dinner?" reigns supreme. Dinner is further delayed by homework, soccer games, or gymnastics that take place right at dinner time when we are all hungry. Inevitably, we end up at fast food, again.
I created this recipe on the fly in a desperate attempt to avoid the drive-thru. This macaroni and cheese with game meat and Spitfire Gourmet seasonings for dinner in the crockpot is a version of one of my favorites from childhood. Everyone agreed it was a hit and it has become a staple in my repertoire. This recipe is quick to prepare, and it cooks in the crockpot on low in about 2 hours, perfect to throw in during that 5-20 minute turnaround time after school to be ready when you arrive home, starving after whatever event has pulled you out for a bit.
In this twist on the recipe, I used the Spitfire Gourmet Cheesy Veggie spices.
Mac & Cheese with Oryx
Ingredients
2 1/3 c Half and half
16 oz Shredded Mexican blend cheese
8 oz Cream cheese, cubed
Spitfire Gourmet Cheesy veggies spices
1 box Shells macaroni, cooked
1-1.5 lbs Ground Oryx (or other ground meat)
Directions
Over medium-high heat brown the meat in a skillet.
Pour the half and half in the bottom of the crockpot and add the seasoning. Mis with a whisk until well blended.
Add the cream cheese. Place the warm meat on top of the cream cheese to help it become more blended and mix well.
Add the cooked macaroni and cover with the shredded cheese. Stir to combine.
Cook for 1-2 hours on low heat.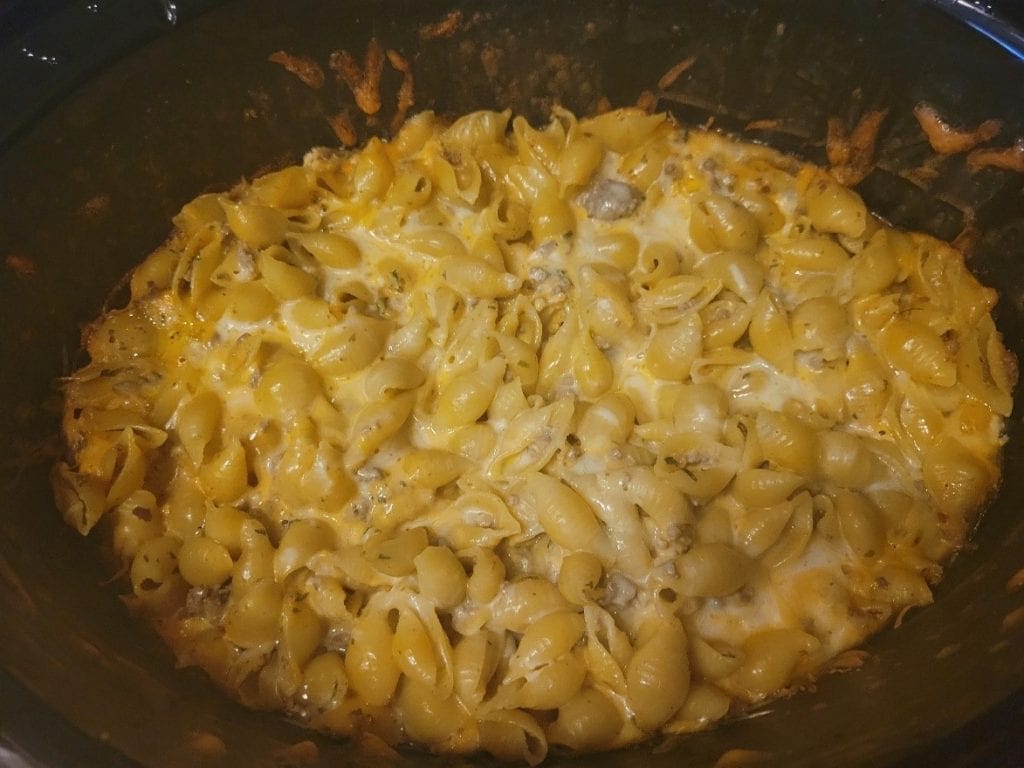 This quick and easy recipe for mac & cheese with oryx is a great fix for days when you need to run errands and want to skip the fast food at the end of a long day.
This post may contain affiliate links. Miss Pursuit may earn a small commission for our endorsement, recommendation, testimonial, and/or link to any products or services from this website. Your purchase helps support our work in bringing you real information about hunting and the outdoors.