As promised in my last article, I'm going to share some of my favorite, go-to bear meat recipes that we eat in our home.
Shepherd's Pie was something I was never excited for as a kid, but let me tell you, this recipe changes the game. It's full of flavor with bear meat and vegetables from our garden, making it both cost-effective AND nutritious. By fall, our home is stocked full of both. It's the perfect time to prepare freezer meals for the long, cold winter. Don't let the list of ingredients intimidate you, this recipe can be whipped up in no time. It's easy to substitute or add whatever veggies you have on hand.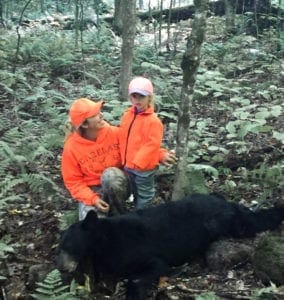 Generally, when I cook Shepherd's Pie, to make it easier on myself, the night before we will have mashed potatoes and I'll make extra for leftovers. I then either assemble the Shepherd's Pie the night before and cover with foil. Then, it'll be ready to be put in the oven the next night. Sometimes I will pop the potatoes into the fridge until the next day, too. What I also love about this recipe is that I will make it in large batches and freeze for the winter. I also like to buy foil baking trays with lids and make as many as I can at one time.
Ingredients
POTATO LAYER
3 large potatoes
2 tablespoons butter
½ cup milk
1 teaspoon garlic powder
MEAT LAYER
2 pounds ground bear
1 small onion, chopped
2 cloves garlic, minced
½ teaspoon each, salt and pepper
2 tablespoons flour
2 tablespoons tomato paste
1 cup beef broth
½ tablespoon Worcestershire sauce
½ teaspoon dried oregano
1½ cups frozen peas and carrots (or any veggies on hand)
½ cup of frozen corn
1 cup shredded cheddar cheese
Instructions
FOR POTATO LAYER
Peel potatoes and chop into small pieces.
Place chopped potatoes in a large pot of water. Bring to a boil and cook until potatoes are tender (about 15 – 20 minutes).
Drain water from the pot.
Mash the potatoes.
Add butter, milk and garlic powder.
Continue to mash until no lumps remain.
Cover potatoes and set aside.
Preheat oven to 375° F. Grease a 9×13 inch baking dish with non-stick spray or use a tin tray with a lid to freeze.
FOR MEAT LAYER
In a large 12-inch skillet, over medium-high heat, add ground meat, onion, garlic, salt, and pepper.
Cook and crumble meat until brown and reaches an internal temp of 170F.
Drain grease.
Sprinkle flour evenly over meat mixture.
Stir and cook 1 minute.
Stir in tomato paste, broth, Worcestershire sauce, and oregano.
Bring to a boil, then reduce heat to medium-low.
Stir in frozen peas, carrots, and corn.
Cook another 5 to 10 minutes or until heated through.
Pour meat mixture into prepared pan.
Spread mashed potatoes evenly over the top.
Top potatoes with cheddar cheese.
Bake, uncovered, for 35 minutes until casserole is hot and bubbly.
Remove from the oven and let stand 10 minutes before serving.
For Freezing
Once your layers are arranged, instead of baking, put into the freezer. Make sure to label it with the name and date. Generally, we will eat them within 6 months but more often than not, sooner.
To cook after freezing, it will take about an hour at 350F. I just check my thermometer once it reaches 150F (remember, the bear meat is already cooked; you are just heating it).
So, there you have it for Shepherd's Pie (the Bear Edition).
This post may contain affiliate links. Miss Pursuit may earn a small commission for our endorsement, recommendation, testimonial, and/or link to any products or services from this website. Your purchase helps support our work in bringing you real information about hunting and the outdoors.