There's something magical about road trips – the open road, the breathtaking scenery, and the sense of adventure. But what truly makes a road trip unforgettable is the company we keep. Engaging in lively and meaningful conversations with our travel companions can turn an ordinary drive into a memorable experience. In this blog post, we'll share an array of road trip conversation starters that will help you bond, learn more about each other, and create everlasting memories while traversing the highways.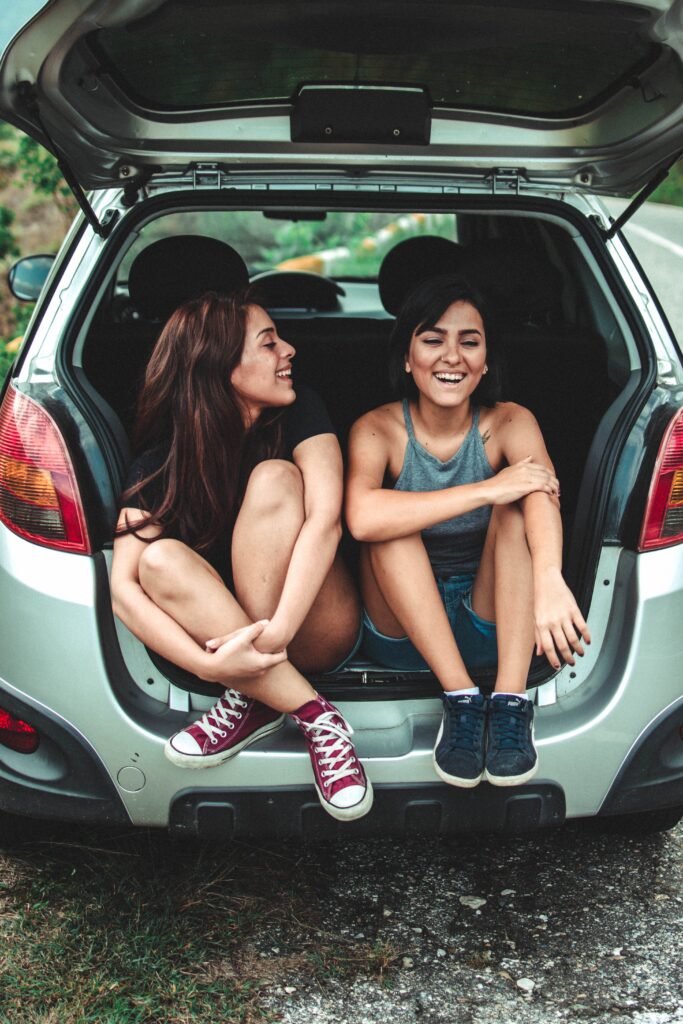 Road Trip Conversation Starters: The Classic Ice Breakers
When embarking on a road trip, it's essential to break the ice and set the tone for engaging conversations. Here are a few classic conversation starters to get the ball rolling:

– "If you could travel anywhere in the world, where would you go and why?"
– "What's your all-time favorite song or album, and what memories does it evoke?"
– "If you could have any superpower, what would it be and how would you use it?"
– "What's the most daring thing you've ever done or would like to do?"

These light-hearted questions stimulate imagination and allow everyone to share their dreams, passions, and experiences.
Road Trip Conversation Starters: The Travel Tales
Road trips are the perfect opportunity to swap travel stories and experiences. Use these conversation starters to uncover hidden gems and treasured memories:

– "What has been your most memorable travel experience so far?"
– "Share a funny or unexpected encounter you've had while traveling."
– "Do you have a bucket list of destinations you want to visit? Let's hear about it!"
– "If you could live anywhere in the world for a year, where would it be and why?"

As you delve into each other's travel tales, you'll not only learn about new places but also gain insight into each other's perspectives and desires.
Road Trip Conversation Starters: The Thought-Provokers
To ignite deeper conversations and explore meaningful topics, consider these thought-provoking conversation starters:

– "What is the biggest lesson life has taught you so far?"
– "If you had the power to change one thing in the world, what would it be?"
– "What are your thoughts on the concept of happiness and how do you define it?"
– "If you could have dinner with any historical figure, who would it be and why?"

These questions encourage introspection and allow for profound discussions that can strengthen the bond between travel companions.
Road Trip Conversation Starters: The Quirky and Fun
Inject some lightheartedness into the journey with these quirky and fun conversation starters:

– "What would your dream job be if money wasn't a factor?"
– "If you could have a fictional character as your travel buddy, who would it be and why?"
– "What's the most unique or bizarre food you've ever tried, and did you like it?"
– "If you could time travel to any era, which one would you choose and why?"

These whimsical questions are sure to spark laughter and create a light-hearted atmosphere during the trip.
A successful road trip is not just about the destination but also about the conversations and connections made along the way.
By using these road trip conversation starters, you can foster engaging and meaningful exchanges that will make your journey even more enjoyable.
Whether you're exploring new destinations or revisiting familiar roads, remember that it's the shared experiences and connections that truly make a road trip unforgettable. So, buckle up, start those conversations, and create memories that will last a lifetime.
This post may contain affiliate links. Miss Pursuit may earn a small commission for our endorsement, recommendation, testimonial, and/or link to any products or services from this website. Your purchase helps support our work in bringing you real information about hunting and the outdoors.