What's better than eating saltwater fish? Well, catching saltwater fish, of course. Surf fishing is fun and if you're lucky you'll also bring home dinner. Surf fishing refers to all types of shore fishing or wading in the surf zone.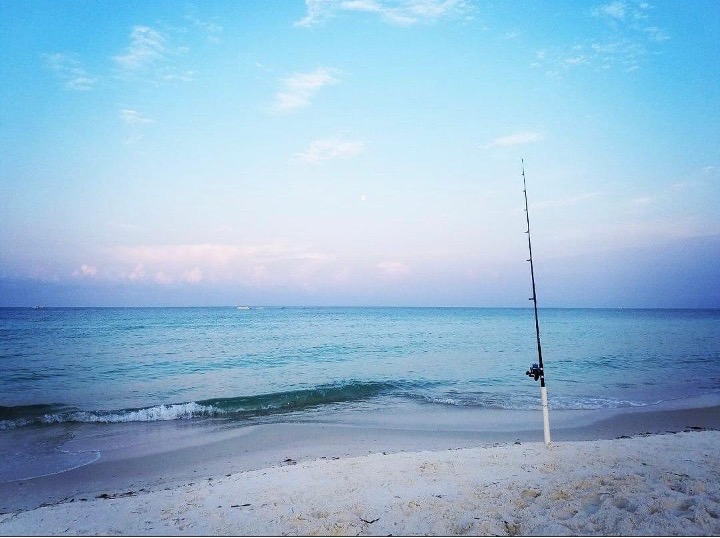 Here are seven things you must know before surf fishing:
The best time to surf fish:
The first few hours are around sunrise and the last few hours are around sunset. This is the best time for several reasons: fewer people on the beach and when the fish are most likely to bite. More fish come in during high tide, especially at dawn or dusk.
The best gear for surf fishing:
It's ideal to use two rods at once, each with different setups. To do this, you will need sand spikes (rod holders). We made some using inexpensive PVC pipe, but you can purchase them also. Your rod needs to be 10-12 feet long and a spinning reel is the most common. Cast nets are essential if you plan to catch your own bait fish. Other important items to have: tackle and bait, extra spool of line, pliers, hand towel, beach cart, and a cooler with ice. Don't forget your fishing license!
The best species to eat for surf fishing:
Freshwater fish is good but saltwater fish taste amazing. Redfish, speckled trout, flounder, and whiting are some of my favorites. There's nothing like eating food that you worked hard to catch, clean, and prepare. 
The best baits:
Live bait is obviously ideal but can also use shrimp, cut bait, or fish bites. I like to rig up two poles with different bait to catch more variety. 
The best surf fishing spots:
Like all hunting or fishing, it is best if you can scout the beach for promising areas to fish. Pay attention to sand bars. Look for cuts in the water. This is a break in a sand bar where fish primarily feed. It takes strength to cast out as far as needed, but practice makes perfect, and it truly does get easier with experience. 
The best thrill:
Want an adrenaline rush? Grab the gear mentioned above and go surf fishing. These saltwater creatures put up a thrilling fight – especially sharks! It's an adrenaline rush hearing that drag and not knowing what you may have on the end of the line.  
The best views:
Due to the time of fishing and the privacy of the beach, you will witness the best views the sea has to offer. Watching the sunrise or sunset on the beach is breathtaking and having a line or two out in the water just enhances that experience if you enjoy fishing like I do.
Surf fishing is fun, peaceful, and rewarding. Be patient and have fun with it!
This post may contain affiliate links. Miss Pursuit may earn a small commission for our endorsement, recommendation, testimonial, and/or link to any products or services from this website. Your purchase helps support our work in bringing you real information about hunting and the outdoors.