It's Sunday morning, driving into my favorite old metal stand on the property for the first time this deer season. I can't help but be grateful. The dawn was breaking, the sun rising and the sky was pink with a thin fog.
The old metal stand is seated next to a little pond, tucked away in a little sanctuary.
The deer are usually bedded up when I walk in. This morning, the ground is wet from yesterday's rain, so it makes it easy to slip in quickly and quietly.
All morning you can hear acorns dropping, leaves falling, birds splashing in the pond, a red-headed woodpecker hammering a tree, squirrels, hawks, turkeys, and deer blowing. This spot is very special to me.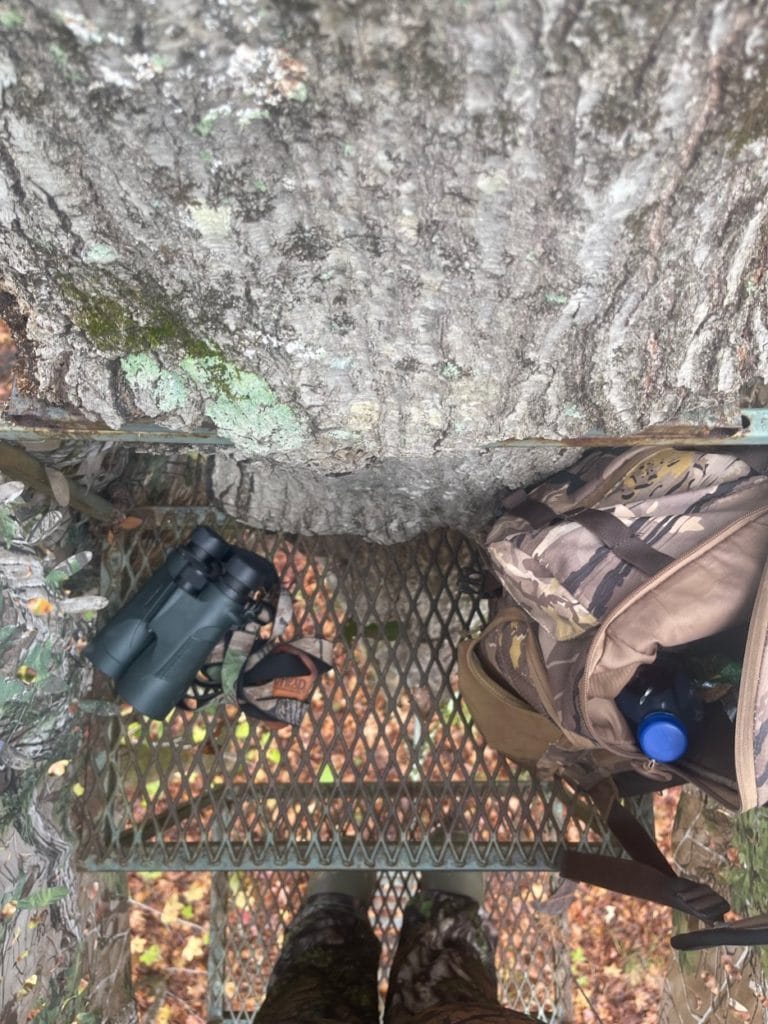 It's the spot where I got my first bow kill. It was the spot one of the original founding members passed down to me because they couldn't climb anymore. It's the stand where most of the time I will see some kind of animal.
It's my old favorite stand made of metal. It's been here so long, a tree has grown into it, marking a permanent resident spot.
It's the stand I choose to go to and find peace, take in the sounds, and enjoy being outdoors.
If this stand could tell its story, I bet it would have a ton to share – like all the men who decided exactly where to position it, what tree it would lean against, and how many hunters have sat here over the years. I bet even though there have been losses taken from it, a lot of deer stories come from it. Lots of misses and lots of successes.
Stories like the time I got chased by hogs and all I could think about was getting to the old metal stand. The time a spotted fawn decided to lay down right in front of it and take a rest. It's a stand I clear my mind and find inspiration to write stories. The time a huge tree fell next to it, missing it by inches, all the peaceful cat naps it tends to hold because it's such a peaceful spot.
The old metal stand is a blessing to me and I hope that somehow those who have come and gone know how special it has been, and those who will sit here after me love it as much as I do.
This post may contain affiliate links. Miss Pursuit may earn a small commission for our endorsement, recommendation, testimonial, and/or link to any products or services from this website. Your purchase helps support our work in bringing you real information about hunting and the outdoors.