I specifically remember my mother-in-law rotating game meat in and out of her deep freezers. At the time, I didn't really understand what she was doing or why she was doing it. I later would learn that her actions were all related to keeping track of her meat supply for meal prep and planning purposes, and maximizing meat storage efficiency throughout the hunting season.
Now that I am more familiar with the process, and actually preparing meals for my family from our harvest, it is vital to follow a strategic plan to keep meat as fresh as possible through the prevention of freezer burn and keep it from lingering at the bottom of the freezer. I do not want to waste an ounce of meat that I work so hard to get during hunting season. I honestly think I feel a deeper appreciation of where my meat came from, how it is preserved, and the diligence of preparation.
My freezer and meat organizational skills were nowhere the standards of where they needed to be when I started, but I quickly learned once I started bringing my harvest home from the deer processor. When I put meat away, I felt like I had meat everywhere; in the top of the freezer, the bottom of the freezer, the side door of the freezer, in the drawers of the refrigerator, etc. Not one ounce of organization at all; what was I doing, and how was I going to fix it? I knew that I shouldn't have to search high and low to find meat to prepare, and then when I did find it, how long had it been there? Was it meat from the current year's harvest or the previous year?
It was time to find a method to my madness. Organizing my freezer a few times a year allows me to keep an accurate account of what I have and allows me to plan for any wild game I may need more of.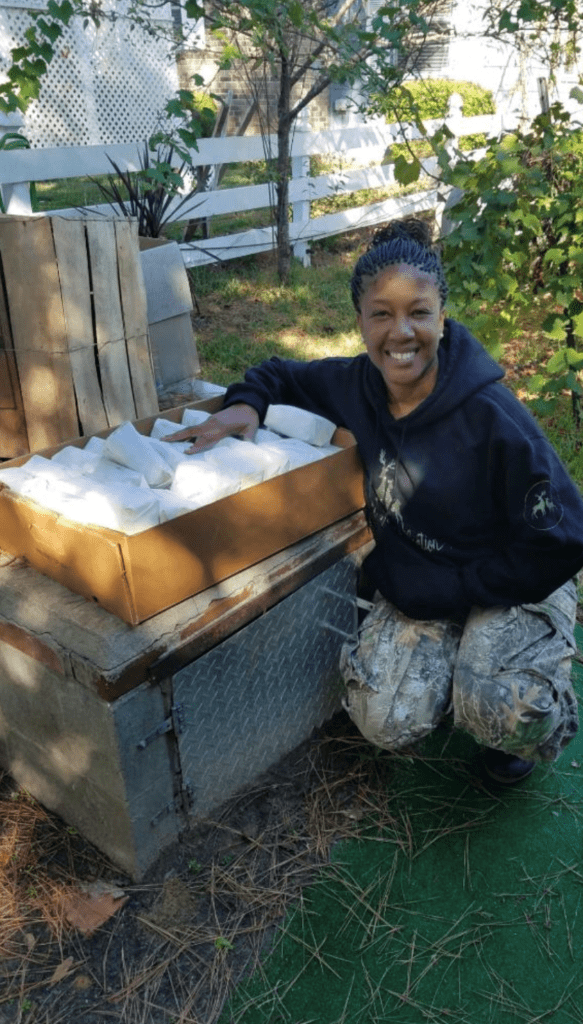 Tips to Keep Your Wild Game Meat Organized in Your Deep Freezer
Before you begin stacking meat in your deep freezer, take a realistic assessment of how much meat you think you and your family will consume over the next year. In my house, we mainly eat our harvest, outside of a little chicken I may pick up here and there. My husband and I usually decide to get no less than four deer to stock up in our freezer for the season. Anything over that is considered a bonus and we share with family and friends.
Once you complete your assessment of what you already have and what you need, take everything out of your deep freezer, unplug it, and begin defrosting. Make sure that the meat you took out is stored in a cooler until the defrosting process is completed. During this process, you want to remove any frost buildup and clean all shelving and surfaces. Once everything is all clean and tidy, turn your freezer back on and let it cool to temperature so you can begin refilling your freezer.
My meat comes back from the processor pre-labeled, but if you process and package your own meat, you want to make sure that you label everything with the type of meat and the date. Although this may seem like a simple step, it is a very important one. There is nothing worse than shopping your freezer for a certain cut of meat to prepare, and you have no idea what you're looking for because you honestly don't know what it is. I can't stress enough how important it is to be able to quickly identify the contents of your freezer. To save yourself time and a headache, go ahead and label/date everything.
After everything is labeled and dated, I organize the meat by type and cut. For example, I put all of my ground deer together, roast, steaks, hams, sausage, etc. My deep freezer doesn't have additional shelves, so I incorporate boxes labeled with the type and cut of meat. Believe me, this is definitely a lifesaver that you will thank me for later.
My mother-in-law taught me to make sure the oldest meat is on top and the newer meat is on the bottom. This is where the rotation of the meat comes in. To assure the freshness of your meat, you want to incorporate a first-in/first-out policy. I incorporate my wild game into all my meals on a daily basis, so it doesn't pose a huge issue for me. If you are one who cooks it occasionally, or for special occasions, you definitely want to make sure you don't skip this step.
A good ethical hunter does not waste any unused or damaged meat. As ethical hunters, it is our duty to properly manage our game meat in the best way possible. The way my family and I have our meat planned out, it will take us all to the beginning of deer season in the fall. It's amazing to know exactly what we have and its exact location.
Make it a point this hunting season to properly maintain your freezer and the meat inside.
This post may contain affiliate links. Miss Pursuit may earn a small commission for our endorsement, recommendation, testimonial, and/or link to any products or services from this website. Your purchase helps support our work in bringing you real information about hunting and the outdoors.