I have lived in Wisconsin my whole life, all 24 years of it. Though I can distinctly remember many joyful times playing with sticks in the woods and splashing through mud puddles as a child, my true love of Wisconsin outdoors bloomed when I got my Hunter's Safety License. I have now grown not only as a hunter but as an advocate for traveling in the great Wisconsin outdoors.
Looking to Travel to Wisconsin?
One thing I take pride in about my great state is that the outdoorsman can never be bored. At least in my case, I never am without a fish to catch or an animal to hunt, all year round. Summer means black bear hunting and open-water fishing. Fall brings whitetail, duck, and goose seasons. Winter calls for chilly nights on the ice trying to snag a walleye and pheasant hunting. Spring means morel mushroom hunting and tagging a turkey. Four seasons in Wisconsin isn't just four seasons, it's a year-long opportunity to get to know the outdoors in all of its splendor through every pine-scented summer sunrise, crisp autumn walk, frigid winter frost, and spring-time thaw.
Hiking in Wisconsin
Yes, many know if you want to travel to Wisconsin, it is a great place to plan a hunting or fishing trip. What many people may not know, however, is that there is an abundance of noteworthy locations to hike in nature's beauty. For the sake of brevity, here is a list of some of Wisconsin's most toured locations and some of my personal favorites.
Eating in Wisconsin: Supper Clubs
And lastly, when you think "Wisconsin" you should also think of "Supper Clubs."  The list below is tried and true, traditional Wisconsin supper clubs that will never fail to make you a perfectly seared steak with a side of Brandy old fashioned, or provide the coveted Friday fish fry, 12 months a year. Be prepared to grab a drink (or 2) at the bar with the locals while you wait to be seated. My personal favorites include: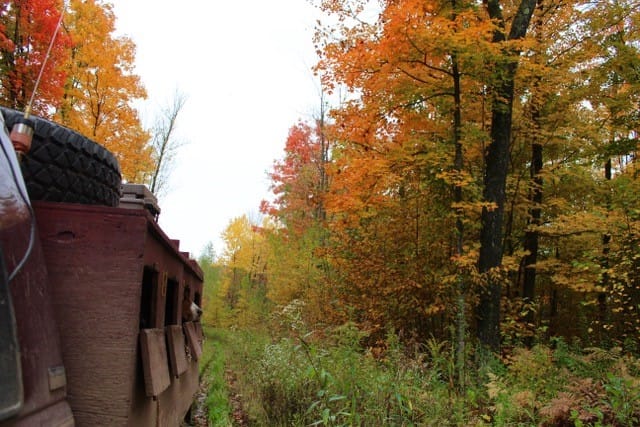 If you ever find yourself traveling through Wisconsin, make sure to slow down and taste the cheese and beer. And, maybe even ask a local about their favorite game to hunt, a place to take a hike, or just simply sit down and enjoy a fine meal with family and friends. You won't regret it!
Hunting in Wisconsin
Wisconsin's vast and diverse wilderness provides an ideal playground for hunting enthusiasts. Whether you are an avid hunter or a beginner looking to embrace the thrill of the chase, the state offers ample opportunities throughout the year. From whitetail deer and wild turkeys to waterfowl and small game, Wisconsin boasts a rich variety of game species.
The hunting seasons in Wisconsin are carefully regulated to ensure sustainable practices and preserve the state's wildlife populations. Each season presents its own unique challenges and rewards. Fall brings the renowned whitetail deer season, where hunters eagerly await the chance to bag a trophy buck. Duck and goose seasons offer thrilling experiences for waterfowl enthusiasts, while spring brings the sound of gobbling turkeys and the thrill of a successful hunt.
Chequamegon-Nicolet National Forest
Encompassing over 1.5 million acres of pristine wilderness in northern Wisconsin, the Chequamegon-Nicolet National Forest is a haven for outdoor enthusiasts. This vast forest offers an incredible hunting experience, with an abundance of deer, turkey, grouse, and other game species. The diverse landscape, ranging from dense forests to open meadows, provides a variety of hunting opportunities for both archery and firearms seasons.
Horicon Marsh Wildlife Area
Located in southeastern Wisconsin, the Horicon Marsh Wildlife Area is a paradise for waterfowl hunters. Spanning over 32,000 acres, it is the largest freshwater cattail marsh in the United States. During the waterfowl season, the marsh comes alive with ducks and geese, providing thrilling hunting experiences. From strategically positioned blinds to open water hunting, the Horicon Marsh offers a variety of options to test your skills and bag your limit.
Mississippi River Bottoms
Along the western border of Wisconsin, the Mississippi River carves its way through scenic landscapes, creating a haven for waterfowl and deer. The river bottoms and surrounding marshes offer excellent hunting opportunities, particularly for waterfowl during the fall migration. Set up your decoys along the riverbanks or embark on a guided hunt with experienced outfitters to make the most of this prime hunting location.
Central Forest Region
Spanning across central Wisconsin, the Central Forest Region is a vast expanse of public lands and forests that provide a wealth of hunting opportunities. The region is known for its thriving deer population, making it a popular destination for whitetail enthusiasts. Additionally, small game hunters can find an abundance of squirrels, rabbits, and grouse in the wooded areas. With its scenic beauty and diverse wildlife, the Central Forest Region offers an unforgettable hunting experience.
Buffalo County
If you're in pursuit of trophy bucks, Buffalo County in western Wisconsin is the place to be. Renowned for its world-class deer hunting, this county has gained a reputation for producing some of the largest bucks in the state. The combination of fertile farmland, dense woodlands, and strict management practices has led to a thriving deer population with impressive antler growth. Hunters flock to Buffalo County for a chance to bag their dream buck and create lifelong memories.
Kettle Moraine State Forest
Situated in southeastern Wisconsin, the Kettle Moraine State Forest offers a unique hunting experience in a picturesque setting. With its rolling hills, deep forests, and tranquil lakes, this region is home to a variety of game species. Hunters can pursue whitetail deer, turkeys, squirrels, and other small game in this diverse and well-managed forest. The Kettle Moraine State Forest provides a peaceful retreat for hunters seeking solitude and natural beauty.
Fishing in Wisconsin
For those seeking a tranquil and rewarding experience on the water, Wisconsin's abundance of lakes, rivers, and streams will leave you spoilt for choice. Whether you prefer casting your line from a serene lakeshore or venturing into the heart of a river, the state offers endless fishing possibilities.
Wisconsin is known for its world-class freshwater fishing, attracting anglers from far and wide. The legendary Lake Michigan offers incredible opportunities to reel in trophy salmon, trout, and walleye. Inland lakes and rivers are teeming with bass, pike, musky, and panfish, providing excitement for both seasoned anglers and beginners.
Lake Michigan
As one of the Great Lakes, Lake Michigan provides exceptional fishing opportunities for anglers seeking a thrilling adventure on the open water. The lake is renowned for its trophy salmon and trout, including Chinook salmon, Coho salmon, Lake trout, and Brown trout. Charter a boat and head out onto the deep blue waters to test your skills and reel in the catch of a lifetime. From the ports of Milwaukee, Sheboygan, and Manitowoc, Lake Michigan promises an exhilarating fishing experience.
Door County
Situated on a picturesque peninsula that juts out into Lake Michigan, Door County is a fishing paradise that offers a diverse range of angling opportunities. Whether you prefer casting your line from the shore or venturing out onto the water in a boat, Door County has it all. Smallmouth bass, walleye, northern pike, and a variety of trout species inhabit the county's bays, harbors, and scenic shoreline. The tranquil beauty of Door County, coupled with its fantastic fishing, makes it a must-visit destination for anglers.
Hayward Lakes Area
Located in northwestern Wisconsin, the Hayward Lakes Area is renowned for its pristine lakes, which offer fantastic fishing opportunities year-round. With over 55,000 acres of water, including Lac Courte Oreilles, Grindstone Lake, and Round Lake, this region is a haven for anglers. The area is famous for its abundance of musky, walleye, northern pike, and panfish. Cast your line from a boat or try your luck from the numerous public fishing piers and enjoy the serene beauty of the Hayward Lakes.
Mississippi River
Bordering the western edge of Wisconsin, the mighty Mississippi River presents anglers with an incredible fishing experience. The river is known for its diverse fish populations, including catfish, walleye, sauger, northern pike, and smallmouth bass. Whether you prefer fishing from the shoreline or navigating the river in a boat, the Mississippi River offers ample opportunities to reel in trophy-sized fish. Choose a spot near La Crosse, Prairie du Chien, or Pepin, and let the adventure begin.
Lake Winnebago
Situated in east-central Wisconsin, Lake Winnebago is the largest inland lake in the state and a popular destination for anglers. The lake is known for its excellent walleye and perch fishing. Ice fishing on Lake Winnebago during the winter months is a beloved tradition for many locals and visitors alike. Set up your ice shanty, drill a hole in the ice, and try your hand at catching these prized fish species. Lake Winnebago offers a unique fishing experience that combines excitement and camaraderie.
Apostle Islands
For those who prefer fishing in the picturesque beauty of Lake Superior, the Apostle Islands are a must-visit destination. This collection of stunning islands in northern Wisconsin offers unparalleled angling opportunities for lake trout, salmon, and smallmouth bass. Charter a boat and explore the crystal-clear waters surrounding the islands, or cast your line from the rocky shoreline. The Apostle Islands provide a serene and unforgettable fishing experience in the heart of Lake Superior.
Camping in Wisconsin
For those yearning to disconnect from the chaos of everyday life and immerse themselves in the tranquility of nature, Wisconsin's camping options are a dream come true. The state boasts an impressive array of state parks, campgrounds, and wilderness areas that cater to all levels of camping enthusiasts.
The state parks in Wisconsin are a haven for nature lovers, offering well-maintained campgrounds and an array of recreational activities. From Peninsula State Park, nestled in the scenic Door County, to Devil's Lake State Park with its stunning bluffs, camping in Wisconsin's state parks allows you to experience the beauty of the great outdoors while enjoying modern amenities.
For those seeking a more rugged camping experience, the state's wilderness areas provide an opportunity to truly disconnect from the modern world. The Chequamegon-Nicolet National Forest and the vast Northern Highland-American Legion State Forest offer primitive camping options amidst untouched natural beauty. Set up your tent, light a campfire, and let the sounds of the forest serenade you to sleep.
Peninsula State Park
Nestled in the scenic Door County, Peninsula State Park is a true gem for camping enthusiasts. With its stunning shoreline along Green Bay and a dense forested interior, the park offers a range of camping options, including family and group campsites, as well as rustic and electric sites. Wake up to breathtaking sunrises, spend your days hiking on picturesque trails, and relax by the campfire under a starlit sky. Peninsula State Park provides a perfect blend of natural beauty and modern amenities.
Devil's Lake State Park
Located in south-central Wisconsin, Devil's Lake State Park is a camping destination that will captivate nature lovers. The park's centerpiece is the picturesque Devil's Lake, surrounded by towering quartzite bluffs. Camping options include both traditional and group campsites, as well as backpacking sites for those seeking a more secluded experience. Hike the park's scenic trails, swim in the clear waters of the lake, and bask in the beauty of the surrounding nature. Devil's Lake State Park promises an unforgettable camping adventure.
Governor Dodge State Park
Situated in the Driftless Area of southwestern Wisconsin, Governor Dodge State Park is a haven for outdoor enthusiasts. The park boasts two scenic lakes, meandering trails, and breathtaking vistas. Camping options range from family and group sites to equestrian and backpacking sites. Spend your days exploring the park's diverse ecosystems, fishing in the lakes, or simply enjoying the tranquility of nature. With its rugged beauty and abundant recreational activities, Governor Dodge State Park is a camping paradise.
Northern Highland-American Legion State Forest
For those seeking a more primitive camping experience, the Northern Highland-American Legion State Forest in northern Wisconsin is a must-visit destination. This vast wilderness area spans over 225,000 acres and offers numerous secluded campsites along pristine lakes and rivers. Set up your tent, listen to the sounds of nature, and reconnect with the simpler joys of life. The forest also provides ample opportunities for hiking, fishing, and wildlife spotting, allowing you to truly embrace the wilderness.
Wyalusing State Park
Perched high above the confluence of the Wisconsin and Mississippi Rivers, Wyalusing State Park offers a camping experience with breathtaking panoramic views. Choose from family and group campsites, or opt for the park's unique backpacking shelters. Explore the park's trails that wind through majestic bluffs, witness stunning sunsets over the rivers, and enjoy the serenity of the campfire as you unwind after a day of adventure. Wyalusing State Park is a hidden gem that promises both natural beauty and tranquility.
Namekagon River
For a unique camping experience along a scenic waterway, the Namekagon River in northwestern Wisconsin beckons. This designated National Wild and Scenic River offers primitive camping opportunities along its picturesque shores. Paddle your way down the river, set up camp at one of the designated sites, and fall asleep to the soothing sounds of flowing water. The Namekagon River provides a peaceful escape where you can truly disconnect from the hustle and bustle of everyday life.
Have more questions about traveling in Wisconsin?
What do people travel to Wisconsin for?
People travel to Wisconsin for its beautiful landscapes, outdoor recreational activities, and charming cities. The state offers opportunities for fishing, boating, hiking, and skiing, attracting nature enthusiasts. Wisconsin is also known for its rich cultural heritage, historical sites, and annual festivals, such as Summerfest in Milwaukee and Oktoberfest in La Crosse.
What is Wisconsin famous for?
Wisconsin is famous for its cheese production, earning it the nickname "America's Dairyland." The state is renowned for its delicious cheese varieties, including cheddar, mozzarella, and Swiss. Additionally, Wisconsin is home to the Green Bay Packers, a legendary football team with a loyal fan base. The state's beautiful lakes, such as Lake Michigan and Lake Superior, also contribute to its fame.
What is it like to live in Wisconsin?
Living in Wisconsin offers a unique experience characterized by a strong sense of community, a lower cost of living compared to some other states, and access to diverse outdoor activities. The state's residents enjoy a high quality of life, with excellent educational institutions, healthcare facilities, and a thriving arts and cultural scene. Wisconsin's four distinct seasons provide residents with opportunities for outdoor recreation throughout the year.
What are the areas of Wisconsin?
Wisconsin can be divided into several distinct regions. The southern part of the state is known for its fertile farmland and metropolitan areas like Milwaukee and Madison. The northern region features expansive forests, pristine lakes, and small towns that attract outdoor enthusiasts. The Door Peninsula in eastern Wisconsin is famous for its picturesque coastal views and charming waterfront communities. The western part of the state is characterized by rolling hills, river valleys, and the beautiful Mississippi River.
Traveling in Wisconsin, in my opinion, is a triple threat. Great hunting, beautiful parks, and delicious food…and let's not forget about the people who live here!