There is nothing worse than forgetting something you need during a hunt. A good, durable turkey vest is key to holding all your tools. During spring gobbler season, I have an all-day vest and a run-and-gun vest. There are plenty of options when it comes to buying your vest, but I recommend getting one that will offer multiple uses with extra baggage. 
The turkey vest
Cushion: A comfy seat cushion on your turkey vest makes a world of difference. Some have magnetic capabilities that offer a quick throw down approach but be mindful that the magnet can and will wear out over time. The added clips are needed to secure your cushion while moving through the woods. 
Pockets: There is no such thing as too many pockets on your vest. Pay attention to all the different-sized pockets and whether the vest offers inside and outside pockets. I prefer to have zippers on my pockets and/or ties to secure my tools. During your hunt, you could be hiking through different types of terrain or crawling through fields and do not want to chance losing any tools. Most vests will provide box call pockets, striker pockets and more. 
Game Bag: This is huge for turkey hunters that walk a lot of miles to harvest their bird. The game bag gives you the ability to transport your bird, handsfree, out of the woods. Check to make sure this area is big enough to hold a 20-25 lb turkey. Pay attention to how it works; does it offer clips to secure the weight and is it expandable? While it is easy to throw a turkey over your shoulder, it limits your hands for decoys, guns and other items you may use during your hunt.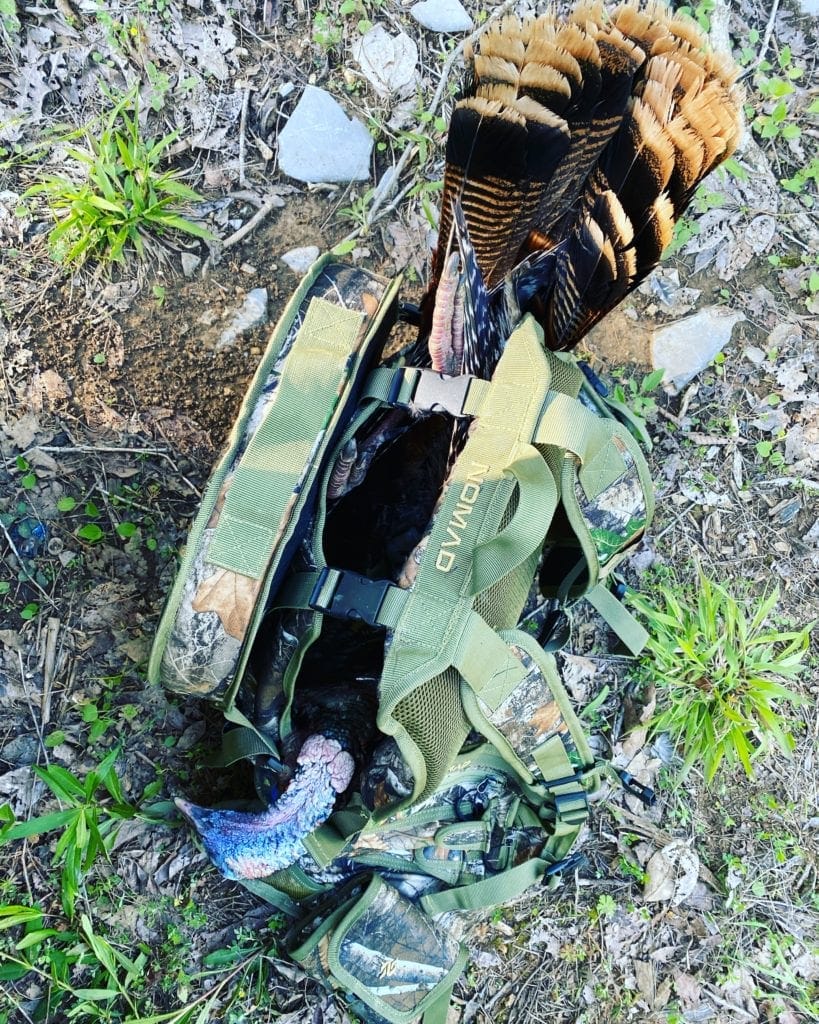 What's in the pockets
Face mask: Some like mess but any camo face mask will do.
Camo gloves: I prefer ones that have the trigger finger cut out.
Ammo: Find your favorite turkey load and stock up.
Turkey calls: Mouth calls (I pack a couple of my favorite), box call, slate call (or your choice of a pot call) and striker, locator call (owl or crow call is typical).
Cell phone: To use for communication and geographical maps (make sure it is on vibrate during your hunt).
Water
Your favorite snacks
Binoculars: I wear a chest holder so it frees up room in my vest.
Knife: I wear my knife in the pocket of my pants but some put in their vest.
Hunting license, tags and ID
Striking paper: We all use the bathroom every once in a while (I pack a small amount in a pocket just in case).
Small flashlight: I prefer a headlight if needed for early in the morning or walking out late at night.
Chapstick
ThermaCell: Mosquitoes will run you out of the woods and ruin a hunt in a heartbeat.
Small first aid kit: I carry a tiny snake bite kit.
Pistol: I carry a small 380 in one of my inside pockets for snake encounters. Others prefer a larger pistol and may carry it on their side but the choice is yours!
Enjoy your time in the turkey woods and stay prepared!