If you're looking for a Wicked Edge Knife Sharpener review, we've got you covered!
We plan several hunts each year. There are usually a handful of people in camp and we are almost always successful. This leaves us a lot of meat to butcher and it's essential to have sharp knives in the field and the kitchen. But wear and tear throughout the year abuses our hunting and butchering knives. It is nice to be able to give them an edge that works and lasts instead of temporary sharpness from a pocket sharpener that costs five bucks from your local sporting goods store.
You'll do much better with a knife sharpener from Wicked Edge.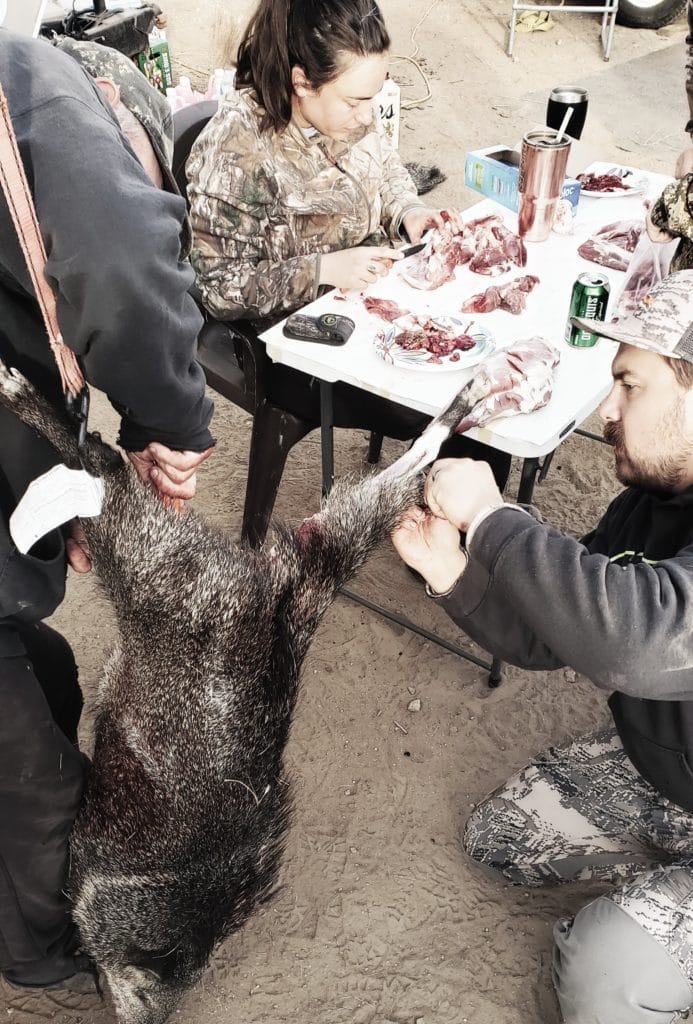 Wicked Edge for Exceptional Butchering
The Wicked Edge Precision Sharpener is easily portable and mounted to a base. When we camp with trailers, there is room to bring extra equipment and the precision sharpener is essential equipment. Wicked Edge's quick setup and multiple options for setting the angle of the sharpening stones mean we can take it to anyone's kitchen to get the sharpest edge on anyone's knife.
Meat spoils quickly due to heat and most spoilage occurs from the bone out. It's essential to get the hide off as quickly as possible and the meat cooled down. With extra people around, de-boning the animal is a pretty quick task.
The easiest way to get quality cuts of meat is with a properly sharpened knife. The meat should be partially thawed (or partially frozen, depending on how you look at it). Partially frozen cuts and pieces make it easier to remove the silver skin and unwanted fat without the greasy mess. It also makes quick work of slicing cuts into individual servings or jerky for the smoker.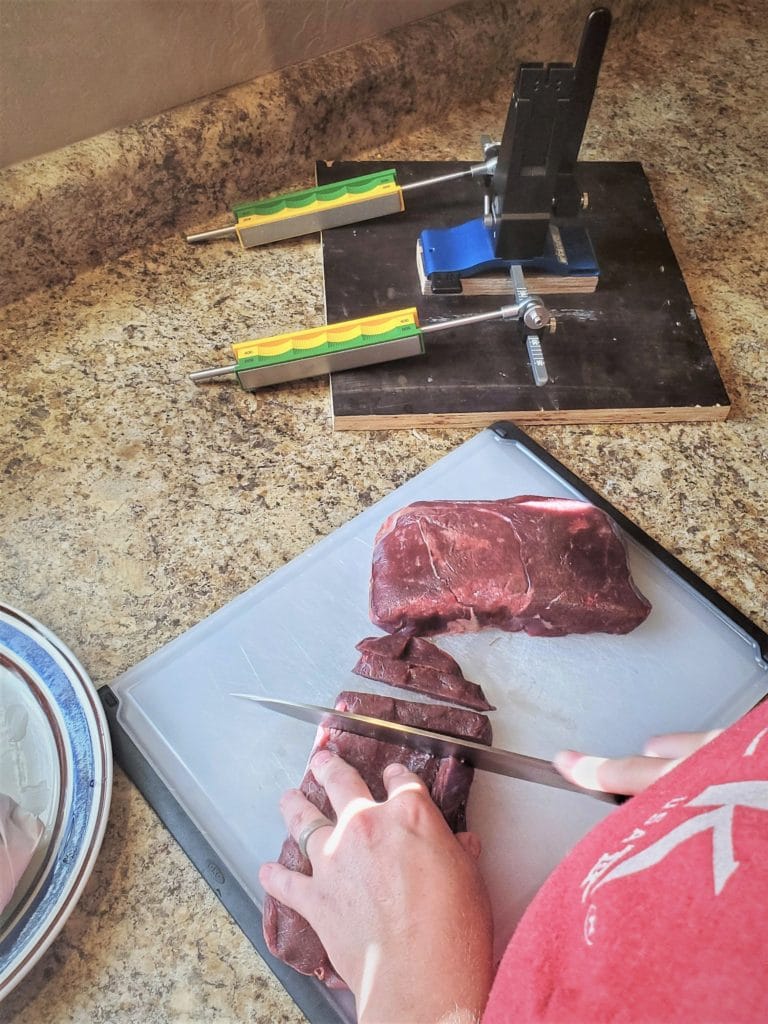 Processing meat at home is a really easy way to learn about the cuts that come from an animal you've hunted. When a processor isn't available, we generally have a get-together to process meat.
We like to prepare some of the meat we have just cut for a group dinner and then package the rest for future use. If there are older cuts in the freezer, we make jerky for the next hunting trip.
Before you head out for your hunts this fall, get prepared in a way you don't always think about.
Every knife will be ready to go after using the Wicked Edge knife sharpener so you can make quick work in the field or at home!
Visit Wicked Edge…
Find them at Wicked Edge on Facebook…
Follow them at Wicked Edge on Instagram…
Tweet them at Wicked Edge on Twitter…
This post may contain affiliate links. Miss Pursuit may earn a small commission for our endorsement, recommendation, testimonial, and/or link to any products or services from this website. Your purchase helps support our work in bringing you real information about hunting and the outdoors.