There are so many wild game recipes, but sometimes it is hard to find variety in breakfast options. It seems to be a go-to of sausage, eggs, and pancakes. I love this breakfast recipe for Wild Game Scottish Eggs that I use to mix things up!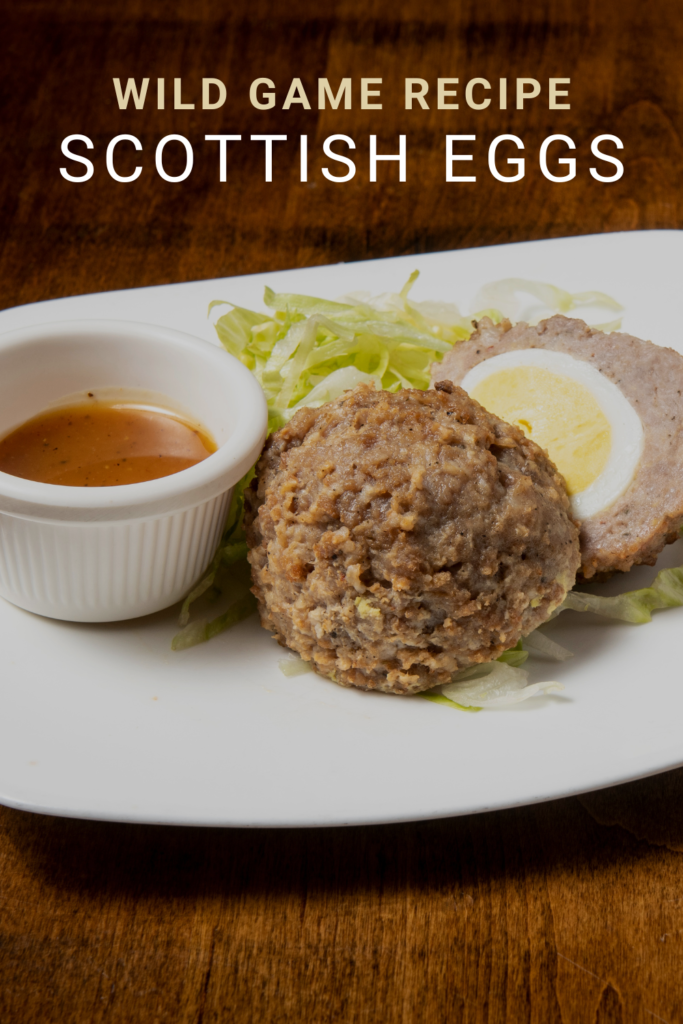 Wild Game Recipe for Scottish Eggs
Ingredients
1 lb wild game sausage
1 tsp dried, minced onion
1 tsp salt
4 hard-boiled eggs
1 c all-purpose flour
¾ cup panko bread crumbs
1 egg, beaten
Directions
Heat oven to 400 degrees. In a large bowl, mix sausage, onion and salt. Shape the mixture into four patties.
Roll each hard-boiled egg through the flour. Place egg on a sausage patty and shape sausage around it. Dip each sausage ball into the beaten egg mixture, then roll through breadcrumbs. Place on an ungreased cookie sheet.
Bake for 35 minutes or until sausage is fully cooked.
These Wild Game Scottish eggs are perfect for breakfast on the run or to throw in your hunting pack for a midday snack!
Commonly Asked Questions About Scottish Eggs:
Why do they call it a Scotch egg?
Scotch eggs are believed to have been invented by the London department store Fortnum & Mason in 1738. The name "Scotch" likely comes from the use of Scottish sausage meat or because they were sold in the store's "Scottish" section.
Is it Scotch eggs or Scottish eggs?
The correct term is "Scotch eggs." They are not called Scottish eggs. The term "Scotch" refers to the origin or style of the dish, not the nationality of the eggs.
What are Scottish eggs called?
Scottish eggs are typically known as "Scotch eggs." They consist of a hard-boiled egg wrapped in sausage meat, coated in breadcrumbs, and then deep-fried or baked.
Can you get Scotch eggs in America?
Yes, you can find Scotch eggs in America. They are available in many restaurants, pubs, and specialty food stores. They have become a popular snack or appetizer in the United States.
Share your favorite wild game breakfast recipe with us!
This post may contain affiliate links. Miss Pursuit may earn a small commission for our endorsement, recommendation, testimonial, and/or link to any products or services from this website. Your purchase helps support our work in bringing you real information about hunting and the outdoors.