The change in temperatures calls for a cozy, home-cooked meal. With a little time to prepare the marinade the night before, you can have a perfectly prepared dinner with wild pork and gravy, enough to keep you warm on cold nights!
Recipe for Wild Pork and Grazy
Ingredients
2 lb wild pork cut
4 tablespoons Worcestershire sauce
1 teaspoon salt
1 teaspoon pepper
2 tablespoons brown sugar
1 teaspoon crushed garlic
Drizzle of olive oil
Directions
Add all ingredients into a bowl with your pork and marinate in the fridge overnight.
Preheat oven to 180 degrees.
Heat skillet on high with a tablespoon of olive oil.
Sear pork five minutes on each side or until crispy.
Remove from pan and place on a tray lined with parchment paper.
Roast in the oven for 40 minutes.
Remove and allow the meat to rest for ten minutes before slicing.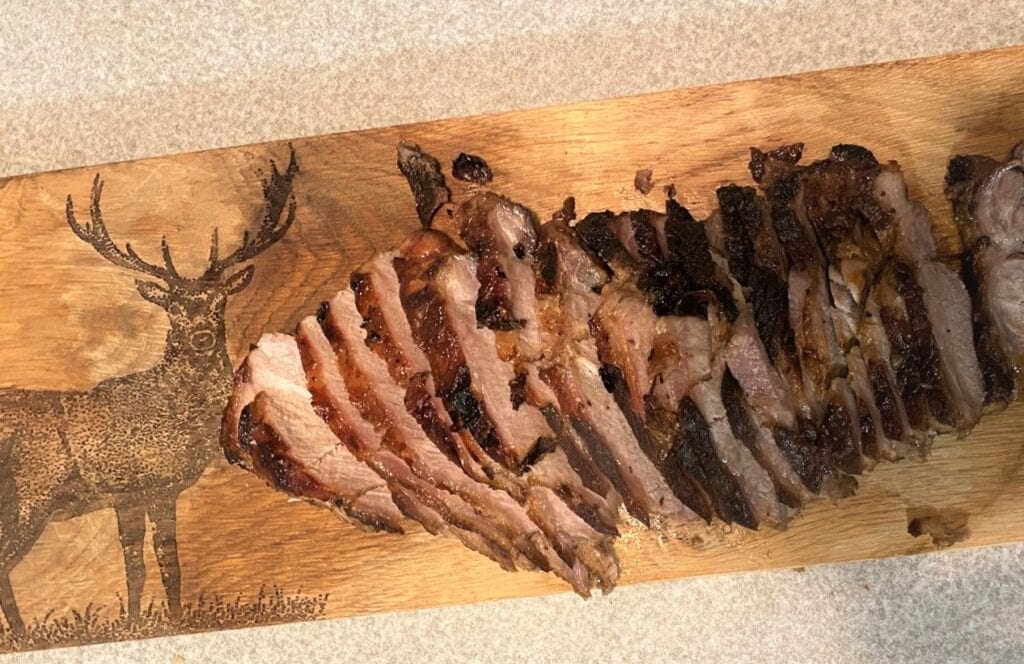 Wild Pork Mushroom and Wine Sauce
Ingredients
2 tablespoons butter
2/3 cup sliced mushrooms
1/4 cup sliced shallots
2 garlic cloves, minced
2 tablespoons flour
1/2 cup white wine
2 cups chicken broth
1 1/2 teaspoons dried thyme
1/4 cup heavy cream
Directions 
Heat pan to a medium heat and melt butter.
Saute mushrooms, shallots, and garlic for 5 minutes.
Add flour to thicken mixture in pan.
Add white wine, chicken broth, and thyme and stir to combine.
Bring to a boil for ten minutes.
Add cream and bring to a boil for an additional five to ten minutes, or until sauce is thickened.
Spoon gravy over the sliced wild pork and serve with roasted potatoes, carrots, and zucchini!
Need some of your questions answered about wild pork and gravy?
How to make a rich gravy for pork?
To make a rich gravy for pork, start by using the pan drippings from cooking the pork. Add some flour to the drippings and cook it for a few minutes to make a roux. Then, slowly whisk in some chicken or pork broth, making sure to incorporate it well. Let the gravy simmer until it thickens to your desired consistency. You can also add seasonings like salt, pepper, herbs, or spices to enhance the flavor.
Why do you soak pork in milk?
Soaking pork in milk before cooking can help tenderize the meat and reduce its strong flavor. Milk contains lactic acid, which helps break down proteins and enzymes in the pork, resulting in a more tender texture. Additionally, the milk can help remove any gamey or strong odors from the pork, making it more palatable. It's recommended to soak the pork in milk for at least 30 minutes or up to overnight in the refrigerator for best results.
What stock to use for pork gravy?
For pork gravy, you can use either chicken or pork stock as a base. Chicken stock tends to have a milder flavor, which can complement the pork without overpowering it. On the other hand, pork stock can provide a richer and more intense flavor that pairs well with pork dishes. If you don't have either of these stocks available, you can also use vegetable stock as a substitute. Ultimately, the choice of stock depends on your personal preference and the specific flavor profile you want to achieve.
This post may contain affiliate links. Miss Pursuit may earn a small commission for our endorsement, recommendation, testimonial, and/or link to any products or services from this website. Your purchase helps support our work in bringing you real information about hunting and the outdoors.