One of the best ways, hands down, to cook pheasant is jalapeno poppers. It's simple, easy, and comes out delicious every single time. And it uses the simplest ingredients! I work on a pheasant farm and we get lots of cull birds, so I've got quite a bit of pheasant in the freezer. Finding out how to utilize all of it in different ways can be tricky. Luckily my boss, who came in clutch with this recipe idea, has lots of years of experimenting with pheasant! If you ever find yourself looking for new pheasant recipes, you've gotta give this one a try – using 2 Gringo's Chpacabra Rubs.
Pheasant Jalapeno Poppers
Ingredients 
3 jalapeños
2 large Anaheim peppers
12 oz of cream cheese
1 cup shredded cheddar cheese
1 lb of unseasoned, thick-cut bacon
3 pheasant breasts
toothpicks
This recipe makes roughly 10-20 pheasant jalapeno poppers.
Directions 
First things first is bird prep. Season your pheasant breast with 2 Gringo's Chupacabra "Clukalicious" seasoning, then slice them into strips and season one more time for good measure (and because the seasoning is super good).
Put your bacon on the smoker at 180-200° till cooked halfway through. While you are waiting, cut jalapeños in half and carve their insides out with a spoon. Cut large Anaheims in quarters or to proper popper size and also carve their insides out as well. Once your peppers are ready it's time to prep your stuffing.
Mix cream cheese and shredded cheese, then add poultry seasoning to the mixture.
Remove bacon from the smoker. It needs to only be slightly browned, so when you try to wrap the poppers it doesn't fall apart.
Stuff jalapeños and Anaheim's with the cream cheese mixture and place a slice of pheasant on top, then wrap it in bacon. Use toothpicks to hold the bacon in place.
Increase grill temperature to 375°. Smoke till the pheasant is cooked all the way through, around 30 minutes.
Let them cool, or at least try to let them cool…I usually burn my mouth with the first popper because I'm so anxious to take a bite!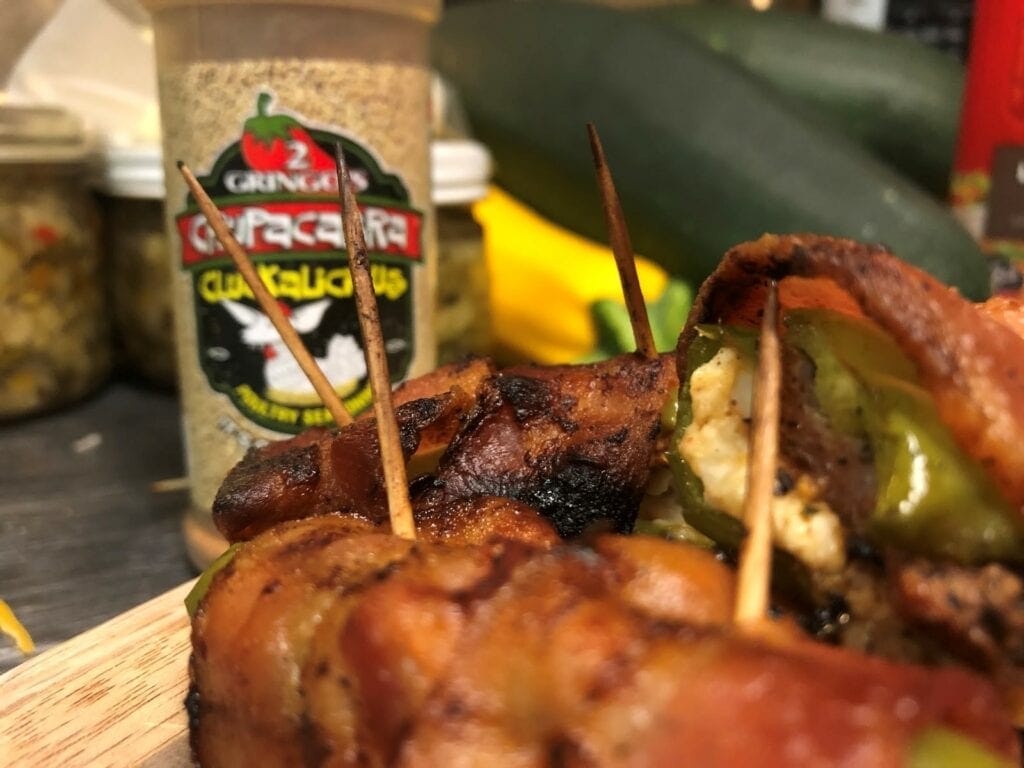 2 Gringo's Chupacabra Rub makes these pheasant jalapeno poppers seriously delicious!
Visit 2 Gringo's Chupacabra.
Visit 2 Gringo's Chupacabra on Facebook.
Visit 2 Gringo's Chupacabra on Instagram.
Visit 2 Gringo's Chupacabra on YouTube.
This post has been sponsored by 2 Gringos Chupacabra to bring you this experience. All opinions are 100% our own!