As any outspoken advocate for sportswomen and ice fishing have learned, throughout your quest to pave the way for and encourage other women to enjoy outdoor recreation, you begin to notice certain patterns.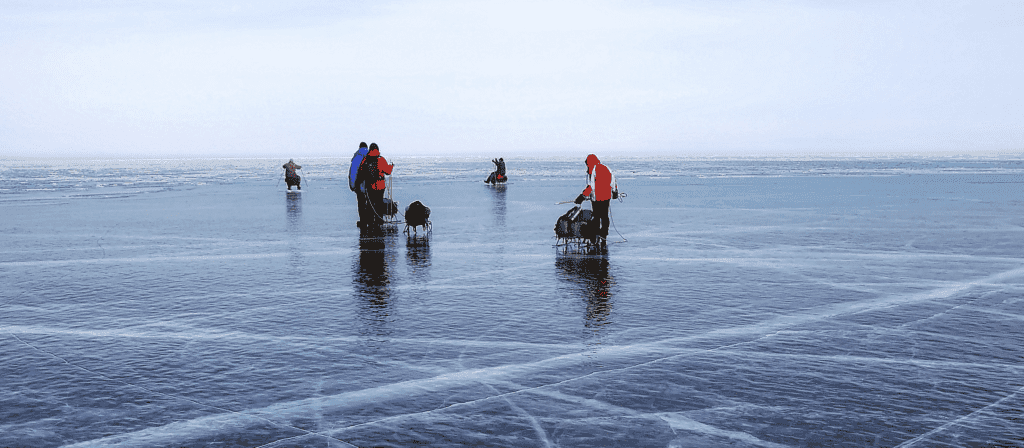 One such pattern I've noticed is a marked decrease in participation in outdoor recreation during the winter months. While this could be attributed to a variety of factors, one of the most common roadblocks I've seen influencing both reduced time spent outside and a hesitancy to participate at all during inclement months remains the same: ​
I don't want to get cold!
While being cold is a universal experience, both scientifically (studies show women's colder extremities, slower metabolisms, hormonal differences, and higher propensity toward anemia all contribute toward feeling colder than our counterparts) and anecdotally (all jokes about borrowing sweatshirts aside, during my time in the clothing department of a sporting goods store, "warm" was among the most important descriptors for most women when it came to choosing winter wear), it's clear that frosty temperatures present a unique set of challenges for sportswomen, and it isn't always as simple as buying the largest ski jacket on the rack.
This is exacerbated for ice anglers through the unique challenges of direct contact with the ice, lake effect winds, and occasional spurts of inactivity while waiting for your next bite. This year's hard water season is going long and strong with chilly temperatures and frozen waters still spanning much of North America, complete with record lows in certain regions for this point in the calendar year. As a result, I've set out to round up some of my top tips about materials, do's and don'ts of layering, and some of my tried and true favorite products for staying comfortable on the ice longer.
I'd like to share with you insider knowledge and time-tested tricks for staying warm during your chilliest ice-fishing escapades.
Today we will focus on the importance of layers. I'll introduce you to the first two players in a three-layer system designed to keep both a smile on your face and your boots on the ice longer. 
All About That Base (Layer)
As any good outdoor clothing outfitter will tell you, start with a good base and work your way out. When choosing this next-to-skin layer, it's important to find something that is lightweight, form-fitting, and wicks sweat away from the body. Certain materials are better performers in this department than others – merino wool consistently outranks even the best synthetics, and cotton should be avoided at all costs.
However, when it comes to practicality and availability, many sportsmen and women have also found luck and warmth with modern microfiber polyester offerings and polyester fleece synthetics such as the Under Armour base layer systems. From their current offering, my favorite combination in my climate is the ​Women's Under Armour Cold Gear Mock​ layered with a ​Women's Under Armour Base 4.0​. These synthetic fabrics often also boast odor-reducing treatments and a drier feel. However, I encourage you to try a variety of materials and thicknesses to see what puts you in the sweet spot of warmth without a sweat (more on that later).
Moving downward, thick leggings are crucial, and I tend to layer up as well, often starting with the ​Under Armour Base 4.0​ (tucked into socks to prevent bunching; a lifesaver for anything involving layering) beneath a thick pair of polyester fleece leggings from the recesses of my winter closet.
When it comes to your feet, moisture-wicking + merino wool again reigns supreme. The most popular sock system among seasoned ice anglers is a thin, moisture-wicking pair next to the skin, followed up with a heavy-duty wool sock to provide top-notch insulation. Certain "super fleece" offerings such as ​Heat Holders​ have also gained popularity in recent years as an add-on.
Through interviewing seasoned ice anglers on their best tips for staying warm, many tips are unsurprisingly related to your feet – after all, our feet play a large role in the regulation of body temperature. I'll cover these and many other innovative ideas and knowledge breakdowns in-depth in a later installation; today I just wanted to break the ice. 
The Middleman
Continuing outward with our smart layering system, let's take a moment to focus on the idea behind this layering phenomenon that sportsmen and clothing outfitters alike seem to be getting behind. Most high-end outdoor wear systems, such as ​Sitka​ or ​KUIU​ are outspoken proponents of the benefits of layering regardless of the chosen outdoor activity. A good layering system is all about easy versatility; the idea is that you have enough clothing to handle the toughest conditions your adventure could throw your way with the flexibility to remove layers as you need to account for increased body temperature from a bit of a workout or a break in the clouds. 
Your mid-layer is arguably the step with an overwhelming array of options. I recommend keeping things simple with a layer or two of fleece material with wrist cuffs or thumb loops to trap heat and make for easy layering, and a half-zip to allow for temperature adjustment. Layer this with a thick, hooded sweatshirt. Having at least one hooded layer can be your first line of defense between comfort and an earache when it comes to facing the unabated winds encountered on the ice field. Keeping your ears and neck sheltered from the elements can prevent your enjoyment of this sport from being gone with the wind.
Moving down, I usually throw on some fleece-lined sweats or thick pajama pants. While there are more fashionable options than last year's buffalo plaid Christmas pajamas, we'll be covering this layer up anyway so I'm a vocal advocate for warmth over aesthetics in this step. The main focus of this part of our system is insulation, comfort, and usability. 
Two down, one to go! Next time we will break down all the different options for outerwear, the differences that materials can make and what exactly different linings and tag colors mean. I have so much to say about our last layer that I felt it warranted its own part of this series.
What do you think of this base layer system? Will you be making any changes to your own? Stay warm out there! 
This post may contain affiliate links. Miss Pursuit may earn a small commission for our endorsement, recommendation, testimonial, and/or link to any products or services from this website. Your purchase helps support our work in bringing you real information about hunting and the outdoors.