Nearly every time I head into the mountains, and even the prairie, I have bears in the back of my mind. Preparing for bear encounters is extremely important. When caught off guard, a bear encounter could be deadly. So taking the right precautions before going out into the field is critical.
Preparations for Bear Safety
I bring two different types of bear repellents when I go afield: bear spray or a pistol depending on the time of year. Both bear spray and pistols for bear defense are very controversial these days, however, I prefer a pistol because I know if I do everything right that it will stop that bear.
Knowing how to use both pistol and bear spray is important. Get comfortable with your pistol at the range and set up different situations for yourself. When it comes to bear spray there are lots of different websites and videos that teach you everything you need to know. You can order a bear spray training kit to help you before you enter the field.
If worst comes to worst, it's never a bad idea to have a good med kit. My basic "bear attack" med kit consists of plenty of bandages, tampons (they are great for puncture wounds to help stop the bleeding), a fishing line, and a sharp needle (you just might have to stitch yourself up temporarily). And of course, a sterilizing kit such as alcohol wipes and iodine wipes. 
Bear Safety While Hunting
Scouting trips before the season are not only important to locate game, but also to locate grizzly bears in the area. When out scouting, not only should you look for signs of the game your pursuing, but grizzly signs as well. Once you've located bears in your area, you need to take precautions to avoid running into them.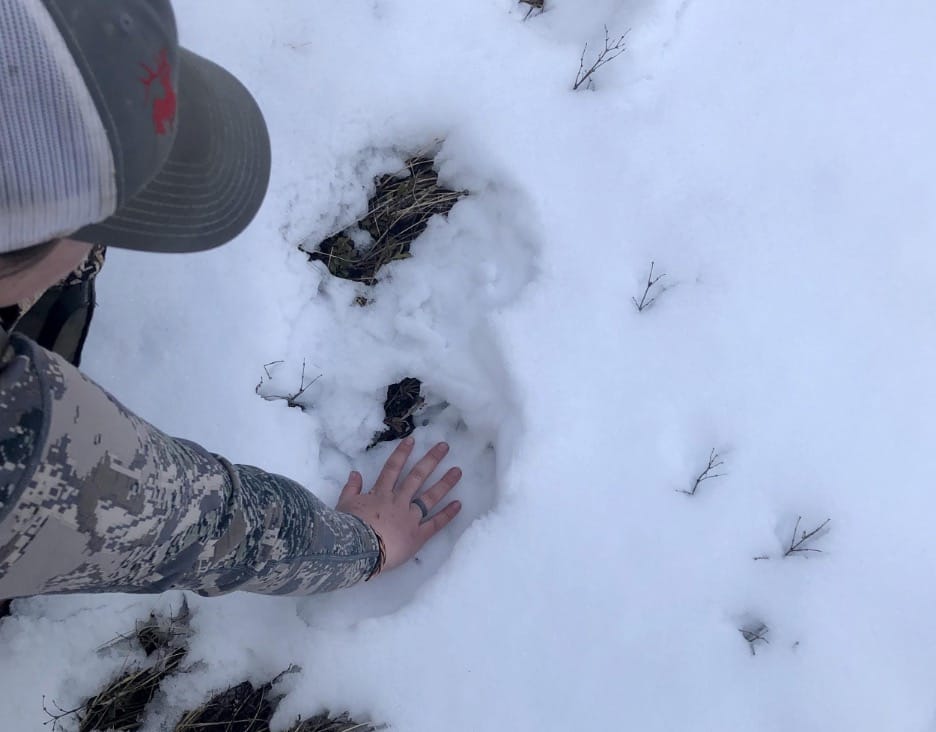 Look for signs of bears in the area while you're hiking on or off the trail and when you're stalking game. Some examples of signs can be scat, holes dug in the ground, rotten tree stumps, tracks, and flipped-over rocks. This is the first step to avoiding nearby bears. You should also avoid thick brush where you might run into a bear in close quarters. Surprising a bear is the number one no-no.
If you run into a bear at long range, make yourself known to that bear. They probably don't want anything to do with you just as you don't want anything to do with them. To educate yourself on situations of running into a bear in close quarters, go to bebearaware.org to find a huge amount of tips. 
After the Shot
In lots of areas, a gunshot is a dinner bell for bears. So, once you've shot an animal, it's important to be quick with recovery. If possible, make plenty of noise to let nearby bears know that you are there. Also, make your pistol or bear spray easily accessible if not already.
Once you've recovered your game, the work begins. I try to make lots of noise and play music on my phone. If it's cold and snowy, then I like to start a fire, which will also let bears know of your presence. Another one of the biggest attractants for bears are birds. If you plan on leaving meat unattended in the field, you should get them as far away from the carcass as possible. Cover them with something to keep birds away. I like to put quarters and cuts in Caribou game bags and cover them with pine bows. These will keep birds and scents and other animals away from your meat.
Welp! There are our bear safety tips and precautions we recommend when you're out hunting. Don't get caught off guard!
This post may contain affiliate links. Miss Pursuit may earn a small commission for our endorsement, recommendation, testimonial, and/or link to any products or services from this website. Your purchase helps support our work in bringing you real information about hunting and the outdoors.