As a Western hunter, being able to glass for game is high on my list of priorities, which means hours spent holding up binoculars. This often leaves hunters trying to find different methods to battle arm fatigue, including balancing on their knees, using bows, or carrying a tripod. All of these can lead to extreme discomfort. But with an in-pack binocular stabilization system, like the Hawkin System, you can change how you glass.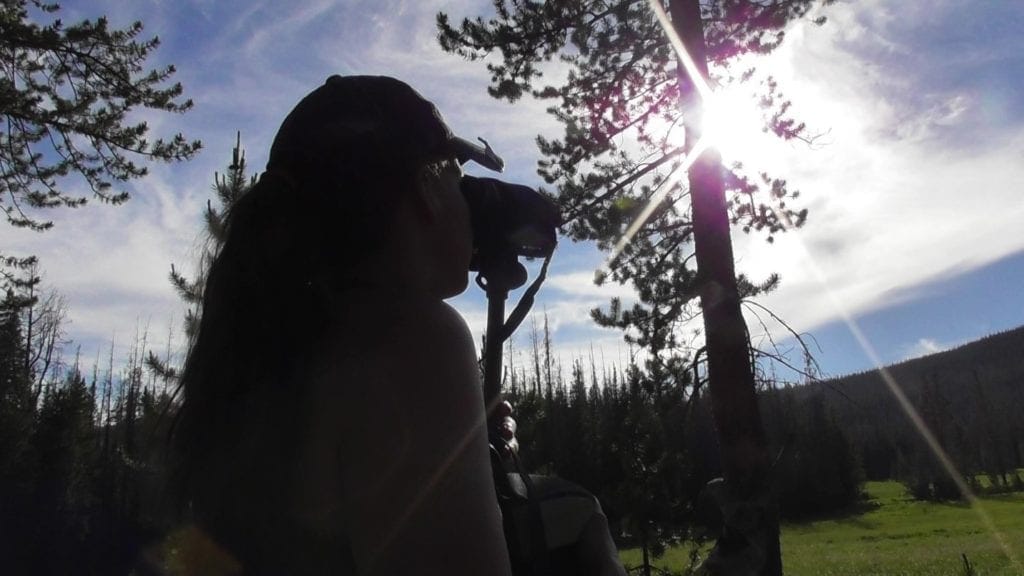 Benefits of The Hawkin System
Easy to access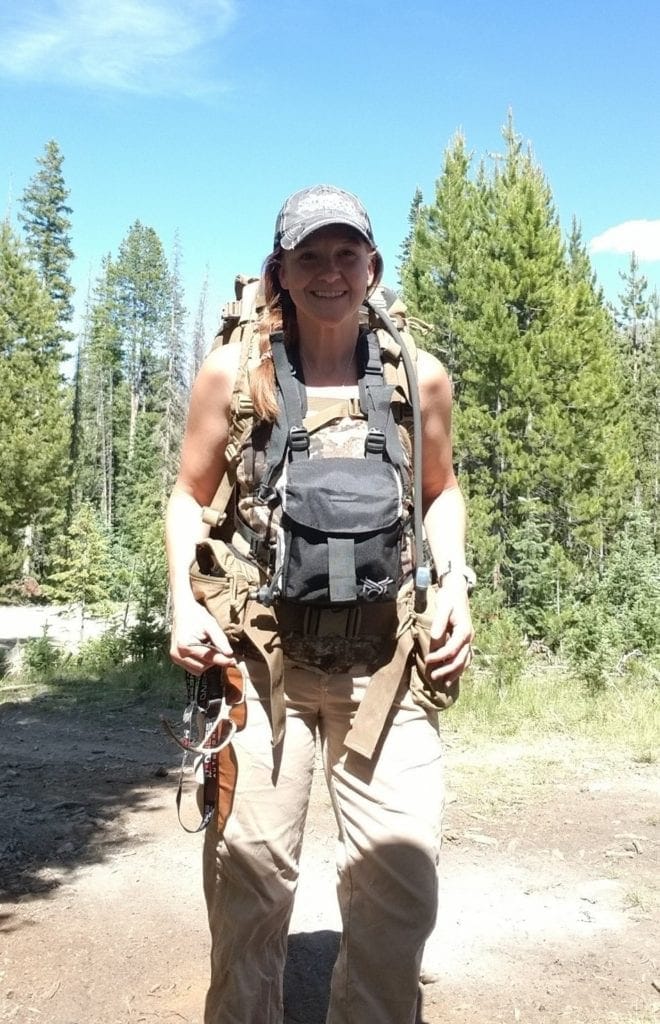 The Hawkin System itself is larger than many of the other leading hunting packs on the market, but I did not notice the extra weight after hours of hiking. A hunter on a budget, I am happy that my video camera fits in the bag as well. My camera has a 90x zoom and I use it as a replacement for a spotting scope. The large interior pocket fits both my binoculars and the camera. This is a bonus if you like to carry your 12x binoculars into the backcountry as they will easily fit.
Aluminum platform covered in silicon – 6.5 x 3.75 in: 9.5 oz
Quick release head with easy disconnect integration built-in – 2.25 x 2.5 in: 8 oz
Adjustable silicon strap – 10.75 x 1.75 in: 4 oz
Lightweight Carbon Fiber Monopod – Extended: 18in; Compact: 8.75: 4 oz
Lightweight Pack:7.5 x 7.5 x 3.5 in: 15 oz
You might think that the solid color of the pack would detract from our attempts to hide in plain sight with our camouflage.  Black is a color that blends well in most environments; I once had a solid black bow and often lost it when placing it down in the woods, more than any of my other bows. I've never had trouble with animals spotting me based on my monochromatic backpacking pack in a color that is natural to my hunting environments.
I like to have easy access to my game calls. Sometimes this is in my pocket, but the easy-open side pockets are perfect for my game call and wind indicator bottles. The best part is you do not have to contend with a zipper when you need to make that quick cow call or stop signal. The top elastic secures your items when you quickly put them back as you are chasing game.
Easy to use:
The Hawkin System is easily adjustable. The extra padding on the back strap is one of my favorite aspects. With other packs, I experience neck strain due to a lack of padding. There are many different adjustable straps that make this pack versatile. I did have to wear the pack a little lower than I have others to adjust for the monopod length. The pack fit well with my backcountry pack; I was concerned that the 2 fabrics would overlap and lead to extra noise while walking but it did not.
On the second time assembling the pack, in the field, it took about 30-40 seconds to put it together or take it apart. This makes it a great option for those moments when you quickly spot your target and need to make quick hunting decisions.
Not only does the quick-adjust head help to quickly disassemble the setup, it tilts up to 45 degrees to help you move less when want to move your field of view up or down the mountain you are looking at. I was able to sit and hold my binoculars with one hand as I glassed the nearby peak. I did not have to change positions or sit awkwardly as I watched deer and elk a mile away.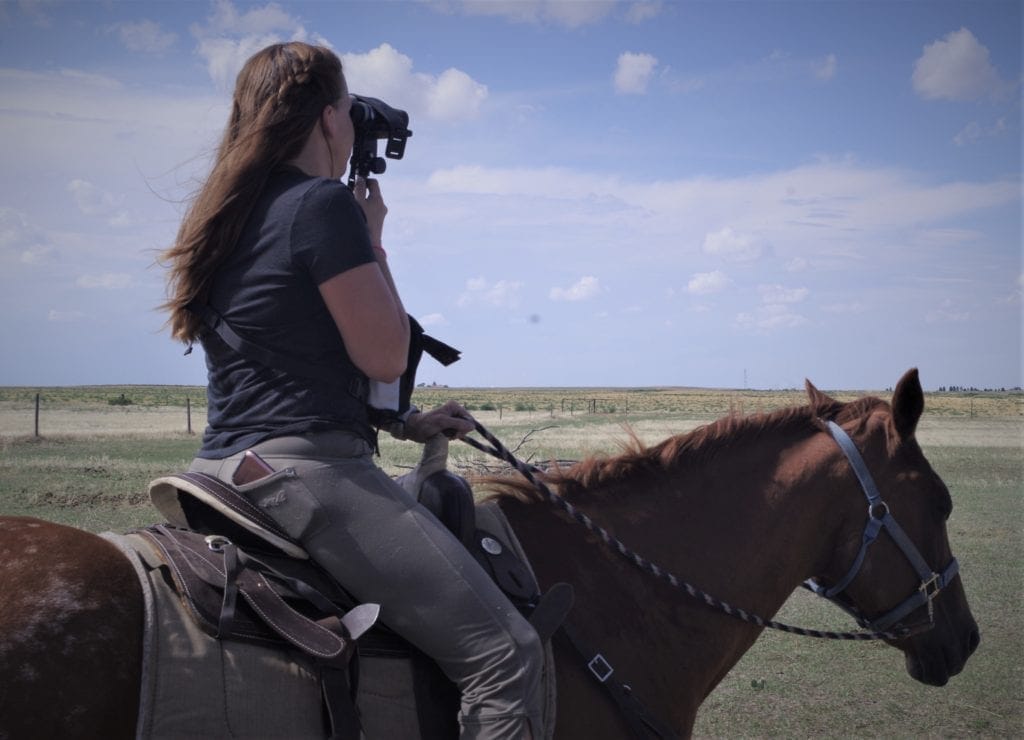 I am happy to add this binocular harness to my hunting repertoire. It is priced similarly to other harnesses, but the others do not have a compartment to hold your binoculars or glassing. I am smaller and I often struggle with items that do not fit correctly, but since it is easy to adjust, it puts it high on my list of great products for women hunters. I am happy to use this pack to support my hand and arm fatigue during the hours I will spend this season scouting and hunting the mountains of Colorado.
The Hawkin System is the best way to glass for wildlife this season!
Visit Hawkin…
Follow Hawkin on Facebook…
Follow Hawkin on Instagram…
Follow Hawkin on YouTube…
Follow Hawkin on Pinterest…
This post has been sponsored by Hawkin to bring you this experience.  All opinions are 100% our own!
This post may contain affiliate links. Miss Pursuit may earn a small commission for our endorsement, recommendation, testimonial, and/or link to any products or services from this website. Your purchase helps support our work in bringing you real information about hunting and the outdoors.