Think the only time you can hike is when it is warm outside? Think again. Winter hiking can be just as, if not better, than hiking during other times of the year. However, you have to make sure that you are prepared. Getting outside is the bombdotcom, so don't let low temps keep you inside.
Read on to get the scoop on winter hiking and find out why it can be superior.
Winter hiking is a completely different experience than any other hiking. There is something seriously serene about hiking in the crisp winter air. If you add the bonus of fresh snow, you're setting yourself up for a great day. Take the time before going out to check the weather forecast and trail conditions.
Pack for the weather: While you should always do this, it's especially important to think about what the weather has been and what it will be like that day to know what to expect from the trail. Will it be cold hiking or straight snow hiking? Using the knowledge of apps or the internet to check the trail is a great idea. Sometimes trail access can be closed or limited and you have to flex your trail or start location because of it.
Prep for your time in the cold: You don't want to get too cold (or warm!) while you're out there, so layer, layer, layer! Throw in extra layers as a "just in case" along with light snacks and any other hiking necessities (think first aid kit, headlamps, and whatnot). Winter hikes can be a great place to try out heated socks or rechargeable hand warmers.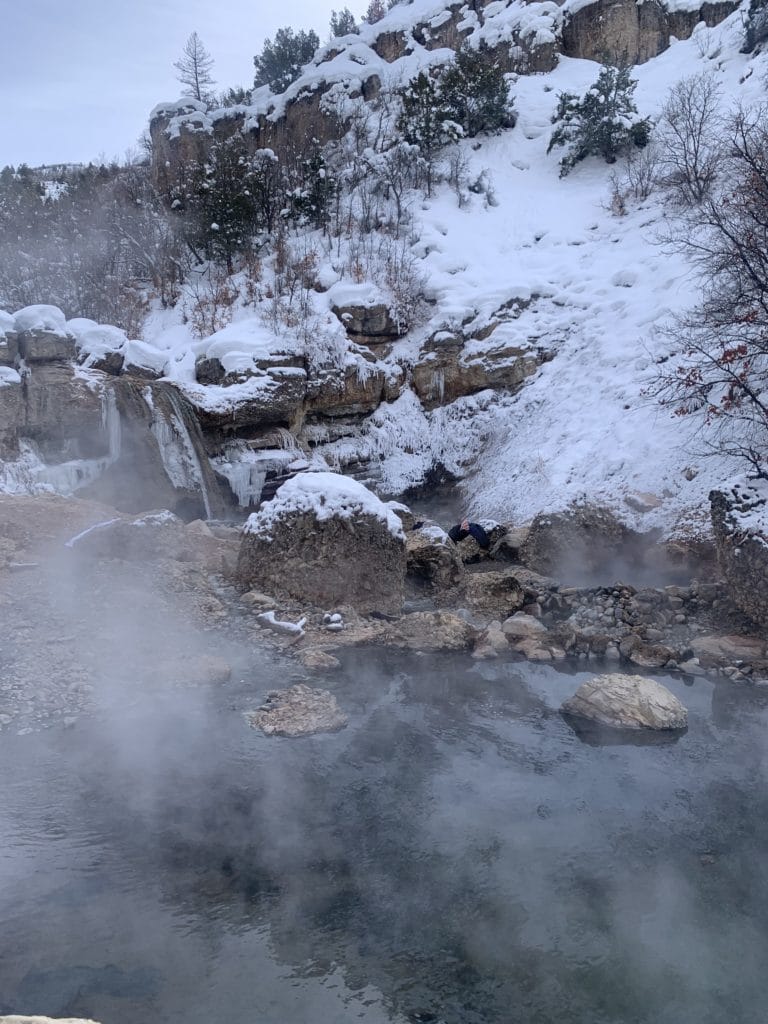 Allow for extra time on the trails: Winter hikes, especially snowy ones, generally take a bit longer. No need to rush it; you're out there free on Earth. Enjoy your time away. Look up daylight hours. They are shorter and you'll need to be off the trail sooner to not get stuck in the dark. When the sun goes down the cold will hit your bones in a whole different way. Make sure you're somewhere with a fire or soaking in a hot tub instead!
Other forget me nots include plenty of water and sunscreen. Since it's cold you may not think that dehydration would be a big deal, but it is! You are moving and grooving and may be shivering, but all this burns calories. Although your body may not send the same thirsty signals it does in the warm weather, fill that hydration pack and drink it along the way. The sun is still a thing, even in the winter. Put that sunscreen on before you go and reapply on the trail.
Snowshoes, microspikes, or crampons are another winter hiking must-have. Depending on the conditions of the trail you're in will determine which you choose (yet another reason to check trail conditions). These are beneficial to help provide any slipping and falling on the trail, which is generally not ideal. If it's a bit icy and the terrain is flat, microspikes are the move. Most have cute little bags they come with so they are easy to transport, carry, and put on in times of need. A personal go-to!
For the more technical folks, consider crampons that have larger spikes. They can provide the traction you need for steeper slopes. Powdery or deep snow conditions call for snow shoes, which you can get with crampons if you're into the snow/ice mix type thing. Whatever the conditions and whichever you choose, consider adding winter hiking poles to go from bi to quadrupedal. After all, safety first.
What temperature is too cold to hike in?
It's important to note that there is no one-size-fits-all answer to this question, as it depends on a variety of factors such as wind chill, humidity, and personal tolerance for cold. However, as a general rule of thumb, it's recommended to avoid hiking in temperatures below 0°F (-18°C) or in wind chills below -20°F (-29°C). Always check the weather forecast and dress appropriately for the conditions.
Is winter hiking harder?
Winter hiking can be more challenging than hiking in other seasons due to the colder temperatures, snow and ice on the trails, and shorter daylight hours. However, with the right gear and preparation, winter hiking can be a rewarding and enjoyable experience. It's important to stay safe and warm by dressing in layers, bringing the right equipment, and being aware of the weather conditions.
How do I prepare for a winter hike?
Some tips for preparing for a winter hike include dressing in layers, wearing waterproof and insulated boots, bringing plenty of water and high-energy snacks, and carrying a map and compass (and knowing how to use them). It's also important to check the weather forecast and trail conditions before heading out, and to let someone know your planned route and expected return time.
The thought of winter hiking can make you want to jump back under the covers. But with these tips and tricks, you'll be able to happily enjoy the best of the best outside. Despite the unique challenges, winter means less crowded trails, and who doesn't love that? Grab your crampons and get outside!
This post may contain affiliate links. Miss Pursuit may earn a small commission for our endorsement, recommendation, testimonial, and/or link to any products or services from this website. Your purchase helps support our work in bringing you real information about hunting and the outdoors.