Venor exists for the woman who's always on the hunt. We seek to empower her lifestyle, to help her seize every opportunity, bringing fashion and adventure together.
Through every detail, every purposeful stitch, we stay true to her and true to the hunt.
Bonjour! I'm Jade Cabana, a French Canadian huntress. As far as I can remember, I have always enjoyed walking and being outdoors. Even before the legal age for hunting, I was fascinated by the technique and the animals. I always knew that this was more than just a "game" for me, it was a passion.
I mostly hunt with guns (.410, 30-06, and a .50 black powder) even though I have been using a crossbow for 4 years for deer season (to extend it). In the past 3 years, I have begun to share my passion with my Wirehaired Pointing Griffon Olaf.
I currently own 2 blogs (one in french) designed to share my experiences and my love of the outdoors and hunting. My goal is to demystify this passion and encourage people to try it with simple pieces of information.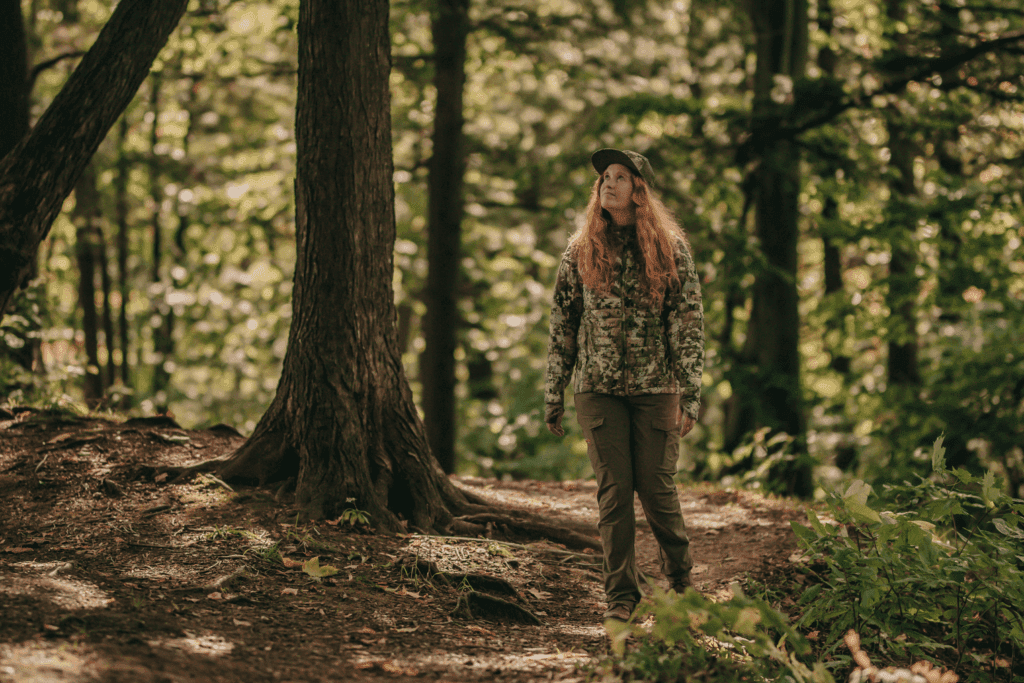 My main reason for hunting is to live a healthy life more connected with myself and the world around me. I firmly believe that our place on our planet is deeply rooted in the earth. This way of life for me is not only about meat gathering, it's also deeply connected with the way nature can help me grow as a better human. Every hunting session is a way for me to reroot myself, and think about what is truly important and my place in this big beautiful world.
When was your first hunting memory, and how old were you?
I can't remember my first hunting experience. To tell the truth, I have many fond memories of myself as a kid acting as a scout during multiple long hare hunts with my dad. But my first real experience as a hunter was a duck hunt at 13 with a 12-gauge (I was only 90 pounds then). I remember the power of the gun, the red (then blue) spots on my shoulder, and my first catch ever: a beautiful female duck! It was unfortunately my last and only duck hunt as I concentrated later on small game hunting (hare and partridge).
What do you love most about hunting?
The time with myself and nature contemplating the peace, the scents, the colors, the sounds. I love trying to spot every little parcel of life.
What's your most memorable hunting experience?
My most memorable hunting experience was my first moose catch. My father and I are not long-time moose hunters. We had to learn everything with the help of books, the Internet, blogs, and tv shows. After 2 years without any harvest, we decided to use a new sector for the first morning of the 2015 moose season. After only a few minutes in the wood, I saw at a pretty close distance 3 female moose walking slowly one behind the other. Without any hesitation, I aimed at the biggest one (there were no calves) and hit her perfectly. She made around 70 feet. I was SO proud. I now have a bracelet with the head of the bullet to remember each day that special moment with my dad.
Do you have a favorite wild game recipe?
My favorite wild game recipe is a Flemish Hare stew! Here is a recipe (in English) pretty close to my personal one.
Do you have a dream hunting excursion?


I would love to hunt mountain goats and bighorn sheep! I'm fascinated by long-distance hunting shots and the mountains' settings.
What would you say to other women who haven't tried hunting yet?
Don't be afraid to try hunting. Hunting is mostly having a wonderful time in nature. My best advice is, to begin with, simple walks in the woods. Try to locate animals and learn their behavior, their environment, etc. Exercise your eyes and ears to detect the clues of wildlife. Keep in mind that harvesting is only a fraction of this experience. Not all hunting trips finish with meat. So as you begin your journey, don't be too hard on yourself if you don't find or catch any animal. Hunting is mostly patience and practice!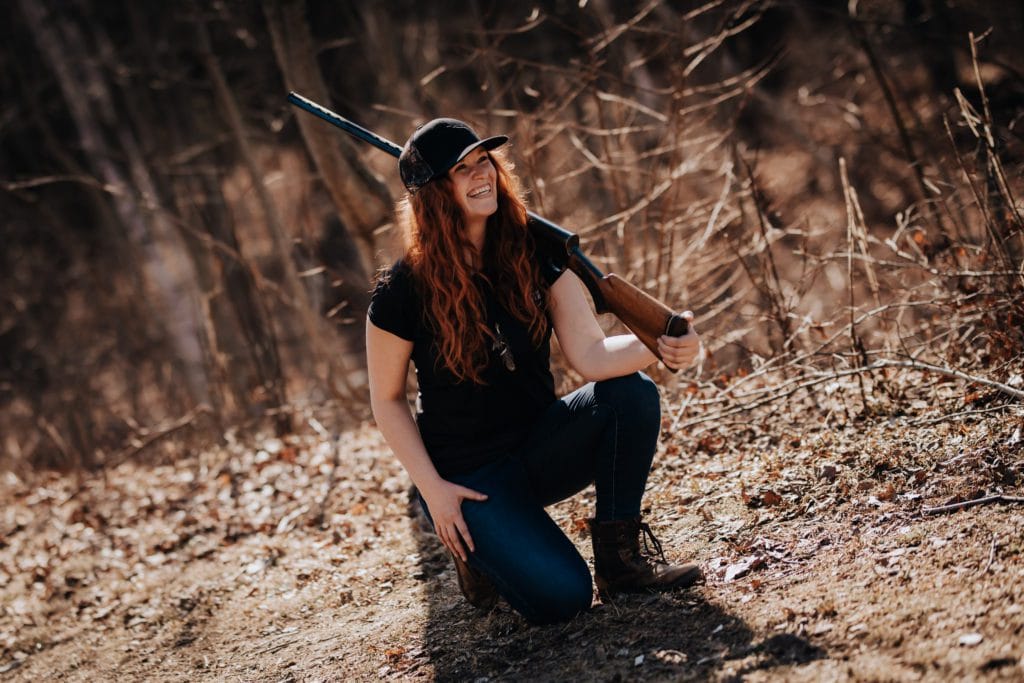 This post may contain affiliate links. Miss Pursuit may earn a small commission for our endorsement, recommendation, testimonial, and/or link to any products or services from this website. Your purchase helps support our work in bringing you real information about hunting and the outdoors.